Ice Bird is a member of Red's flock who only appears in Angry Birds Space. He is an extraterrestrial companion to the Flock who helps them defeat the space pigs. He is the second original character to be introduced outside of the classic Angry Birds game.
Ice Bird appears exclusively to Angry Birds Space, but he makes cameos in Angry Birds Friends (in the Lotus F1 Tournament as a poster), Angry Birds Lotus F1 Team, Angry Birds Journey (as a statue) and in Boba's Delivery as a gag.
Appearance
Ice Bird has no feathers. Instead, his body is a cube shaped block of ice, that seemingly cannot melt. He has two rectangular icicles on his head and back, a long beak and brown eyebrows.
Personality
Ice Bird is a very mysterious character, and not much is known about his origins. He is very serious and hostile, and does not trust very easily. Despite this, he is very loyal to those close to him such as Red's flock as well as his egg.
Game appearances
Angry Birds Space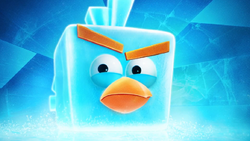 Ice Bird is first introduced when he falls out of a wormhole. He is initially hostile to the birds, out of the intention of protecting his eggsteroid. However, their first encounter is interrupted when King Pig's ship bursts through the wormhole and captures the eggsteroid, along with the flock's eggs. This event initiates Ice Bird to fly back into the wormhole, and the flock (consisting of Red, The Blues, Chuck, Bomb, and Terence) to follow them through the slingshot.
The flock encounter Ice Bird later on in the chapter Cold Cuts, where he is held in captivity by the pigs. Once freed, he convinces the Flock to help him in his quest to recover his eggsteroid. According to promotional material, he intends on saving his home planet from the Space Pigs, though this planet is never expanded upon nor introduced.
In gameplay, he debuts in Cold Cuts 2-3 but he becomes playable in Cold Cuts 2-4. He explodes when his ability is triggered causing the objects in his proximity to be frozen into an ice/glass-like material. This ability can be triggered by the player or automatically, moments after first impact, similar to Bomb. Ice Bird's explosion doesn't directly damage any regular blocks or pigs, but will make them brittle and easier to break. His ability will also set off any explosive objects in range, such as TNT. Ice Bird and the Lightning Birds (the Blues) are often paired due to their compatibility.
Ice Bird does not appear in the episodes Brass Hogs and Solar System.
Angry Birds Friends
He makes a cameo in the Lotus F1 Team Tournament on a poster in the background.
Angry Birds Lotus F1 Team
He makes a cameo in the game on a flag on the level selection menu.
Angry Birds Star Wars II
While he doesn't appear in the game, Carbonite Han Solo has a similar power to him as he can freeze everything he touches. Unlike Ice Bird, he does not explode, though. He only slides across blocks, which causes them to freeze and reflects any laser contect with him.
Angry Birds Go!

There was a Twitter tweet which unveiled unknown concept that was discovered by a game designer named Liz Edwards. She also helped in the concepts of an Angry Birds game from there people asked if Ice Bird is in Angry Birds Go! but then she answered this: "I wish I knew! I don't have any information I was only an intern there for 3 weeks" that possibly concludes that Ice Bird could not appear in the game. [1]
Angry Birds Journey
He makes a cameo as a statue in the background of Ancient Ruins.
Media appearances
Boba's Delivery
He makes a cameo as a squeaky toy for a gag till he is replaced by the real Han Solo in carbonite.
Video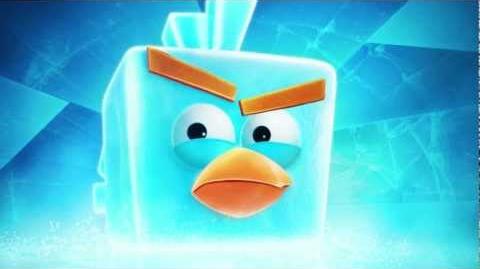 Trivia
References
v • e Birds and Allies
Game Introductions

Classic

Seasons

Rio

Friends

Space

Star Wars

Star Wars II

Go!

Epic

Stella

Transformers

POP!

AB2

Evolution

Red Birds

Yellow Birds

White Birds

Black Birds

Blue Birds

Mayhem Simulator

Custom Birds

•

Journey

Web Games

Media Introductions

Other

• • • •
Main article | Gallery | Beta elements | Version history | Achievements | Credits | Glitches | Re-releases (Free, HD, Free HD)
Playable characters
Angry Birds (Space Flock), (Bomb (Space Bomb), Bubbles (Atomic Bird), Chuck (Lazer Bird), Ice Bird, Red (Super Red), Terence (The Incredible Terence, Wingman), The Blues (Lightning Birds)) | Space Egg
Non-playable characters
Darth Maul | King Pig | Mighty Eagle (Mighty Buzzard, Space Eagle) | Slash Bird | Skunkbird | Toucan Sam
Enemies
Space Pigs (Corporal Pig, Foreman Pig, Hektor Porko, Minion Pig) | Spacecraft Pig | S.P.A.R.K.
Episodes
Pig Bang | Cold Cuts | Fry Me to the Moon | Utopia | Red Planet | Pig Dipper | Cosmic Crystals | Beak Impact | Brass Hogs | Solar System | Eggsteroids | Danger Zone | Froot Loops Bloopers (limited time)
Bosses
Pig Bang boss |

Cold Cuts boss

| Fat Pig | Red Planet boss | Pig Dipper boss | Alien Pig |

Beak Impact boss 1

|

Beak Impact boss 2

|

Brass Hogs boss

Items
Egg | Eggsteroid |

King Pig's UFO

| Nest | Powerup (Flock of Birds, Pig Puffer, Space Egg, Wingman) | Slingshot |

Space Egg Cannon

Gimmicks and obstacles
Glass | Stone | TNT | Water | Wood
Music
Angry Birds Space (Original Game Soundtrack)
Other
Angry Birds Comics (2016) #9 | Angry Birds Space: A Furious Flight into the Final Frontier | Angry Birds: Birds in Space | Angry Birds Space: Planet Block | Angry Birds Space comic | Angry Birds Space VR | The Daily - Birds in Space | Angry Birds Space: Colors |

Angry Birds Space: Numbers

|

Angry Birds Space: Maze Mania

|

Learn to Draw: Angry Birds Space

|

Angry Birds Space Joke Book

|

Angry Birds Space: Search and Find

| The Angry Birds Friends Golden Egg Level |

Destruction gauge

| Earth (Piggy Island) | Star | Angry Birds Space Assault! | Angry Birds: Hatching a Universe | Winnable Objects | Rocket Science Show