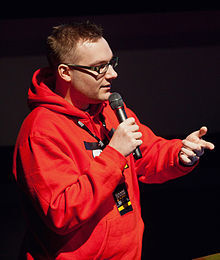 Jaakko Iisalo is a Finnish video game designer, developer, and the Senior Game Designer of Angry Birds. He is one of the lead people in the making of Angry Birds, Angry Birds Seasons, Bad Piggies, and other Rovio games. He is the chief designer of Rovio and was the leader of the making of Angry Birds. He was the person who sketched the birds used in Angry Birds as well as the pigs.
Game credits
Sketches
The Jaakko Iisalo sketches were six sketches made by Jaakko Iisalo that were the first depictions of the Flock and the Bad Piggies. The exact location of the sketches is unknown, but multiple photos of the sketches circulate on the internet. The sketches depict flightless birds and green pigs.
History
In early 2009, Rovio staff began reviewing proposals for potential games. One such proposal came from Jaakko Iisalo in the form of a simulated screenshot featuring some angry-looking birds with no visible legs or wings. While the picture gave no clue as to what type of game was being played, the staff liked the characters, and the team elected to design a game around them. In early 2009, physics games, such as Crush the Castle, were popular flash-based web games, so the Rovio team was inspired by these games. During the development of Angry Birds, the staff realized the birds needed an enemy. At the time, the "swine flu" epidemic was in the news, so the staff made the birds' enemies pigs. As a result of the sketches, Angry Birds became one of the most popular video game franchises in history.
Gallery
Trivia
The sketches are seen at the orientation theater of the Rovio headquarters.
Gallery
Trivia
Iisalo was spoofed into a Developer Bird (seen in gallery) in a Chrome advertisement.
Iisalo was the artist who made the original sketch for an Angry Birds game (seen in the gallery).
External Links
See also
Community content is available under
CC-BY-SA
unless otherwise noted.