The Mighty Hoax

This page is about an April Fools Joke that is not meant to be treated seriously.

On occasion, Rovio Entertainment will create new Angry Birds as fanon and jokes, meant solely for fun, but (most of the time) are not meant to be canonical.
Birds
The Coco Bird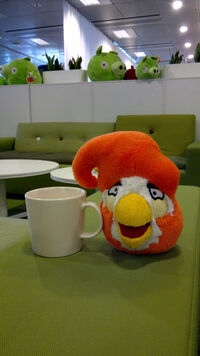 On October 5, 2011, the Angry Birds Twitter page tweeted the following image with the caption, "Hey @ConanOBrien we've made an Angry Birds version of you. Meet the Coco Bird!"
The plush bird was a homage to Comedian/Talk Show Host, Conan O'Brien. It's based on Matilda, but features red hair, a red beard and opened mouth, similar to O'Brien's at the time.
On April 1, 2012, Conan O'Brien and Mashable.com shared a prank stating that O'Brien had purchased Mashable and was now the new CEO. The Angry Birds Twitter page tweeted: "The Coco bird is a fan of the new pecking order at @mashable!" and linked to the original image of the Coco Bird.
Note: This plush is not for sale in any internet stores and will not be, but it can be handmade by some people. 
Skunkbird
On April Fool's Day - April 1, 2012, Rovio Entertainment posted an image on Angry Birds' Social Media sites with the caption "Coming Soon," the "official" title of this character was found by the file name of the Google+ image, "skunkbird_final.jpg."
The Angry Birds Twitter page later suggested to players "Tip: Pop precisely 22 pigs on the main menu!"
Later in the day, it was revealed as an April Fool's Joke with an updated image. Not too many people were tricked by this. Some people thought that this may have happened to Matilda when she went into space.
Games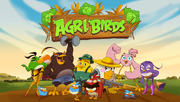 Agri Birds was a weird-looking parody farm game that contained parodied versions of the birds, which have sat down from the pigs to enjoy Farm Life. The player would have to play as Red and other characters, which seem to have their own minigames, such as defeating moles, dressing, looking for the Blues and talking. 
About the characters, they have parodied versions of the normal birds as said above, they had the following personalities:
Nothing much is known about the game, as it was an April Fools joke, but for more information, see its page.
Angry Birds Stretch was a parody game that had the same gameplay as Nokia Snake. The player would control Red and collect the eggs, getting into a strange, long-form, of a snake, while obtaining points, it would also have a life system, consisting of 3 Reds. It is said that it would be easy and fun to play, with no social features. 
It would cost $9.99 as a launch price, but the game itself is a joke, an April Fools joke.
Description
Looking for that classic Angry Birds slingshot gameplay? Look no further than Angry Birds 2 because Angry Birds Stretch! puts our familiar fierce fowl in a totally new, never before seen environment and gameplay experience. Play from a top-down perspective as Red races around the play area, gather eggs to make Red grow and increase your score. Hit a wall and it's game over! Squawk!
Angry Birds Stretch! hits app stores very soon for the limited-time launch price of only $9.99.
Click here to see the blog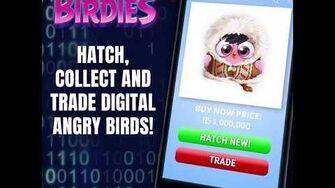 Cryptobirdies is a game that was literally an April fool's joke, as going to rov.io/cryptobirdies would link you to the song Never Gonna Give You Up by Rick Astley, thus being a Rick Roll (An internet synonym for Troll), In the game you would have you take care of hatchlings, and earn them, like in Angry Birds Match, but they would hatch from an egg and then would be bought with a huge amount of money.
Angry Birds Maker is a game that is a parody of Super Mario Maker 2. The player would make levels by placing birds, pigs and objects down, and you can also change game styles, theme styles, episode style and the total score. After that, players would submit their levels online for others to play.
It would be played only on the Nintendo Switch, price is unknown.
Events
International Pig Acceptance and Appreciation Day
We're ending the persecution of green pigs, by replacing them with watermelons.
On April 1st, 2016, the Angry Birds social media profiles and website were saying that the pigs were going to be replaced by watermelons in order to end the persecution of the pigs, which was only a joke and no pigs were replaced in any game. An image featured Hal hitting a watermelon on level 5 of Pig Tales, full of watermelons.
In Angry Birds Seasons, a level was launched on Pig Days the same day, entitled April Fools! which was spoofed as International Pig Acceptance and Appreciation Day on the site. However, it doesn't feature Pig Peace and instead, reverse gravity and pigs with clown noses.
Best Bird Event
On April 1st, 2022, Red was replaced with Hal on the loading screen of Angry Birds 2 and stared in "The Best Bird Adventure!" (similar to the "Extra Bird Adventure", but only with Hal) and was made the banner bird of the Rovio Gaming Discord. The event lasted all of April and included Hal Fever's and The Best Adventure, but both events ended when April 2nd came around.
v • e
Major titles
Core series: * (2009) • (2015)



Side series: * (2010) • * (2011) • (2012) • * (2012) • * (2012) • * (2013) • * (2013) • * (2014) • (2014) • (2015) • * (2015) • * (2016) • (2016) • * (2016) • * (2016) • * (2016) • * (2017) • (2017) • (2017) • * (2017) • * (2018) • (2019) • (2019) • * (2019) • * (2020) • * (2020) • (2021) • (2022)

Spin-offs: (2012) • * (2014) • (2019) • (2021)


Rovio Classics
(2022)
Free Versions
* (2010) • Angry Birds Lite Beta* (2010) • * (2011) • * (2011) • * (2011) • Angry Birds Mult Trial* (2011) • * (2011) • * (2012) • * (2012) • * (2012) • Angry Birds Star Wars II Free* (2013)
HD Versions
* (2010) • Angry Birds Seasons HD* (2010) • Angry Birds HD Free* (2011) • Angry Birds Seasons HD Free* (2011) • Angry Birds Rio HD* (2011) • Angry Birds Rio HD Free* (2011) • Angry Birds Space HD* (2012) • Angry Birds Space HD Free* (2012) • Bad Piggies HD (2012) • Angry Birds Star Wars HD* (2012) • Angry Birds Star Wars HD Free* (2012) • Bad Piggies HD Free* (2012)
Chinese Versions
* • * (2014) * (2015) • (2017) • (2019) •
Web Games
* (2011) • * (2011) • * (2011) • * (2011) • * (2011) • * (2011) • * (2011) • * (2011) • (2012) • * (2012) • * (2012) • * (2012) • * (2012) • * (2012) • * (2012) • * • * (2012) • * (2012) • * (2012) • * (2012) • * (2012) • * (2013) • Angry Birds Cheetos 2* (2013) • (2013) • * (2014) • Angry Birds Starburst (2016) • * (2017, Unreleased game) • Angry Birds Radox (Venatus Angry Birds) (2017) • (2021) • (2022)
Console Games
(2012) • (2013) • (2019)
Joke Games
(2015) • (2017) • (2018) • (2022)
Arcade Games
(2016) • Angry Birds Stomper Redemption* (2020) • Angry Birds Whacker* (2020) • (2021) • (2021) • (2022)
Miscellaneous
Angry Birds PlayStation Portable version* (2010) • Angry Birds Mult* (2011) • Angry Birds Friends mobile version (2013) • * (2013) • * (2013) • * (2014) • * (2014) • * (2015) • * (Unknown, Unreleased game) • * (2016) • (2016) • * (Unknown, Unreleased game) • * (2017, Unreleased game) • (2017) • Angry Birds Go! 2* (Unknown, Unreleased game) • (2018) • (2018) • (2018) • (2018) • (2019) • Angry Birds Friends Windows 10 version (2019) • (2019) • (2020) • (2022)
Upcoming games
(Unknown) • (Unknown) • (Unknown) • Angry Birds Next (Unknown) • Angry Birds Crazy Golf (Unknown)
Key

* - Discontinued, canceled, or closed
v • e Birds and Allies
Game Introductions

Classic

Seasons

Rio

Friends

Space

Star Wars

Star Wars II

Go!

Epic

Stella

Transformers

POP!

AB2

Evolution

Red Birds

Yellow Birds

White Birds

Black Birds

Blue Birds

Bird Island

Custom Birds

•

Journey

Web Games

Media Introductions

Other

• • • • • Obama Bird