This page or section is in need of cleanup.

In order to meet the

Angry Birds Wiki

's standards, this article, Judge Peckinpah or a section of it, needs to be cleaned up. You can help Angry Birds Wiki by

editing it

and cleaning it up as soon as possible, then removing the cleanup tag.
''JUDGE POOWWWEEEEERRRRRR!''
–Judge Peckinpah, The Angry Birds Movie
Judge Peckinpah is an owl who is standing on another bird to hide his true size and a former anti-hero of The Angry Birds Movie.
Character
Appearance
He is a Great Grey Owl with purple feathers on his head, a medium-sized yellow beak, two eyes, a ruffled chest, two short purple wings and yellow feet.
When he stands on Cyrus, he looks tall  wears a large purple cloak.
Personality
Judge Peckinpah is an extremely arrogant, biased, pompous, and unjust judge who loves the sound of his own voice and holds court even when he's not actually in court. He typically sends birds to the anger management classes at the Infinity Acceptance Center.
He can be seen strutting around Bird Island like he owns the place. He is so small that underneath his robes, he stands on the shoulders of another bird, Cyrus, even though every bird knows the truth, meaning he's not fooling any of the citizens. He only believes he's the one with a higher calling one that requires a higher perch on Cyrus' shoulders. He was at first the antagonist but after the raid on the village's eggs, he reformed and helped Red get the eggs back.
After the birds rebuilt the village, Judge Peckinpah welcomed Red back to the village, also after the birds rebuilt his house that is now located in the village.
Relationships
He initially did not like Red due to his anger issues and sentenced him to the Infinity Acceptance Center as a result of the Happy Hatchday Scandal, and when he found out that the pigs stole their eggs and burned down their village, he felt remorse for not listening to Red, and fought under his command during the Battle of Pig City. In return, he and the rest of the citizens of Bird Island rebuilt his house and moved it back into the village.
The Angry Birds: Flight School Issue 2 (Swift Justice story) shows that Cyrus treats Judge Peckinpah as a coworker and somewhat a friend.
Game appearences
Judge Peckinpah was formerly a main character in the plot which he would punish Red for the destruction of the village but Red had proof. He had a fully 3D Model and was unplayable, but in the game he appears competing with the player in the levels, but only as an icon.

Judge Peckinpah would appear in the game as again an important but unplayable character, he helped Red in rebuilding the village. He gives tasks to the player do and is nicknamed as chief. He uses a Classic Toons design while he uses a coat but without Cyrus.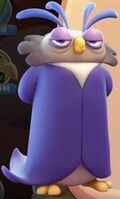 He appears in Angry Birds Journey when you look at the inbox.
He has a more cartoony design in this game.
Gallery
v • e Birds and Allies
Game Introductions

Classic

Seasons

Rio

Friends

Space

Star Wars

Star Wars II

Go!

Epic

Stella

Transformers

POP!

AB2

Evolution

Red Birds

Yellow Birds

White Birds

Black Birds

Blue Birds

Bird Island

Custom Birds

•

Journey

Web Games

Media Introductions

Other

• • • • • Obama Bird
v • e Movie Dimension
Media Introductions

Game Introductions

Holiday

Evolution

Red Birds

Tony

,

Sam

,

Hugh

,

Meryl

,

Walter

,

Timothy

,

Frank

,

Noah

,

Winnie

,

Darlene

,

Margaret

,

Tommy

,

Lady Plume

,

Jasmine

,

Melody

,

Carter

,

Bette

,

Billie

,

Claude

,

Geraldine

,

Ricky "Red Menace" Redtzky

(

Elite Ricky

),

Angry Santa

,

Quentin

,

Muge

,

Fire Rooster

,

Beast

,

Peck Girl

Yellow Birds

Eugene

,

Patrick

(

Patrick the Santa

),

Bob

,

Kumiko

,

Connie

,

Lucy

,

Flavio

,

Mortimer

,

Charlotte

,

Cletus

,

Rod

,

Dalton

,

Derek

,

Gloria

,

Pauline

,

Doris

,

Brenda

,

El Gigante

,

Billy The Blitz

,

Cyril

,

El Jefe

,

Scrooge

,

Theo Walcott

,

Star Quarterback

,

Lady Bacon

,

Cold Turkey

,

Ciara

,

Major Pecker

White Birds

Elite Matilda

,

Kid YOLO

,

Mireille

,

Chip

,

Sadie

,

Hank

,

Capt'n Thrush

,

Millie

, (

Millie The Angel

),

Mikhail

,

Tiffany

,

Tara

,

Harold

,

Clive

,

Thelonius

,

Otis

,

Oliver

,

Jimmy

,

Owlpheus

,

Jacquie

,

Annie

,

Steve

,

Francis

,

Hot Grease

,

Captain Freedom

,

Elite Major Freedom

,

Klaus

,

Fringy

,

Lucha Libre

,

DedSw1n3

,

Dr. Strangebird

,

Master Beakagi

Black Birds

Anthony

,

Monday

,

Pam

,

Dolores

,

Mia

,

Richard

,

Max

,

Tonya

,

Lianne

,

Eddie

,

Shrapnel

,

Earl

,

Duane

,

Ember

,

Keira

,

Kowalski

(

Kowalski the Elf

),

Zain

,

Carson

,

Cenk Tosun

,

Byron

(

Black Metal Byron

),

Bob Boomer

,

Van Hellbird

,

Dutch

,

Xenoflocker

,

Dr. Probotnik

,

Eddie The Bird

Blue Birds

Leland

,

Toby

,

Shirley

,

Sidney

,

Tyler

(

Tyler The Festive Surfer

),

Myles

,

Greg

,

Andrew

,

Amy

,

Eggbert

,

Kim Fli Hy

,

Clint

,

Sinbad

,

Helmut

,

Wade

,

Trey

,

Ron

,

Paige

,

Gylfi Sigurdsson

,

Murphy

,

Birdstilano Eagaldo

,

Angromedon

,

Grandfather Frost

,

Li'l Pecker

,

Heavy Metal Annie

,

Thrash

,

Snow Maiden Marisha

,

Piggy Nian

Pigs

Match

Hatchlings

(

Sandy

•

Dina

•

MC Mintie

•

DJ Tulip

•

Liam

•

Sophia

•

Skip

•

Kerry

•

Kiwi

•

Arianna

•

Gail

•

Phillip

•

Emma

•

Chloe

•

Sparky

•

Corey

•

Ginny

•

Riley

•

Flint

•

Drew

•

Madison

•

Viggo

•

Aria

•

Hailey

•

Alisha

•

Avery

•

Charlie

•

Fluffy

•

Aiden

•

Maya

•

Beth

•

Naomi

•

Sofia

•

Evan

•

Otis

•

Jackson

•

Billy

•

Olivia

•

Matt

•

Abby

•

Alex

•

Angela

•

Lana

•

Lumi

•

Walker

•

Ashton

•

Sven

•

Taiga

•

Crystal

•

Keiko

•

Noam

•

Chara

•

Macario

•

Farah

•

Willie

•

Ninni

•

Theo

•

Cecilia

•

Ellen

•

Miko

•

Sandra

•

Coral

•

Romeo

•

Evian

•

Kiusa

•

Ariel

•

Ahti

•

Walton

•

Banana

•

Tico

•

Mango

•

Bo

•

Baloo

•

Astro

•

Carrie

•

Lazer

•

Mars

•

Cosmo

•

Estella

•

Martin

•

Danny

•

Grace

•

Woody

•

John

•

Mae

•

Tim

•

Morgan

•

Haider

•

Brendan

•

Ellie

•

Jessica

•

Hugo

•

Marek

•

Kayleigh

•

Ellice

•

Tyreese

•

Joely

•

Aaran

•

Codey

•

Lola

•

Phillipa

•

Eben

•

Cathy

•

Kiki

•

Eddie

•

Lou

•

Rixi

•

Pine

•

Rudolph

•

Finn

•

Gabriel

•

Aurora

•

Marina

•

Eugene

•

Paris

•

Amelia

•

Herbert

•

Betty

•

Bonnie

•

Austin

•

Jesse

•

Emmett

•

Iris

•

Sage

•

Polly

•

Storm

•

Jack

•

Embyr

•

Drogo

•

Ryu

•

Hazel

•

Raven

•

Frankie

•

Noelle

•

Jasper

•

North

•

Yang

•

Kai

•

Ling

•

Lily

•

Sunny

•

Buddy

•

Chica

•

Salla

•

Hops

•

Mary

•

Ilia

•

Edward

•

Nugget

•

Cheez

•

Nacho

•

Umbra

•

Scarlet

•

Fae

•

Scott

•

Quincy

•

Mina

•

Rowan

•

Apple

•

Aurelia

•

Annie

•

Ginger

•

Lux

•

Twinkle

•

Lee

•

Mei

•

Gengi

•

Cherry

•

Rose

•

Daisy

•

Popper

•

Lush

•

Mint

•

Yam

•

Toothy

•

Maribell

•

Steve

•

Roger

•

Calypso

•

Chilla

•

Lime

•

Aqua

•

Vicca

•

Lupin

•

Pixie

•

Candy

•

Igor

•

Murray

•

Maple

•

Sienna

•

Crispin

•

Misty

•

Lucy

•

Hammy

•

Hua

•

Bao

•

Lin

•

April

•

Maggie

•

Willy

•

Violet

•

Esther

•

Allan

•

Krissy

•

Elle

•

Anne

•

Devin

•

Charley

•

Vickie

•

Jayson

•

Janelle

•

Emmie

•

Derek

•

Coby

•

Kayley

•

Loki

•

Glenn

•

Mindy

•

Nile

•

Peggy

•

Olly

•

Mitchell

•

Tina

•

Loan

•

Han

•

Mai

•

Jorge

•

Saoirse

•

Ria

•

Harvey

•

Monika

•

Evelyn

•

Milana

•

Jorden

•

Sheena

•

Oceana

•

Derry

•

Priya

•

Bayley

•

Cayson

•

Kara

POP Blast

Bird Island