Lake Land - 3 is the third level of Lake Land in Angry Birds Epic. It is a wave stage. When this level is finished, the player may spin for 3 Ores. Clearing this stage will unlock access to Bottomless Cave.
Battle Hint
Common Pigs (Appears in large numbers.)
Common pigs appear in large numbers and don't have special rules usually.
Hint: Deal with the tallest pigs first. They pose the most threat.
Enemies
Unless stated otherwise, there is only 1 of each type of enemy. Each enemy's stats are shown below per wave.
Wave 1
Wave 2
Wave 3
Strategy
Warning #1: Be extremely careful at wave 1 and 2! Always kill the Big Boss and the Foreman first so he cannot increase his attack power!
Warning #2: On the first wave, don't use the Rage Chili to anyone. From wave 2, anytime, use the Rage Chili to Matilda if the birds' healths are under 65%, use it to Bomb if there are more than two pigs on the battlefield and for The Blues if there are two pigs or less on the battlefield.
Warning #3: When a bird is almost out of health, immediately use The Blues' secondary skill to give that bird bonus healing every turn!
Choose Red in Samurai, Matilda in Druid and The Blues in Spies. In every waves, attack every turn with The Blues and Bomb, then, heal with Matilda if the birds' healths are not full, otherwise, attack with her. When, the Rage Chili is full, do as what we said at the "Warning #2". Also, when the Big Sailor is almost ready to attack, use Red's secondary skill on the bird who has the lowest current health. Repeat this over until you win the entire battle or lose the entire battle.
Gallery
Walkthroughs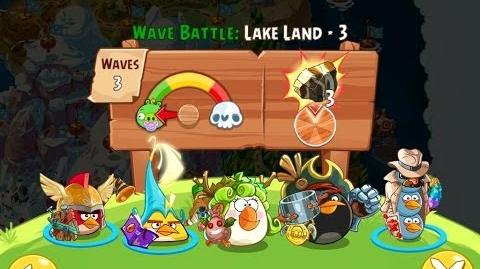 Community content is available under
CC-BY-SA
unless otherwise noted.