King Mudbeard, also known as Leonard, is a character that appears in the Angry Birds series. He is a pig and former monarch of the Piggy kingdom, until he was replaced by his son, King Pig Smooth Cheeks.
Concept and creation
"I grew up with a framed pencil drawing of a marble bust of a Roman Emperor, Caracalla, which was hanging in my family house in Rome. The drawing was made by one of my great-grandfathers at the end of the 19th century. While growing up I dreamt of one day being able to draw that well. While drawing Mudbeard for Angry Birds, I designed his beard as a specific tribute to that drawing."
— Francesca Natale, character designer
According to The Art of the Angry Birds Movie, Francesca R. Natale, the character designer for The Angry Birds Movie, decided to design Leonard such that he would resemble the Roman emperor, Caracalla, reflecting upon her Italian heritage. Though based on the Emperor, he does not have beard to the snout.
Appearance
Leonard is an anthropomorphic pig with green skin. His head is directly connected to his oval torso without a neck, though he has a green beard separating both parts of his body. His eyes have black pupils, and he has a small snout with two nostrils. Also, his limbs end with cloven hooves. For attire, he sometimes wears a tall, golden crown.
In the games, Leonard was modified to look like a round pig, just like the other characters. In the original Angry Birds, he was a re-skin of King Pig, though with a green beard on his face. In Angry Birds 2, he is a square-shaped pig with green skin and a darker beard. This design was kept in Angry Birds Reloaded, though his skin is lime-colored here.
Personality
Leonard is a charming and charismatic, yet somewhat stupid person. When he first met the birds, he acted polite and solidary towards them, confident that he was going to gain their trust. However, he was also easily frustrated by Red's complaints, whispering to himself that the bird was a useless jerk. It is shown that he always does everything without doubting or fearing the consequences.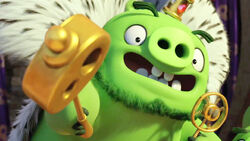 Behind this enthusiastic persona, Leonard is a bossy, power-hungry monarch, who has no respect or empathy towards his allies; according to Pork Ogh, he spends all day giving his minions orders, and yelling at them when they fail.[2] He is also very punctual, having punished a group of pigs for having given him a Porkini Mushroom one minute after he expected to have it.[3] However, he still keeps his cool persona in public.
Relationships
Red
Red is Leonard's worst enemy. They first met when the overweight pig and his minions went to Bird Island. Ever since their first encounter, they have had a rather tense relationship, with Red being skeptical about Leonard, and Leonard being annoyed by the bird's altitude towards him, sometimes cursing him in secret. Eventually, it turned out that Red was right about the pigs when they stole the eggs from Bird Island and bombed Bird Village. When Red and his friends attacked Pig City and rescued the eggs, Leonard's hatred to the bird was aggravated. However, the pig once took a selfie cosplaying Red despite their mutual hatred. Also, the two had to cooperate to stop Zeta from taking over the earth.
Allies
Neutral
Enemies
Trivia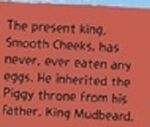 In the storyboards of The Movie, Leonard was merely a short pig without a beard. Ross was bigger than him and would have translated what he was saying in symbols.[4]
In the Peninsular Spanish version of the films, Leonard is called Leonardo, the Spanish translation to his name. However, the Hispanic American version keeps his name as Leonard.
References
v • e Pigs/Enemies
Game Introductions

Media Introductions

Others
(view: v)
Main article | Gallery | Beta elements | Credits | Glitches | Version history | Achievements | Re-releases (Lite, Lite Beta, Free, HD Free, Free with Magic, HD, PSP, Roku, Free with Magic, Trilogy, Samsung Smart TV, Kakao, China, Hatch, Time Travel, Tencent QQ, Talkweb, Rovio Classics)
Playable characters
Angry Birds (Bomb (Shockwave), Bubbles, Chuck, Hal, Matilda, Red (Mighty Feathers Red), Stella, Terence, The Blues) | Minion Pig | Small Pig | Jetpack Pig | Bomb Pig | Bowling Ball Pig | Beaked Pig | Fat Pig | Balloon Pig | Female Pig
Non-playable characters
Mechanic Pig | Mighty Eagle | Ross | Rhinoceros
Enemies
Corporal Pig | Egg | Foreman Pig | King Pig | Leonard | Minion Pigs
Episodes
Normal
Tutorial | Poached Eggs | Mighty Hoax | Danger Above | The Big Setup | Ham 'Em High | Mine and Dine | Surf and Turf | Bad Piggies | Red's Mighty Feathers | Short Fuse | Flock Favorites | Bird Island | Piggy Farm | Jurassic Pork | Birdday Party (Birdday 5) | Golden Eggs | Bonus Levels*** | Magic**
New World*
Happy New Year | Naughty Christmas | Lunar New Year of the Golden Pig | Wandering Planet | Summer: Back to the Beach
Classic World*
Year of the Goat | Moon Fest
Other
Power-up University | Mighty Eagle University
Items
Coins | Egg | Gems | Golden Egg | Power-up (Birdquake, King Sling, Power Potion, Score Doubler*, Shockwave, Sling Scope,

TNT Shield

) | Sardine | Slingshot | Lives****
Gimmicks and obstacles
Balloon | Beach ball | Cake | Cardboard cutout | Dice | Gift | Glass | Greek pillar | Potion | Stone | TNT | Treasure chest | Water* | Wood
Modes
Daily Challenge (Angry Birds Time Travel**) | Golden King Pig | The Mighty League
Music
Albums
Angry Birds (Original Game Soundtrack)
Tracks
"Angry Birds Theme"
Other
"Angry Birds Cinematic Trailer" | "Angry Birds & the Mighty Eagle" | "Angry Birds Bing Video" | "Bomb Bird: Short Fuse" | Box2D |

Destruction gauge

| Earth (Bird Island (Bird Island Beach, Eagle Mountain), Piggy Island) | Level Failed | Piggy kingdom | Rovio Account | Angry Birds: Hatching a Universe | Winnable Objects
*Appears in the Chinese version only
**Appears in Angry Birds Time Travel only
***Appears in Angry Birds Trilogy only
****Appears in Angry Birds for Kakao only
v • e
Playable characters
• • ( • ) • () • • • • • () •
Non-playable characters
• • • • • Sonam Kapoor Bird • Matt Damon Bird • • • VIXX • • • • • • • • •
Enemies (Accessorized Pigs)
( • • • ) • • • • • • • • • • • • • • • • • • • • • • • • • • • • • • • • • • • • • • • • • • • • •
Materials and Objects
• • • • • • • • • • • • •
Power-Ups
• • • • • • • • • • • • • •
Episodes

Other
Tournaments • Events • Star Cup • Bird-O-Matic • Ports (Mobile Port • Windows 10 Port) • Achievements • • • Angry Birds Shop • Gallery • Glitches • Unused Content • Version History • Angry Birds: Hatching a Universe
Main article | Gallery | Version history | Achievements | Credits | Glitches
Playable characters
Angry Birds (Bomb, Bubbles, Chuck, Hal, Matilda, Red, Silver, Stella, Terence (Wingman), The Blues) | Courtney | Garry | Leonard
Non-playable characters
Chef Pig | Mighty Eagle
Enemies
Corporal Pig | Eagles | Foreman Pig | Leonard | Minion Pigs (Construction Pig) | Zeta | Daft Piggies
Episodes
Bird Island/Piggy Island
Hot Pursuit | When Birds Fly | Party Crashers | Bacon Beach | Bamboom Forest | Wrecks & The City | Pigs In A Banquet
Eagle Island
Frenemies | Enter The Volcano | The Frozen Heart
Secret Area
Off The Menu | Pie Hard | Daft Piggies | Birdnapped | Finding Zeta | Midsummer Mayham
Items
Accessories | Billy | Bird Coins | The Eggs | Power-Ups (Birdquake, Boombox, King Sling, Power Potion, Sling Scope, Wingman) | Slingshot
Gimmicks and obstacles
Balloon | Billy | Cake | Dice | Donut | Easter Egg | Glass | Greek pillar | Grey block | Pumpkin | Rubber | Stone | TNT | Treasure chest | Wood | Sardine
Other

Destruction gauge

| Earth (Bird Island, Eagle Island, Piggy Island (Cobalt Plateaus, Pig City, South Beach)) | Level Failed | Piggy kingdom | Star