Template:Theme InfoboxLevel F-5 is the fifth level of Sardine Can Levels. To unlock this level, you must collect all feathers in Red Planet.
Difficulty
This is a very confusing level. You often don't know which part should be start.
Strategy
Strategy 1
Fire the sardine can upwards, into the leftmost geyser. Unleash the Space Eagle just southwest of the central spacecraft-looking pile of blocks. You need quite a bit of luck and a 1-can clear, but this strategy is pretty consistent.
Strategy 2
Send the sardine can in the southern of the western planet and it will be pulled by the gravitational field. The can will travel a very long, winding path across every geyser, settling along the eastern wall. While the initial shot has a bit of variation, a 1-can clear is far more common.
Walkthrough
Strategy 1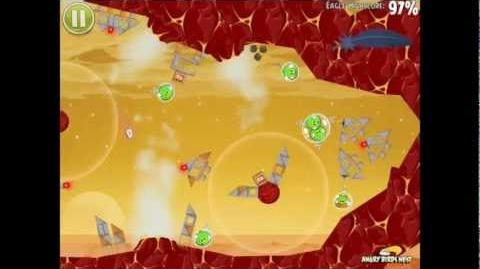 Strategy 2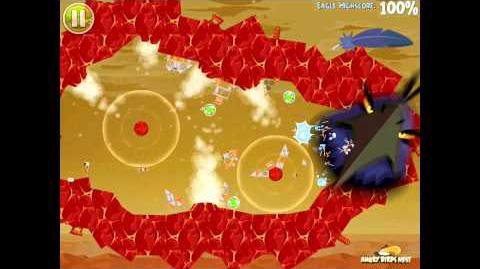 Angry Birds Space
Levels
Eggsteroids
Episode Key : Blue = Pig Bang; Cyan = Cold Cuts; Lightblue = Fry Me to the Moon; Pink = Utopia; Salmon = Red Planet; Lightgreen = Pig Dipper; Purple = Cosmic Crystals; RoyalBlue = Beak Impact
Community content is available under
CC-BY-SA
unless otherwise noted.