Level F-6 (Angry Birds Space)
Episode
Level Number
Feather 6
Birds Sequence
No. of Pigs
: x6 : x1
3-star Score
N/A
Previous
Next
Level F-5
Level F-7
Level F-6 is the sixth level of Sardine Can Levels. To unlock this level, you must collect all feathers in Pig Dipper.
Difficulty
Some Pigs can be tricky.
The platform in the right planet is very annoying.
Anchors in the right planet is very annoying too.
Strategy
Fire the Sardine Can south around the first planet, outside of the water but within the gravitational field. The goal is to have the Can avoid the swinging anchor north of the target planet, unleash the Space Eagle when the can settles between the third and fourth towers.
Note: This shot is not easy because of the platform and the anchors.
Walkthrough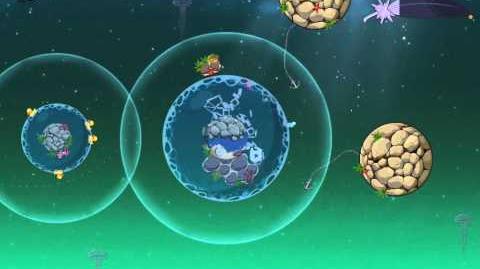 Angry Birds Space
Levels
Eggsteroids
Episode Key : Blue = Pig Bang; Cyan = Cold Cuts; Lightblue = Fry Me to the Moon; Pink = Utopia; Salmon = Red Planet; Lightgreen = Pig Dipper; Purple = Cosmic Crystals; RoyalBlue = Beak Impact