Level F-7 (Angry Birds Space)
Episode
Level Number
Feather 7
Birds Sequence
No. of Pigs
: x1
3-star Score
N/A
Previous
Next
Level F-6
TBA
Level F-7 is the seventh level of Sardine Can Levels. To unlock this level, you must collect all feathers in Cosmic Crystals.
Difficulty
The Foreman Pig is a bit hard to reach.
Strategy
Send the first two Sardine Cans to destroy two planets.
Send the last Sardine Cans to finish the Foreman Pig in the cave.
Try sending the final Can to the far end crystal planet atmosphere
Walkthrough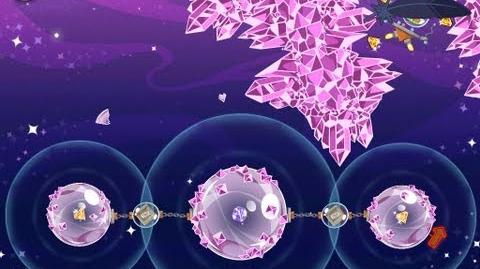 Angry Birds Space
Levels
Eggsteroids
Episode Key : Blue = Pig Bang; Cyan = Cold Cuts; Lightblue = Fry Me to the Moon; Pink = Utopia; Salmon = Red Planet; Lightgreen = Pig Dipper; Purple = Cosmic Crystals; RoyalBlue = Beak Impact