Template:Theme Infobox Level S-14 is the space Egg level in Pig Dipper. To unlock this level, you must 3-starring levels 6-1 through 6-10 of Pig Dipper.
Difficulty
Very hard to deal a lot of pigs with only three eggs. But 3 stars is easy to achieve if you completed the level.
Strategy
Send the Egg into and then back out of the water, pulling the northeast tower westward. This can have varying degrees of destruction, but you must detonate at least two out of the three TNTs to have a chance at 3-starring the level. If necessary, you can use another Egg to clear the level.
Video Walkthrough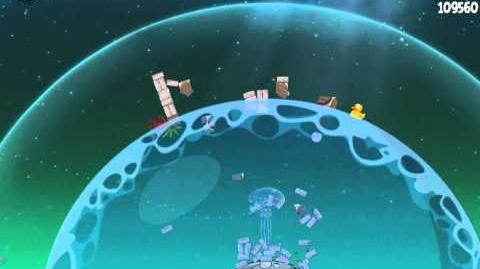 Angry Birds Space
Levels
Eggsteroids
Episode Key : Blue = Pig Bang; Cyan = Cold Cuts; Lightblue = Fry Me to the Moon; Pink = Utopia; Salmon = Red Planet; Lightgreen = Pig Dipper; Purple = Cosmic Crystals; RoyalBlue = Beak Impact
Community content is available under
CC-BY-SA
unless otherwise noted.