Template:Theme Infobox Level S-15 is the space Egg level in Pig Dipper. To unlock this level, you must 3-starring levels 6-11 through 6-20 of Pig Dipper.
Difficulty
Looks hard but this level is not too hard, so you can easily 1-birder.
Strategy
Strategy 1
Send the Egg between the anchor and water on the western planet. Trigger the wormhole below the central anchor slowly, the boats will fall into gravitational fields and explode.
Strategy 2
Send the Space Egg southern the first planet, the Egg will dive briefly on the second planet and exit the atmosphere. Activate him next to the northernmost Small Pig. If you lucky enough, the entire level will cleared. If necessary, send another space egg to demolish the level.
Video Walkthrough
Strategy 1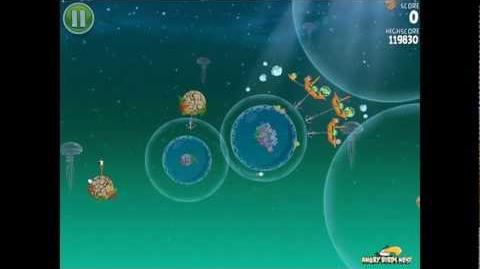 Strategy 2
Angry Birds Space
Levels
Eggsteroids
Episode Key : Blue = Pig Bang; Cyan = Cold Cuts; Lightblue = Fry Me to the Moon; Pink = Utopia; Salmon = Red Planet; Lightgreen = Pig Dipper; Purple = Cosmic Crystals; RoyalBlue = Beak Impact
Community content is available under
CC-BY-SA
unless otherwise noted.