Template:Theme Infobox Level S-19 is the last Space Egg level in Cosmic Crystals. To unlock this level, you must 3-starring levels 7-21 through 7-30 of Cosmic Crystals.
Difficulty
The strings of wood and stones are hard to destroy.
Strategy
Pull the southern asteroids northward through the nearest and westernmost pigs with the first Egg. Wait for the remaining pig on the northern planet to swing as far north as it can, then aim the Egg between the small spacecraft and asteroid at the extreme north of the level. Finally, pull the pig on the south planet into the remaining pig with the third Egg.
Video Walkthrough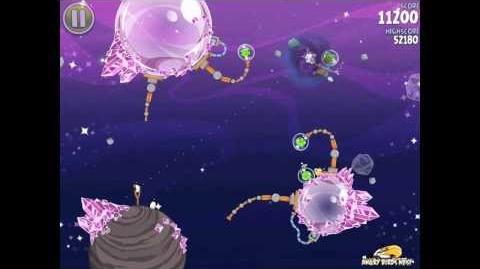 Angry Birds Space
Levels
Eggsteroids
Episode Key : Blue = Pig Bang; Cyan = Cold Cuts; Lightblue = Fry Me to the Moon; Pink = Utopia; Salmon = Red Planet; Lightgreen = Pig Dipper; Purple = Cosmic Crystals; RoyalBlue = Beak Impact
Community content is available under
CC-BY-SA
unless otherwise noted.