Template:Theme InfoboxLevel S-5 is the fifth Space Egg levels in Angry Birds Space. You must collect all stars in level 2-11 to 2-20 in Cold Cuts.
Difficulty
Space Eggs usually not enough for this level. There are only three space Eggs.
Strategy
Send the first Space Egg at a low trajectory above the first planetoid so it detonates right by the foot of the structure. This explosion should cause debris to fly around the planetoid hitting the TNT, taking out the all the pigs inhabiting it. Now fire the second space egg below the first planetoid so it does a half figure eight and comes back up and hits the left side of the top structure on the far planetoid.
Walkthrough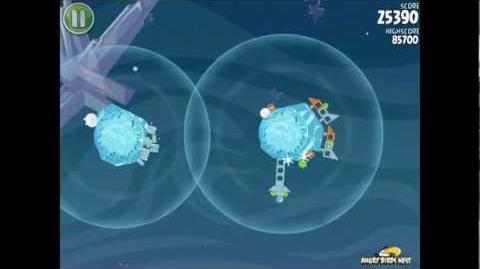 Angry Birds Space
Levels
Eggsteroids
Episode Key : Blue = Pig Bang; Cyan = Cold Cuts; Lightblue = Fry Me to the Moon; Pink = Utopia; Salmon = Red Planet; Lightgreen = Pig Dipper; Purple = Cosmic Crystals; RoyalBlue = Beak Impact
Community content is available under
CC-BY-SA
unless otherwise noted.