Template:Theme InfoboxLevel S-6 is the sixth Space Egg levels in Angry Birds Space. You must collect all stars in level 2-21 to 2-30 in Cold Cuts.
Difficulty
Wooden strings can be problematic for some.
Strategy
Send the first Space Egg low and activate it right above the leftmost TNT. If you're not too close this should send the TNT into the wooden string which is holding the first asteroid in place. Now fling the next Space Egg so it goes above the TNT and the middle asteroid, detonating it at the bottom left side of the asteroid. This should cause the asteroid to swing to the left and then back to right taking out the rightmost tower.
Walkthrough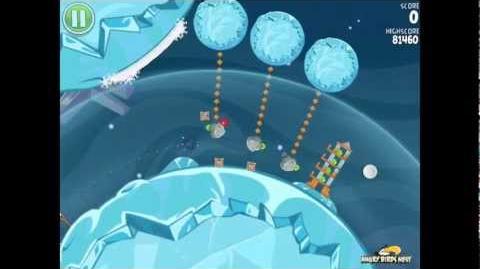 Angry Birds Space
Levels
Eggsteroids
Episode Key : Blue = Pig Bang; Cyan = Cold Cuts; Lightblue = Fry Me to the Moon; Pink = Utopia; Salmon = Red Planet; Lightgreen = Pig Dipper; Purple = Cosmic Crystals; RoyalBlue = Beak Impact
Community content is available under
CC-BY-SA
unless otherwise noted.