Limestone Lagoon - 5 is the thirty-third level of Limestone Lagoon in Angry Birds Epic. It is a Wave stage. When this level is finished, the player may spin for 3 Water. This level introduces you to Smutje, a sea shaman. Smutje can heal his fellow pigs and hurt all your birds at once.
Battle Hint
Key in "Hint Variable=" followed by either "Common Pigs", "Knights", "Pirates", "Pirates", "Wildlings", "Undead", "Ninjas", or "Special Enemy" to see the outcome.
Pigs
Unless stated otherwise, there is only 1 of each type of enemy. Each enemy's stats are shown below per wave.
Wave 1
The player has to engage 2 Farmers.
Wave 2
---
---
---
Wave 3
---
Gallery
Strategy
Warning #1: In this battle, do not use Chuck to attack. Use his secondary skill to Bomb in every turn.
Warning #2: Be careful! The Pirate Veteran may activate "Counter" on himself, or any one of the pigs! If you are not using The Blues, you must use them as Tricksters so you can dispel any one of the pigs or the Pirate Veteran who is using "Counter".
Warning #3: Be extremely careful than the second warning! The Smutje may activate "Emergency Provisions" on himself or the Big Pirate, which can allow any pig to be healed for 57 health for three turns! Remember that the strategy as in the second Warning, use The Blues as Tricksters so you can dispel either the Smutje or the Big Pirate who is using "Emergency Provisions", so you can keep them from healing 57 health.
You can choose Chuck in Lightning Bird, Bomb in Pirate and Matilda in Cleric. Attack every turn at the first wave with the Farmers. Then in the second wave, try to defeat the Pirate Veteran first, then Matey second, then Farmer third, and finally the Bird Catcher. Remember to use Matilda and Bomb's secondary skills when they have been expired. Don't use the Rage Chili until it is full. At the third wave, defeat Smutje first (if not healing). Then, try to defeat the Big Pirate. Again, remember to use Matilda and Bomb's secondary skills when they have been expired. Use the Rage Chili immediately only on Matilda if it is full. Repeat this over until you catch the pigs, or the pigs catch you.
In Summary:
Pirate Veteran, Big Pirate, and Smutje are the ones you have to take down as quick and careful as possible! Smutje can heal himself or another pig, so take him down.
Walkthroughs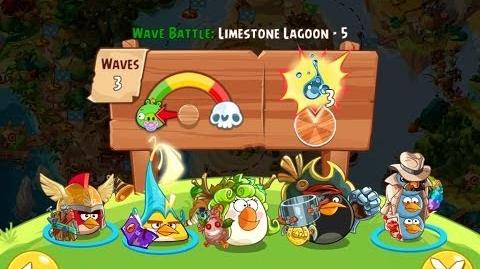 Community content is available under
CC-BY-SA
unless otherwise noted.