"Baby, get over it. I'm breaking good." Nobody puts Luca in the corner. So don't call me baby or I'll scream.
Luca is a light blue male Bird that first appeared in the Angry Birds series. He is the 3rd bird introduced in the game. He bears a resemblance to The Blues.

Appearance
Luca is a somewhat triangular-shaped bird covered in a fluffy, light-blue coat of feathers. He has two large crest feathers with light yellow tips, two small dark blue tail feathers, large blue eyes, short rectangular eyebrows and a small beak. His early design, seen in the Telepods, depicts him with eyelashes, thin eyebrows, three tail feathers, and a more saturated yellow.
Character
Ability
Luca's primary skill is firing a Sonic Boom towards the tapped area on-screen, which will shatter Glass instantly, pass through Wood doing minimal damage, and be stopped in its tracks by Stone. Although the Sonic Boom won't damage pigs, if used correctly it can be able to make a lot of destruction in a large portion of the pig's structure. This is known as Shockwave Shock.
Personality
Luca is the youngest and the only male of Stella's flock. He is playful and inquisitive as most children are and loves exploring. However, this causes problems when he wanders off without telling anyone. He thinks he's bigger and stronger than anybody else. He can also imitate the noise of another bird, pig, or other creature. He hates being talked down by others or called a baby. He seems to be a bit of a daredevil, as Willow watches, stunned as Luca steps over to the edge of the branch they are sitting on. He loves fun, being adventurous, and being creative, just like the rest of his friends.
Luca's description from the Angry Birds Website :
"Luca is the youngest of the flock, and also the only boy - just don't call him a baby! He's as playful and inquisitive as you'd expect a young bird to be and loves exploring. However, this does cause problems when he wanders off and doesn't tell anyone. Luca thinks he's bigger than he really is - a fact that has got him into trouble a few times already! While he doesn't talk much, he certainly does like imitating everyone (and everything!) around him. He can sound like any of birds, pigs, or even any of the island's critters - and he really enjoys doing it!"
Stella Interactive Annual Book Description
"WANNA PLAY?"
This baby bird is the hatchling of the flock, and also the only boy!
Luca is just as playful and cheerful as you'd expect a young bird to be, and he also loves wandering off when no one's looking!
Luca's best trick is his ability to imitate the noises he hears around him. So, although he doesn't speak much himself, he does do great impressions of the rest of the flock.
LOVES: Attention, Games.
FAVORITE MODES OF TRANSPORT: Riding piggybacks on one of the flock!
FAB FACT: ALTHOUGH HE LOVES BEING FUSSED OVER, LUCA GETS PRETTY MAD WHEN PEOPLE TREAT HIM LIKE A BABY.
Game Appearances
Luca made his first official debut in Angry Birds Stella. He was the smallest and the weakest bird in the flock and appeared after Poppy making him the third bird introduced.
Luca appeared for a limited amount of time much later in the game.
Luca also reappears in Angry Birds Dream Blast. but this time collectible only in Dream Blast Holiday he uses his Movie design in this game, he was only seen in Mighty Eagle's holiday house the first time in the game he is found in Bird Island, unlike The Angry Birds Movie and the The Angry Birds Movie 2 where he is not seen in the movies, he only appears in his movie design in this game only.
Media Appearances
Luca first appeared in the New Tricks video in a short-lasting image of a view of the volcano of Golden Island, with Stella and her friends staring into the distance. He was the most notable out of the five birds (excluding Stella) and was a much larger bird, having only a slightly smaller size than Stella.
Luca appears in chapter 4 of Stella: Nana and the Magic English Words where he was magically summoned above from Nana as she confess her feelings, and he's also picked up by her and called him a baby as he was Stella's partner, which she caused him to use his ability which destroyed some flower pots, which Stella tells him not to make a big noise, and Stella realizes about Luca and what should we do to him, and he was also seen running towards to something which Nana tried to catch him, and he also found a castle made of glass, which Stella and Nana tells him not to make a big noise in order not to use his ability again, which later on, Stella had seen a castle getting broken down to pieces, and Nana yelled out, "make a big noise!" which allows Luca to use the Soundwave Shock at the glass castle without Gale noticing how it happened, and he later on joined the lesson with Stella and Nana on some later chapters.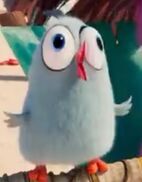 Notes
v • e Birds and Allies
Game Introductions

Media Introductions

Other

• • •
v • e
Protagonists
• • • • • •
Antagonists
• • • • • • • • • • • • • •
Materials and Objects
• • • • • • • • • • • •
Levels
Miscellaneous
• • New Pigs on the Block • Lost and Found Items • Cutscenes • • •
Further Info
Achievements • Comic-Con Trailer • Gallery (Textures & Sprites) •

Glitches

• Original Soundtrack • Unused Content • Version History • Level Failed
Other Media
Comic Series • Angry Birds Stella Diaries • Stella: Nana and the Magic English Words • Stella Super Interactive Annual 2015 •
v • e
Protagonists
( • • ) • • • • • • • () • • • • • • • • • • ()
Antagonists
(Former: ) • • (Former) • Pilot Pig • • Mad Hog Mccree • Hams Grubber
Blockers and Materials
• • • • • • • • • • • • • • • • • • • • • • •
Boosters
( • • • • • • • • • • • • • • • • ) • • • • • • •
Episodes

Other
Achievements • The Sequel • • • • Gallery •

Glitches

• Unused Content • Version History • Level Failed