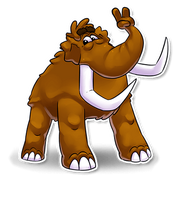 Mamut is the mascot of the Mamut Cookies from Gamesa.
Appearance
He is a brown woolly mammoth with large tusks, a large trunk, woolly ears and other parts, large hooves, black eyes, and dark brown eyebrows. He also appears to have a chocolate-ish texture.
Gameplay
He appears in Level 5 of Angry Birds Vuela Tazos, but he does nothing other than being a stationary character that watches the birds fling themselves towards the pigs and their structures.
Gallery
v • e Birds and Allies
Game Introductions

Classic

Seasons

Rio

Friends

Space

Star Wars

Star Wars II

Go!

Epic

Stella

Transformers

POP!

AB2

Evolution

Red Birds

Yellow Birds

White Birds

Black Birds

Blue Birds

Bird Island

Custom Birds

•

Journey

Web Games

Media Introductions

Other

• • • • • Obama Bird