"♫Mashed vegetables, feel it in your beak.♪""
— Matilda, Angry Birds Comics (2016) #6
Matilda[note 1] is a character that appears in the Angry Birds series. She is a chicken[citation needed] who can lay explosive eggs.
Originally, Matilda lived on Bird Island, where she gave "anger management classes", a series of classes made to pacify birds with an unstable anger. Among those birds were Red, Chuck, Bomb, and Terence, the latter of whom eventually married Matilda and now has four children with her. Currently, Matilda lives on Piggy Island, taking care of the eggs she and her friends found there.
Appearance
Originally, Matilda is an egg-shaped bird who was covered in white feathers. She has a large, oval beak, two small eyes, yellow spots on her cheeks, and three short, black feathers on her head and on her tail. This design was common until 2013, and it has become rare since then.
First seen in the Angry Birds Coca-Cola short, Matilda received a different design. While she keeps the white, egg-shaped body and the large beak from her previous design, her eyes are larger and completely round, and have small eyelashes on them. Her crest and tail feathers were modified as well, being black feathers with pink, round ends. In addition, she now has two feathers on her tail instead of three. The yellow spots on her cheeks were replaced with pink spots, which were implied to be make-up.[9]
In The Angry Birds Movie, Matilda was redesigned once again to be given an anthropomorphic body. Now, her torso is connected to her cone-shaped head without a neck. She now has four larger, more detailed feathers on her crest, and three ones on her tail. In addition, her tail also has three long, curled hair-like feathers. Other minor changes include her eyes being colored green instead of black, and her beak being smaller and with a different shape.
Personality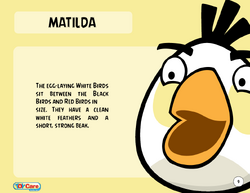 Matilda is a very considerate, caring woman, with a great adoration for peace, and a great dislike for violence and destruction. With a maternal-like figure, she educates people with a reprehensible behavior, most notably Chuck[10] and the Blues.[11] Sometime ago, she also gave "anger management classes", to calm down unstable people. However, she is also very firm, and can be somewhat bossy.[11]
In addition, Matilda has a notable respect for nature and animals, talking to the latter and ignoring other people while doing so.[1] She spends most of her time taking care of her garden and watering her plants and vegetables, an activity that she finds calming.[citation needed] She is also a great fan of water gardens, and has wanted one for a long time.[2]
"[...] And that's so wonderful because I love my flowers so much and if something were to happen to them... I would get mad. So very, very mad. Incredibly, horribly mad. I would be transformed into a vast storm cloud of all-consuming fury and wrath."
— Matilda explaning Bomb what would happen if she finds her garden destroyed, Angry Birds: Flight School #1
Despite her peace-seeking persona, Matilda is very short-tempered, which is why other people respect and fear her. Whenever she is mocked,[3] disobeyed,[11] or someone does something she finds dislikeable,[10][12] she will burst into anger, completely losing her peaceful mindset, and proceeding to fight them.[12] This does not mean that Matilda is a hypocrite, but that she cannot control herself when she is angry. When she realizes that her anger has hurt one of her friends, which is against her normal persona, she will revert to her peaceful demeanor and find a way to apologize said person.[13] Whenever she sees her own garden being destroyed, she is greatly hurt, leading her to cry or act incredibly furious. She is also very sensitive, bursting into tears when other people tell her, for example, that her food tastes awful.[7][8]
Powers and abilities
Perhaps Matilda's signature ability is her being able to lie explosive eggs, which she can use to deal significant damage to structures and knock down enemies. The cause of this remains unknown. She is also known for her knowledge of magic and healing skills, which she can use to cure her allies and curse her enemies. Matilda can also play the saxophone quite well.[3]
Strength: The eggs Matilda deploys deal great damage to glass and wood and medium damage to stone. Matilda herself, when corpsed after launching the egg, can cause additional damage to structures.
Weakness: The eggs only deal good damage if it hits the base of a building - if it impacts the top, it will only destroy that area. Also, if the egg isn't launched, then Matilda deals poor (but not Blues-poor as it can break 1 block of wood) damage.
Relationships
Friends/allies
Neutral
Enemies
Trivia
Notes
References
↑ 1.0 1.1 1.2 1.3 1.4 1.5 Terry, Baker (June 13, 2020). "Here We Go Again!". Angry Birds on The Run. Season 2. Episode 1.
↑ 2.0 2.1 Angry Birds: Flight School #1, "The Garden"
↑ 3.0 3.1 3.2 3.3 Slimovici, Agnés (April 12, 2015). "

Epic-Sax Off

". Angry Birds Toons. Season 2. Episode 26.
↑ Preddy, Richard (February 23, 2014). "Operation Opera". Angry Birds Toons. Season 1. Episode 50.
↑ Sadler, Chris (March 8, 2015). "Eating Out". Angry Birds Toons. Season 2. Episode 21.
↑ Kenworthy, Stuart (February 15, 2015). "Cold Justice". Angry Birds Toons. Season 2. Episode 18.
↑ 7.0 7.1 Lindgren, Niklas; Carney, Ian (April 28, 2013). "Cordon Bleugh!". Season 1. Episode 7.
↑ Hand, Jeff (April 8, 2016). "Romance in a Bottle". Angry Birds Toons. Season 3. Episode 21.
↑ 10.0 10.1 Preddy, Richard (February 22, 2015). "Slow the Chuck Down!". Angry Birds Toons. Season 2. Episode 19.
↑ 11.0 11.1 11.2 Carney, Ian; Guaglione, Eric (May 12, 2013). "Do as I Say!". Angry Birds Toons. Season 1. Episode 9.
↑ 12.0 12.1 Dakin, Glenn (December 25, 2015). "Happy Hippy". Angry Birds Toons. Season 3. Episode 25.
↑ Kenworthy, Stuart (November 24, 2013). "Clash of Corns". Angry Birds Toons. Season 1. Episode 37.
v • e Birds and Allies
Game Introductions

Classic

Seasons

Rio

Friends

Space

Star Wars

Star Wars II

Go!

Epic

Stella

Transformers

POP!

AB2

Evolution

Red Birds

Yellow Birds

White Birds

Black Birds

Blue Birds

Mayhem Simulator

Custom Birds

•

Journey

Web Games

Media Introductions

Other

• • • •
(view: v)
Main article | Gallery | Beta elements | Credits | Glitches | Version history | Achievements | Re-releases (Lite, Lite Beta, Free, PSP, Trilogy, Kakao, China, Time Travel, Tencent QQ, Talkweb, Rovio Classics)
Playable characters
Angry Birds (Bomb (Shockwave), Bubbles, Chuck, Hal, Matilda, Red (Mighty Feathers Red), Stella, Terence, The Blues) | Minion Pig | Small Pig | Jetpack Pig | Bomb Pig | Bowling Ball Pig | Beaked Pig | Fat Pig | Balloon Pig | Female Pig
Non-playable characters
Mechanic Pig | Mighty Eagle | Ross | Rhinoceros
Enemies
Corporal Pig | Egg | Foreman Pig | King Pig | Leonard | Minion Pigs
Episodes
Normal
Tutorial | Poached Eggs | Mighty Hoax | Danger Above | The Big Setup | Ham 'Em High | Mine and Dine | Surf and Turf | Bad Piggies | Red's Mighty Feathers | Short Fuse | Flock Favorites | Bird Island | Piggy Farm | Jurassic Pork | Birdday Party (Birdday 5) | Golden Eggs | Bonus Levels*** | Magic**
New World*
Happy New Year | Naughty Christmas | Lunar New Year of the Golden Pig | Wandering Planet | Summer: Back to the Beach
Classic World*
Year of the Goat | Moon Fest
Other
Power-up University | Mighty Eagle University
Items
Coins | Egg | Gems | Golden Egg | Power-up (Birdquake, King Sling, Power Potion, Score Doubler*, Shockwave, Sling Scope,

TNT Shield

) | Sardine | Slingshot | Lives****
Gimmicks and obstacles
Balloon | Beach ball | Cake | Dice | Gift | Glass | Greek pillar | Potion | Stone | TNT | Treasure chest | Water* | Wood
Modes
Daily Challenge (Angry Birds Time Travel**) | Golden King Pig | The Mighty League
Music
Albums
Angry Birds (Original Game Soundtrack)
Tracks
"Angry Birds Theme"
Other
"Angry Birds Cinematic Trailer" | "Angry Birds & the Mighty Eagle" | "Angry Birds Bing Video" | "Bomb Bird: Short Fuse" | Box2D |

Destruction gauge

| Earth (Bird Island (Bird Island Beach, Eagle Mountain), Piggy Island) | Level Failed | Piggy kingdom | Rovio Account | Angry Birds: Hatching a Universe | Winnable Objects
*Appears in the Chinese version only
**Appears in Angry Birds Time Travel only
***Appears in Angry Birds Trilogy only
****Appears in Angry Birds for Kakao only
Main article | Gallery | Beta elements | Version history | Achievements | Credits | Re-releases (Free, HD, Free HD, Windows Phone, China)
Playable characters
Angry Birds (Bomb (Shockwave*), Bubbles, Chuck, Hal, Matilda, Red (Homing Bird, Telebird*), Stella, Terence (Wingman), The Blues) | Playable Pig* | Tony*
Non-playable characters
Little Timmy | Mighty Basketball | Mighty Dragon | Mighty Eagle | Penguins* | Postman Pig* | Ruby* | Santa Claus | Striped Bird | Unnamed female white bird*
Enemies
Chef Pig* | Clown Pig | Corporal Pig |

Dummy Pig

| El Porkador | Female Pig* | Foreman Pig | King Pig | Minion Pigs (Guard Pigs*) | Octopus Pig* | Scarecrow Pigs
Episodes
Ragnahog* | Hammier Things* | Piggywood Studios* | Summer Camp* | Marie Hamtoinette* | Fairy Hogmother* | Pig Days | Ski or Squeal* | Invasion of the Egg Snatchers* | Tropigal Paradise* | On Finn Ice* | Ham Dunk | South Hamerica | Arctic Eggspedition | Abra-Ca-Bacon | Winter Wonderham | Haunted Hogs | Back to School | Piglantis* | Cherry Blossom | Year of the Dragon | Wreck the Halls | Ham'o'ween | Moon Festival | Summer Pignic | Easter Eggs | Go Green, Get Lucky | Hogs and Kisses* | Season's Greedings | Trick or Treat | Exclusive Levels +
Seasons
Season 2016* | Season 2015* | Season 2014 | Season 2013 | Season 2012 | Season 2011 | Season 2010
Items
Bird Coins* | Egg | Golden Eggs (Ultrabook™ Egg) | Powerup (Allaka-BAM, Homing Bird, Power Potion, Score Doubler^, Shockwave*, Sling Scope, Telebird*) |

Present

| Sardine | Slingshot
Gimmicks and obstacles
Easter Egg | Glass | Greek pillar | Lava* | Stone | TNT | Water | Wood
Music
Albums
Angry Birds Seasons (Original Game Soundtrack) |

Best of Angry Birds Seasons

Songs
"Peace Song 2011" | "Peace Song 2012: Fly Me Home Tonight" | "Peace Song 2013: Ode to Snow" | "Peace Song 2014: Santamental Me"
Cinematic Trailers
Season's Greedings Short Movie | Summer Pignic Short Movie | Ham'o'ween Short Movie | Wreck the Halls Short Movie | Year of the Dragon Short Movie | Meet the Pink Bird | Trick or Tweet |

On Finn Ice Short Movie

Other
Angry Birds: A Halloween Special | Angry Birds: Christmas Special | Angry Birds: Hatching a Universe | Angry Birds: Moon Festival | Angry Birds: Wreck the Halls | Angry Birds: Year of the Dragon | Angry Birds Trilogy | Bird Wear | Box2D |

Destruction gauge

| Earth (Antarctica, Bird Island* (Mighty Eagle's cave*), Europe* (Finland* (Helsinki*)), Piggy Island (Pig City*), South America) | Level Failed | Moon | Piggy kingdom | Power-Up Test Site | The Pig Challenge
*Appears in the international mobile version only
^Appears in the Chinese version only
+Appears in Angry Birds Trilogy only
Main article | Gallery | Beta elements | Version history | Achievements |

Credits

Playable characters
Angry Birds (Bomb, Bubbles, Chuck (Rocket Bird), Hal, Matilda, Red (Samba Burst), Stella (Shakira Bird**), Terence, The Blues) | Blu | Jewel
Non-playable characters
Foreman Pig | Luiz | Mauro | Nigel | Mighty Eagle | Minion Pigs | Rafael
Merchandise and marketing only characters
Charlie | Gabi | Nico & Pedro (Nico, Pedro)
Enemies
Caged Birds | Caged Dolphins | Marmosets
Episodes
Rio
Smugglers' Den | Jungle Escape | Beach Volley | Carnival Upheaval | Airfield Chase | Smugglers' Plane | Market Mayhem | Golden Beachball
Rio 2
Rocket Rumble | High Dive | Blossom River | Timber Tumble | Hidden Harbor | Treasure Hunt
Others
Playground | Bonus Levels*** | Awards Room
Bosses
Nigel (Jungle Escape) | Mauro (Carnival Upheaval) | Nigel (Smugglers' Plane) | Mauro (Market Mayhem) |

Blossom River boss

Items
Coins | Egg |

Golden Anchor

| Golden Fruit |

Golden Gear

|

Golden Rocket

|

Golden Treasure Chest

| Power-up (Call the Flock, Power Potion, Samba Burst, Sling Scope, TNT Drop, Score Doubler*) | Sardine | Slingshot
Gimmicks and obstacles
Balloon | Beach ball | Glass | Sand | Stone | TNT | Water | Wood
Songs
"Angry Birds Rio Samba" | "Angry Birds Rio 2 Theme"
Other
Super Bowl Golden Egg | Earth (Piggy Island, South America (Brazil (Rio de Janeiro))) | Level Failed! | Moon | Star | Free version | Angry Birds Trilogy | Angry Birds: Hatching a Universe
Key
* - Exclusive to the Chinese version, ** - Unused, *** - Exclusive to Angry Birds Trilogy
v • e
Playable characters
• • ( • ) • () • • • • • () •
Non-playable characters
• • • • • Sonam Kapoor Bird • Matt Damon Bird • • • VIXX • • • • • • • •
Enemies (Accessorized Pigs)
( • • • ) • • • • • • • • • • • • • • • • • • • • • • • • • • • • • • • • • • • • • • • • • • • • •
Materials and Objects
• • • • • • • • • • • • •
Power-Ups
• • • • • • • • • • • • • •
Episodes

Other
Tournaments • Events • Star Cup • Bird-O-Matic • Ports (Mobile Port • Windows 10 Port) • Achievements • • • Angry Birds Shop • Gallery • Glitches • Unused Content • Version History • Angry Birds: Hatching a Universe
v • e

Playable characters
Angry Birds (The Blues, Bomb, Bubbles, Chuck, Hal, Matilda, Red, Silver, Stella, Terence) | Leonard
Non-playable characters
Hatchlings | Mighty Eagle | Postman Pig
Enemies
Minion Pigs (Special pigs)
Bosses
Chef Pig | Foreman Pig | King Pig | Zeta
World Map locations
Cobalt Plateaus | Pig City | Bamboo Forest
Items
Eggs | Gems | Lives | Apple | Slingshot | Spell (Blizzard, Chili, Golden Duck, Mighty Eagle, Pig Inflator, Sponsored Spells)
Gimmicks and obstacles
Score Multiplier Rank | Bumper | Balloon | Glass | Lava | Rocket | Stone | TNT | Water | Wood
Activities
Daily Challenge | Clans | The Nest | Mighty Eagle's Bootcamp | The Arena | Rowdy Rumble!
Albums
Angry Birds 2 (Original Game Soundtrack)
Other
Angry Birds 2 Creators | Earth (Piggy Island (Bamboo Forest, Cobalt Plateaus, Pig City)) | Star | Level Failed | Gallery | Beta elements | Credits | Glitches | Chapters
Main article | Gallery | Version history | Achievements | Credits | Glitches
Playable characters
Angry Birds (Bomb, Bubbles, Chuck, Hal, Matilda, Red, Silver, Stella, Terence (Wingman), The Blues) | Courtney | Garry | Leonard
Non-playable characters
Chef Pig | Mighty Eagle
Enemies
Corporal Pig | Eagles | Foreman Pig | Leonard | Minion Pigs (Construction Pig) | Zeta | Daft Piggies
Episodes
Bird Island/Piggy Island
Hot Pursuit | When Birds Fly | Party Crashers | Bacon Beach | Bamboom Forest | Wrecks & The City | Pigs In A Banquet
Eagle Island
Frenemies | Enter The Volcano | The Frozen Heart
Secret Area
Off The Menu | Pie Hard | Daft Piggies | Birdnapped
Items
Accessories | Billy | Bird Coins | The Eggs | Power-Ups (Birdquake, Boombox, King Sling, Power Potion, Sling Scope, Wingman) | Slingshot
Gimmicks and obstacles
Balloon | Billy | Cake | Dice | Donut | Easter Egg | Glass | Greek pillar | Grey block | Pumpkin | Rubber | Stone | TNT | Treasure chest | Wood | Sardine
Other
Earth (Bird Island, Eagle Island, Piggy Island (Cobalt Plateaus, Pig City, South Beach)) | Level Failed | Piggy kingdom | Star