Mauro is Nigel's henchman. He appears in the movie Rio and is a boss in Angry Birds Rio, in the Carnival Upheaval and Market Mayhem episodes.
Appearance
He is a normal marmoset but way larger and he has brown fur. He wears a white tuft on top of his head that is tied with a clip.
Story
He is a master in Capoeira and a marmoset that steals tourists. He was hired by Nigel to fight Blu and the other birds, but he was defeated in the battles.
Gameplay
During the boss battle, Mauro jumps from platform to platform in a random way, in Carnival Upheaval, he jumps only on free blue cloth platforms and can go to any, including the last one. In Market Mayhem, he does it the same way. He doesn't avoid solid objects and will jump on platforms with them.
If he goes to other places, he will jump back to the platforms. He will start to slide on objects just like other Marmosets. Unlike the other marmosets, he has much more health, but can be easily injured by weak objects. After he is defeated, he will fall off screen.
The best tactics to beat him are:
Being pushed by Blu
Being hit by an egg or Terence
Being bombed by Bomb
Getting crushed by platforms
Gallery
Video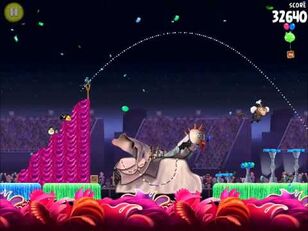 v • e Pigs/Enemies
Game Introductions

Media Introductions

Others
Main article | Gallery | Beta elements | Version history | Achievements |

Credits

Playable characters
Angry Birds (Bomb, Bubbles, Chuck (Rocket Bird), Hal, Matilda, Red (Samba Burst), Stella (Shakira Bird**), Terence, The Blues) | Blu | Jewel
Non-playable characters
Felipe | Foreman Pig | Luiz | Mauro | Nigel | Mighty Eagle | Minion Pigs | Rafael
Merchandise and marketing only characters
Charlie | Gabi | Nico & Pedro (Nico, Pedro)
Enemies
Caged Birds | Caged Dolphins | Marmosets
Episodes
Rio
Smugglers' Den | Jungle Escape | Beach Volley | Carnival Upheaval | Airfield Chase | Smugglers' Plane | Market Mayhem | Golden Beachball
Rio 2
Rocket Rumble | High Dive | Blossom River | Timber Tumble | Hidden Harbor | Treasure Hunt
Others
Playground | Bonus Levels*** | Awards Room
Bosses
Nigel (Jungle Escape) | Mauro (Carnival Upheaval) | Nigel (Smugglers' Plane) | Mauro (Market Mayhem) |

Blossom River boss

Items
Coins | Egg |

Golden Anchor

| Golden Fruit |

Golden Gear

|

Golden Rocket

|

Golden Treasure Chest

| Power-up (Call the Flock, Power Potion, Samba Burst, Sling Scope, TNT Drop, Score Doubler*) | Sardine | Slingshot
Gimmicks and obstacles
Balloon | Beach ball | Glass | Sand | Stone | TNT | Water | Wood
Songs
"Angry Birds Rio Samba" | "Angry Birds Rio 2 Theme"
Other
Super Bowl Golden Egg | Earth (Piggy Island, South America (Brazil (Rio de Janeiro))) | Level Failed! | Moon | Star | Free version | Angry Birds Trilogy | Angry Birds: Hatching a Universe
Key
* - Exclusive to the Chinese version, ** - Unused, *** - Exclusive to Angry Birds Trilogy