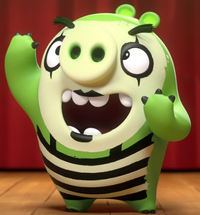 Mime Pig is a pig that appears in the Piggy Tales: Third Act episode The Mime and in Angry Birds Friends.
Appearances
He is a movie pig with a painted white face with black eye circles that have small arrows on top and down them, white snout and lipstick and a painted white shirt with four black stripes and black suspenders.
They are normal pigs with white facepaint, black lipstick, black small arrows on the eyes and that wear white gloves or hats.
Personality
He is a mime and so is silent, the only thing he does to communicate is to make symbols and expressions. He can also create imaginary objects and use them like if them existed, which affects other pigs. He is very happy and loves doing what he does but doesn't like pigs who doesn't appreciate his art.
Appearances
In the episode he was doing his mimic in the theater, but he notices that a pig is sleeping and throws an imaginary ball at him and waves afterward. The pig then tries to fight him but he creates an imaginary door and hides behind it, making the pig bump into it. The pig creates an imaginary chainsaw and cuts it down but Mime pig escapes in an imaginary motorbike, then the pig launches an imaginary rope at him and both are tied in it, trying to leave.

In the game, they appeared in the Love Is In The Air Tournament. They were just pig using white facepaint, gloves and hats that were the same as normal pigs. They usually would shake their gloves, giving a sense of motion.
Gallery
v • e Pigs/Enemies
Game Introductions

Media Introductions

Others
v • e
Playable characters
• • ( • ) • () • • • • • () •
Non-playable characters
• • • • • Sonam Kapoor Bird • Matt Damon Bird • • • VIXX • • • • • • • • •
Enemies (Accessorized Pigs)
( • • • ) • • • • • • • • • • • • • • • • • • • • • • • • • • • • • • • • • • • • • • • • • • • • •
Materials and Objects
• • • • • • • • • • • • • •
Power-Ups
• • • • • • • • • • • • • •
Episodes

Other
Tournaments • Events • Star Cup • Bird-O-Matic • Ports (Mobile Port • Windows 10 Port) • Achievements • • • Angry Birds Shop • Gallery • Glitches • Unused Content • Version History • Angry Birds: Hatching a Universe