Template:Theme InfoboxMine and Dine 16-12 is the twelvth level of the second episode of Mine and Dine.
Strategy
Strategy #1
Loft the White bird to bomb the gap just left of the treasure chest. This is a very difficult shot, but it is possible, so keep trying! Lob the next Yellow bird into the wooden foot of the main structure to cause it to topple leftward and trigger the TNT. Use the Red birds as necessary to clear any remaining pigs.
Strategy #2
Too hard? You can try this method if you want to pass the level easier. We will finish the level from left-to-right. Shoot the White Bird and bomb next to the golden trophy. The right and the middle of the bombed zone will be vanished. The remaining hollow square blocks at the left will fall down and pop the pigs sitting on the boulders. Then, shoot Yellow Bird to the remainings. If needed, shoot Red Bird to pop all of the remaining pigs.
Strategy #3
Aim the White Bird at the hollow square wooden block which is right under the golden trophy. The chain should make the whole level to fall down and crush the pigs.
Video Walkthrough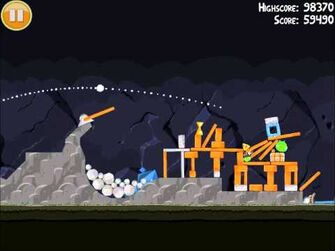 Community content is available under
CC-BY-SA
unless otherwise noted.