This page is a stub article

This article is a stub. You can help Angry Birds Wiki by expanding it and adding more information as soon as possible, then removing the stub tag.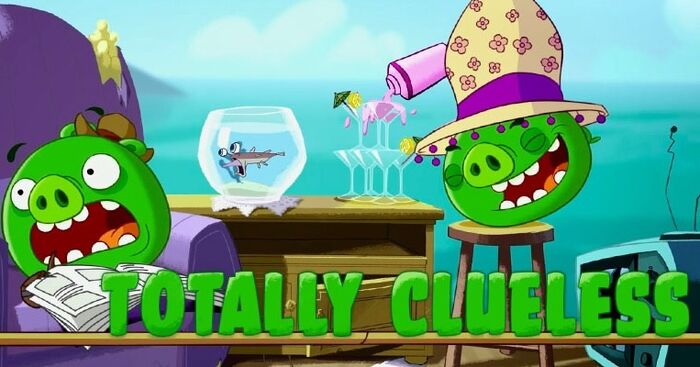 Click here to see the Minion Pigs' gallery
''So... Raw recruits, eh? Do you have what it takes to be minions? Do you have the primal need to defeat the Angry Birds? Do you have the heart of underling? The sheer determination of a subordinate? The burning desire to mindlessly follow orders no matter how insane they might be?''
–Corporal Pig, Angry Birds Comics Issue 4 (The Green Rookie story)
The Minion Pigs are the pigs as the enemies that appear in Rovio Entertainment's Angry Birds franchise. They appear in Angry Birds, Angry Birds Seasons, Angry Birds Rio, Angry Birds Space, Angry Birds 2, and the spin-off, Bad Piggies. They also appear in Angry Birds Toons and Piggy Tales.
Character
Personal data
Name: Minion Pigs
Known Aliases: Pigs, Green Pigs, Swine Goons, Booger-colored Porkheads
Group Affiliation: Bad Piggies
Voiced by: Antti LJ Pääkkönen
Ability
Minion Pigs, unlike other pigs in more specifically Angry Birds 2, don't have special powers. See this page for more information. They are extremely weak and usually are left unprotected and can easily be popped.
Personality
In general, Minion Pigs appear to be mischievous and don't think very well. They are hard workers and work well as a team. They are of the lowest importance in Pig City.
The Minion Pigs are rather silly and clumsy, which usually causes them to get into trouble. Most of them are treated as slaves, as seen in Another Birthday. However, strangely, while some of them live in cramped spaces some of them live in separate houses, which may possibly mean that some Minion Pigs are of higher rank than the others.
Most Minion Pigs aren't interested in capturing eggs and are only manipulated by the King Pig. However, some Minion Pigs are devoted to the King and spend almost all their time on getting the eggs.
Like regular pigs, Minion Pigs enjoy mud baths. They additionally enjoy building things, and "being silly". However, they dislike fighting, being told off, and Corporal Pig bullying them.
The minion pigs are happy and clueless optimists, always rebuilding their city and King Pig's Castle, also never giving up on trying to get the eggs.
Minion Pig's Description From the Angry Birds Official Website
The birds may see these guys as Bad Piggies, but the truth is they aren't so bad after all! Blindly loyal to the King…yes. Largely clueless…double yes! But actually they don't like fighting or causing trouble – instead preferring to roll around in muddy puddles and generally goofing around with each other. They do exactly what they're told and this is what gives them such a bad name!
The Minion Pigs are on the front line in the battle against the birds, which works out for King Pig who doesn't like to get his trotters dirty! The King's happy to sit comfortably in his castle and send the pigs off to face their fierce and feathery opponents. And as the minions are so agreeable, they just nod and accept their orders without question. Come on pigs, rise up and say no!
The minions are clueless about most things – almost everything, in fact! But together these odd little creatures can build some surprisingly creative things. Yep, give a pig some old bits of wood and a toolbox and he'll create a crazy contraption out of nothing. It may look a bit wobbly but it'll (probably) get you from A to B. Just don't expect first-class travel or for it to stay in one piece!
The Minion Pigs never ever give up! It's part of their piggy DNA to just keep going and going – no matter how stupid this may be! When their rickety old junkyard vehicles crash and fall apart, they pick up the pieces and try again. And when King Pig orders them to steal the eggs, they keep going back to face certain defeat. Some say they're optimistic, others would say foolishly!
Modified from the Angry Birds Birdsonality Test:
Minion pigs are born team players. Warm-hearted, talkative, and good at following directions, they thrive in an orderly, cooperative environment. But, being such a people person, they're also in danger of getting too caught up in other people's opinions.
Stella Super Interactive Annual Book Description
"GETTING PIGGY WITH IT!"
These pigs are the worst of the worst. They were exiled from Piggy Island by King Pig probably just because they were caught smiling on one of the king's bad days! Now they are loyal servants to the Bad Princess and blindly follow her unreasonable demands!
They're dumb, clueless and ultimately harmless. In fact, they'd spend all their time goofing off if they weren't so keen to please the Bad Princess who they believe to be true royal!
LOVES: Mud baths, The Bad Princess.
FAVORITE MODES OF TRANSPORT: Walking! Walking and carrying the Bad Princess! Walking over to carry the Bad Princess!
FAB FACT: THE MINION PIGS DON'T CARE ABOUT THE GOLDEN EGG - THEY WANT TO SERVE THE BAD PRINCESS ANY WAY THAT THEY CAN!
History
Minion Pigs have always appeared in Angry Birds games due to being such a crucial part of the games, serving as the most seen enemy.
Minion Pigs are the only characters that appear in every single level, as there is not even a single level that does not feature at least one type of them. They used to be in their original sprite but were eventually changed to their Google Chrome sprites.
Minion Pigs also can be sucked in by gravitational fields, and will likely ultimately be defeated, unless they somehow can smoothly roll down.
This game features the minion pigs and the other pigs in their chrome sprites for the first time, and the minion pigs also get eating, laughing, and sleeping animations that taunt the player.
The Types of Minion Pigs
Small Pig
Gender
Male
Species
Pig
Size
Small
Abilities
Splitting into 3 in King Pig Mode
Strength
Weak
First appearance
unknown
Small Pigs are pigs featured in the first four Angry Birds Games and are the smallest of the entire Pig. It is the first pig encountered in the entire game, starting at Theme 1-1. It is also the weakest pig in the games it appears in, and is defeated by a simple falling bird or block. It is weaker than all the other pigs in the game and is very common after its first appearance.
Small Pigs, like the other pigs, will be able to roll but will unlikely be pushed and will likely be popped even through the slightest tap. Their injured sprites can rarely be seen due to their easy defeat.
Medium Pig
Gender
Male
Species
Pig
Size
Medium
Abilities
Squealing (in King Pig mode same as Red)
Strength
Weak
First appearance
unknown
Medium Pigs are medium-sized pigs and the 2nd weakest pig in the game. Because of its medium size, it is the second largest of the Minion Pigs. It can be easily destroyed by all birds, but usually in large buildings.
It is weaker than the Large Pig, Corporal Pig, Moustache Pig, and King Pig. The only pig that is weaker than this pig is the Small Pig. It first appears in Poached Eggs Theme 1-14 and is quite common after its first appearance.
The Medium Pigs are the most used pigs in the series and are typically the only sized pigs seen in most animation series.
Large Pig

Gender
Male
Species
Pig
Size
Large
Abilities
None
Strength
Weak-Normal
First appearance
unknown
Large Pigs are large-sized pigs in the Angry Birds series and one of the largest of the Minion Pigs. This pig is the third weakest of all the Pigs in the game, and is weaker than the Corporal Pig, Moustache Pig, and King Pig, and is stronger than the Small Pig and the Medium Pig.
Huge Pigs

Fat Pig, an exemple of a Huge Pig.
Gender
Male
Species
Pig
Size
Huge
Abilities
Being stronger than any pig.
Strength
Strong
First appearance
unknown
Huge Pigs are huge sized pigs in the Angry Birds series, they are the largest of the Minion Pigs. This pig is very strong, having to take several hits to be defeated, they are stronger than King Pig and any type of pig, they appear mostly on Angry Birds Friends, having various variations, not counting their Angry Birds Evolution version. Examples of huge pigs are Fat Pig, Sea Monster Pig, Dragon Pig, Rampig, Big Pig etc.
Appearances
Minion Pigs have appeared in the following media:
Mobile
Online Games
Other
Animation
Trivia
The pigs are the main enemies of all the games except Bad Piggies, Angry Birds Rio, Angry Birds Holiday, Angry Birds Islands, Agri Birds, and Angry Birds POP Blast.
In Piggy Tales: Pigs at Work, it's shown that minion pigs love cheese and apples.
In Angry Birds Toons, in Cordon Bleugh!, it's shown that they love Matilda's cooking while the birds don't.
In the Google Chrome version, the location of the pigs' ears was changed.
Along with other Pigs, the design for Medium Pigs has changed in Google Chrome.
While in the Angry Birds games, they all have similar appearances, they appear to have all kinds of different appearances in the Angry Birds Movie, such as features as being round, fat, short, etc.
In The Angry Birds Movie, there is a scene that has two pigs dressed up like the girls in a scene of The Shining, they also say "Red Rum" which in backward spells ''murder''. ''redrum'' was also featured in The Shining as a code.

Coincidentally, rubrum in Latin means Red, which the word could reference this fact in a modified way.

In the former toons version of The Angry Birds Official Website, In Foreman Pig's Bio, it is been to reveal that there are a total of 7,345 minion pigs.
v • e Pigs/Enemies
Main Pigs

( • • • Accessorized Pigs • Special Pigs) • • • •

Angry Birds

 ·

 ·

 ·

 ·

 ·

 ·

 ·

Angry Birds Seasons

 ·

 ·

 ·

Angry Birds Rio

 ·

 ·

Angry Birds Friends

• • • • • • • • • • • • • • • • • • • • • • • • • • • • • • • • • • • • • • •

Angry Birds Space

 ·

 ·

 ·

Bad Piggies

 ·

 ·

 ·

 ·

Angry Birds Star Wars & II

???

Angry Birds Epic

???

Angry Birds Transformers

???

Angry Birds Stella

 ·

 ·

 ·

 ·

 ·

 ·

 ·

 ·

 ·

 ·

 ·

 ·

 ·

 ·

Angry Birds Fight!

 ·

Reaper Pig

 ·

 ·

Magician Pig

 ·

Paladin Pig

Others

 ·

 ·

 ·

 ·

 ·

 ·

 ·

Tiny Minion Pig

 ·

Piglets

 ·
Main Article •

Staff

• Glitches • Gallery • Unused Content • Version History • Achievements • Prereleases (Lite) • Re-releases (Lite Beta • Free •

Kakao

• China • Time Travel)
Playable characters
Non-playable characters
Enemies
Episodes

Power-up University

•

Mighty Eagle University

•

Tutorial

•

Poached Eggs

* •

Mighty Hoax

* •

Danger Above

* •

The Big Setup

* •

Ham 'Em High

* •

Mine and Dine

* •

Surf and Turf

* •

Bad Piggies

* •

Red's Mighty Feathers

* •

Short Fuse

* •

Flock Favorites

* •

Bird Island

** •

Piggy Farm

•

Jurassic Pork

** •

Birdday Party

* •

Birdday 5

* •

Golden Eggs

•

Bonus Levels

•

Magic

•

Magic Places†

Items

Accessories

•

Billy

•

Coins

•

The Eggs

•

Gems

•

Golden Eggs

•

Golden King Pig

•

Power-Ups

(

Super Seeds

,

King Sling

,

Sling Scope

,

Birdquake

,

Score Doubler

,

Shockwave

,

Mighty Red

,

TNT Shield

) •

Sardine

•

Slingshot

•

Star

Gimmicks and obstacles

Balloon

•

Billy

•

Cake

•

Dice

•

Donut

•

Easter Egg

•

Gift

•

Glass

•

Greek pillar

•

Grey block

•

Potion

•

Pumpkin

•

Rubber

•

Stone

•

TNT

•

Treasure chest

•

Water

•

Wood

Game modes
Short movies
Music

Albums

Angry Birds (Original Game Soundtrack)

Tracks

Other

Bird Island

(

Bird Island Beach

,

Eagle Mountain

) •

Piggy Island

(

Cobalt Plateaus

,

Desert Island

,

Great Cliffs

,

Pig City

,

Pig Mines

,

South Beach

) •

Lives

* - Episode is in Classic World in the Chinese version • ** - Episode is in New World in the Chinese version • † - Indicates unused content • - Indicates exclusivity to the Chinese version • - Indicates exclusivity to Angry Birds Time Travel • - Indicates exclusivity to the Kakao version • - Indicates exclusivity to the version of Classic in Angry Birds Trilogy
v • e
Protagonists
• • • • • • • • • • • • • • • • • • • •
Antagonists (Accessorized Pigs)
( • • • ) • • • • • • • •
Materials and Objects
• • • • • • • • • • • • • • • • • • • • • • • • • • •
Power-Ups
• • • • * • •
Episodes

Cinematic Trailers
• • • • • • •
Comics
Moon Festival Comic • Ham'o'ween Comic • Christmas Comic • Year of the Dragon Comic
Songs
"Peace Song 2011" • "Fly Me Home Tonight" • "Ode to Snow" • "Santamental Me"
Other
Achievements • • • Cutscenes • Free Version • Gallery • Glitches • List of Levels • • Soundtrack • • Unused Content • Version History
Key
* - Exclusive to the Chinese version
v • e
Protagonists
• • ( • • ) • () • • • • • () • • • • • • Sonam Kapoor Bird • Matt Damon Bird • • • VIXX • • • • • •
Antagonists (Accessorized Pigs)
( • • • ) • • • • • • • • • • • • • • • • • • • • • • • • • • • • • • • • • • • • • • • • • •
Materials and Objects
• • • • • • • • • • •
Power-Ups
• • • • • • • • • TNT Presents • • • •
Episodes

Other
Tournaments • Events • Star Cup • Bird-O-Matic • Ports (

Mobile Port

•

Windows 10 Port

) • Achievements • • • Gallery (Textures & Sprites) •

Glitches

• Unused Content • Version History
v • e
Protagonists
• •
Supporting Characters
• •
Antagonists
• • • • • •
Vehicle Parts
• • • • • • • • • • • • • • • • • • • • • • • • •
Collectables
• • •
Power-Ups
• • • •
Levels

3-1

•

3-2

•

3-3

•

3-4

•

3-5

•

3-6

•

3-7

•

3-8

•

3-9

•

3-10

•

3-11

•

3-12

3-13

•

3-14

•

3-15

•

3-16

•

3-17

•

3-18

•

3-19

•

3-20

•

3-21

•

3-22

•

3-23

•

3-24

3-25

•

3-26

•

3-27

•

3-28

•

3-29

•

3-30

•

3-31

•

3-32

•

3-33

•

3-34

•

3-35

•

3-36

Bonus Levels:

I

•

II

•

III

•

IV

•

V

•

VI

•

VII

•

VIII

•

IX

4-1

•

4-2

•

4-3

•

4-4

•

4-5

•

4-6

•

4-7

•

4-8

•

4-9

•

4-10

•

4-11

•

4-12

4-13

•

4-14

•

4-15

•

4-16

•

4-17

•

4-18

•

4-19

•

4-20

•

4-21

•

4-22

•

4-23

•

4-24

4-25

•

4-26

•

4-27

•

4-28

•

4-29

•

4-30

•

4-31

•

4-32

•

4-33

•

4-34

•

4-35

•

4-36

Bonus Levels:

I

•

II

•

III

•

IV

•

V

•

VI

•

VII

•

VIII

•

IX

5-1

•

5-2

•

5-3

•

5-4

•

5-5

•

5-6

•

5-7

•

5-8

•

5-9

•

5-10

•

5-11

•

5-12

5-13

•

5-14

•

5-15

•

5-16

•

5-17

•

5-18

•

5-19

•

5-20

•

5-21

•

5-22

•

5-23

•

5-24

Bonus Levels:

I

•

II

•

III

•

IV

•

V

•

VI

6-1

•

6-2

•

6-3

•

6-4

•

6-5

•

6-6

•

6-7

•

6-8

•

6-9

•

6-10

•

6-11

•

6-12

6-13

•

6-14

•

6-15

•

6-16

•

6-17

•

6-18

•

6-19

•

6-20

•

6-21

•

6-22

•

6-23

•

6-24

6-25

•

6-26

•

6-27

•

6-28

•

6-29

•

6-30

•

6-31

•

6-32

•

6-33

•

6-34

•

6-35

•

6-36

Bonus Levels:

I

•

II

•

III

•

IV

•

V

•

VI

•

VII

•

VIII

•

IX

R-1

•

R-2

•

R-3

•

R-4

•

R-5

•

R-6

•

R-7

•

R-8

S-1

•

S-2

•

S-3

•

S-4

•

S-5

•

S-6

•

S-7

•

S-8

•

S-9

•

S-10

Minigames
•
Cinematic Trailers
•
Miscellaneous
Cutscenes • • • •
Further Info
Achievements • Angry Birds Classic Episode • Comic • Bad Piggies' Egg Recipes (Gallery) • Gallery • Glitches •

Original Soundtrack

• The Sequel • Shuffle & Spawn • Unused Content • Version History
v • e
Protagonists
• • • • • •
Antagonists
• • • • • • • • • • • • • •
Materials and Objects
• • • • • • • • • • • •
Levels
Miscellaneous
• • New Pigs on the Block • Lost and Found Items • Cutscenes • • •
Further Info
Achievements • Comic-Con Trailer • Gallery (Textures & Sprites) •

Glitches

• Original Soundtrack • Unused Content • Version History
Other Media
Comic Series • Angry Birds Stella Diaries • Stella: Nana and the Magic English Words • Stella Super Interactive Annual 2015 •
v • e
Protagonists
( • • ) • • • • • • • () • • • • • • • • • • ()
Antagonists
(Former: ) • • Former: • Pilot Pig • • Mad Hog Mccree • Hams Grubber
Materials and Objects
• • • • • • • • • • • • • • • • • • • • • • •
Boosters
• • • • • • • • Color Crush •
Episodes

Other
Achievements • The Sequel • • • • Gallery •

Glitches

• Unused Content • Version History
v • e
Protagonists
• • • • •
Antagonists
( • • ) • • •
Materials and Objects
• • • • •
Levels

1-1

•

1-2

•

1-3

•

1-4

•

1-5

•

1-6

•

1-7

2-1

•

2-2

•

2-3

•

2-4

•

2-5

•

2-6

•

2-7

Section 1:

3-1

•

3-2

•

3-3

•

3-4

•

3-5

Section 2:

3-6

•

3-7

•

3-8

•

3-9

•

3-10

Other
• Gallery •

Glitches

•

Unused Content
v • e
Playable Characters
• • • • • • • • • • • • (Unused: )
Non-playable characters
• •
Materials and Objects
• • • •
Power-Ups
• • •
Episodes

Others
Achievements • • • Gallery •

Glitches

• Unused Content • Version History • Other Versions (Create • Turbo Edition) • Countdown • Videos • Gameplay (Modes • Plot • Items • Karts • Version 1) •
v • e
Protagonists
• • • • • • • • • • • • •
Antagonists
( • • ) • • • • • • • •
Materials and Objects
• • (Object) • • • • • • • • • • • • • • • •
Power-Ups
• • •
Episodes

Sequential Episodes

Non-Sequential Episodes

Cinematic Trailers
• What did Curiosity find on Mars? • Mirror Worlds • Angry Birds Space Solar System Trailer
Miscellaneous
The Angry Birds Friends Golden Egg Level • Samsung Galaxy Note • Cutscenes • Comic • A Furious Flight into the Final Frontier • Mattel Sets (Birds in Space • Planet Block)
Further Info
Bosses • • Achievements • Free Version • Gallery (Textures & Sprites) • Glitches • List of Levels • •

Soundtrack

• Unused Content • Version History