Old Nesting Barrows - 3 is the third level in Old Nesting Barrows of Angry Birds Epic. It looks like the Rouge Leader has returned for another fight.
Difficulty
4. Medium
See Difficulty System for more informations.
Pigs

Rogue Leader

1540
---

Over there! - Charge: 2 turns. Commands all pigs to attack the same target. Lasts 2 turns.
Backstab
- Deals 2x69 damage.
---

Rogue x2

679
---

Backstab - Deals 2x48 damage.
Sneer
- Laughs stupidly. No effect at all!
---

Smuggler x2

370
---

Headbutt - Deals 87 damage.

Stumble - The pig stumbles and does nothing. Stupid pig.
Strategy
Choose Red in Samurai, Matilda in Druid and Bomb in Cannoneer (or if you have Berserk, use it!). Heal with Matilda if the birds' healths are not full and if they're full, attack with her. Then attack with the other birds. Use the Rage Chili for Red if all birds' healths are full or for Matilda if a bird's health is under 80% when the Rage Chili is full. Repeat this over until you win or either lose.
Walkthroughs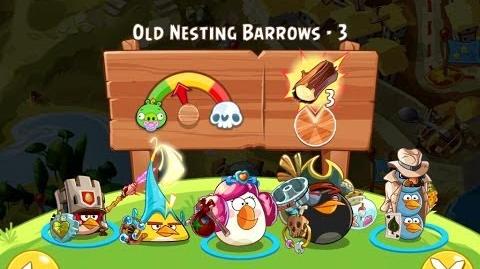 Community content is available under
CC-BY-SA
unless otherwise noted.