Template:Epic Infobox Level Old Nesting Barrows - 5 is the fifth level in Old Nesting Barrows of Angry Birds Epic. You might be done with the whole "Mighty Sword" business, but why not wipe out some more Rouges, too?
Difficulty
5. Considerably hard

See Difficulty System for more informations.
Pigs
---
Rogue x2

718
---



Backstab - Deals 2x52 damage.
Sneer - Laughs stupidly. No effect at all!
---

Foreman

1631
---




Smack - Deals 129 damage.

Power Up - Increase attack power of all pigs by 30%. Lasts 3 turns.
Incompetent Minions - Passive: Damage increased by 25% for each knocked out ally.
Strategy
Choose Red in Samurai, Matilda in Druid and Bomb in Cannoneer (or if you have Berserker, use it!). Heal with Matilda if the birds' healths are not full and if they're full, attack with her. Then attack with the other birds. Use the Rage Chili for Red if all birds' healths are full or for Matilda if a bird's health is under 80% when the Rage Chili is full. Repeat this over until you win or either lose.
Walkthroughs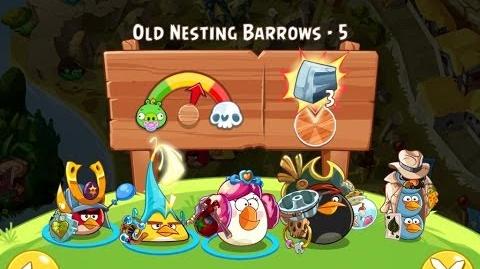 Community content is available under
CC-BY-SA
unless otherwise noted.