Template:SpaceLeveltabs Template:Theme InfoboxPig Bang 1-25 is the 25th level of Pig Bang.
Difficulty
Some of pigs can be tricky.
Strategy
A good strategy for Pig Bang level 1-25 is to send the Blue Bird straight ahead, making sure that at least one of them pop the large bubbled-pig above. It is not necessary to pop the remaining four pigs. Instead, launch the Red Bird straight ahead into the space ship, pushing it into the gravitational field on the right.
More strategy for this level is to send the Blue Bird straight ahead, split to pop all bubbled-pigs and knock the middle asteroid down into the gravitational field to pop all remaining pop if you lucky enough.
Video Walkthrough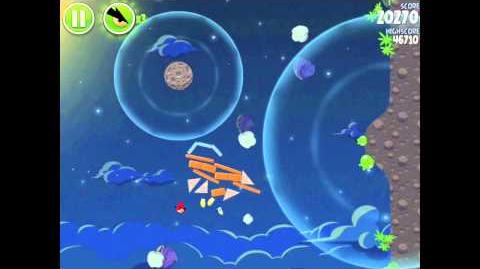 Community content is available under
CC-BY-SA
unless otherwise noted.