Pig Dipper 6-17 (Angry Birds Space)
Episode
Level Number
147
Birds Sequence
No. of Pigs
: x2 : x3
3-star Score
: 66,000 points
Previous
Next
Pig Dipper 6-16
Pig Dipper 6-18
Pig Dipper 6-17 is the 17th level in Pig Dipper.The objective of level 6-17 is to use the birds to eliminate all the pigs. Get at least 66,000 points for 3 stars.
Difficulty
This level can be tricky for three stars. The priority for this level is create icy asteroid to collect score.
Strategy
Send the Ice bird south of the satellite planet, about two-thirds of the way out in its gravitational field. The Ice bird should duck and weave, eventually diving at the TNT on the north side of the main planet.
Walkthrough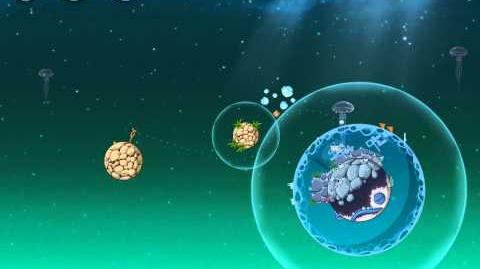 Angry Birds Space
Levels
Eggsteroids
Episode Key : Blue = Pig Bang; Cyan = Cold Cuts; Lightblue = Fry Me to the Moon; Pink = Utopia; Salmon = Red Planet; Lightgreen = Pig Dipper; Purple = Cosmic Crystals; RoyalBlue = Beak Impact
Community content is available under
CC-BY-SA
unless otherwise noted.