Pig Dipper 6-25 (Angry Birds Space)
Episode
Level Number
155
Birds Sequence
No. of Pigs
: x2 : x5 : x2
3-star Score
: 133,000 points
Previous
Next
Pig Dipper 6-24
Pig Dipper 6-26
Pig Dipper 6-25 is the 25th level in Pig Dipper.The objective of level 6-25 is to use the birds to eliminate all the pigs. Get at least 133,000 points for 3 stars.
Difficulty
If you detonate the TNT with the first bird, it's no problem but the southernmost pig can be tricky.
Getting 3 stars is very challenging.
Strategy
Launch the Lazer bird south, skimming in and out of water before targeting the southernmost pillar on dry land. The falling debris should trigger the TNT and clear everything outside of water. Blast away with Bomb to finish off the level.
Walkthrough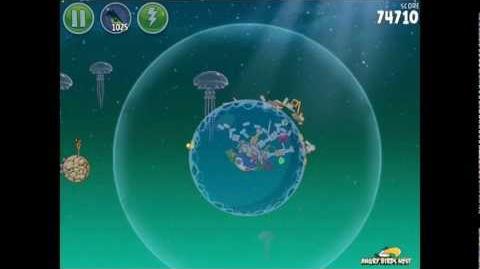 Angry Birds Space
Levels
Eggsteroids
Episode Key : Blue = Pig Bang; Cyan = Cold Cuts; Lightblue = Fry Me to the Moon; Pink = Utopia; Salmon = Red Planet; Lightgreen = Pig Dipper; Purple = Cosmic Crystals; RoyalBlue = Beak Impact
Community content is available under
CC-BY-SA
unless otherwise noted.