Pigfoot is a boss pig that appears in Angry Birds Friends!'s Pigfoot goes Campig Tournament.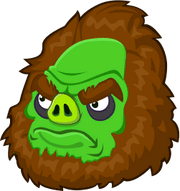 Appearance
Based on Bigfoot, he is an oval dark green pig with a small snout with long nostrils, large eyes with dark blueish gray eyebags that are almost closed with bushy brown eyebrows, forehead ripples, brown fur around the body and grimacing mouth.
Gameplay
In the game, he only appears in the tournament said above. He is a boss pig that is hard to defeat and has the same health as other boss pigs, taking various hits to be defeated. After he is defeated, he may drop objects from the tournament, just like some pigs in the same tournament.
v • e Pigs/Enemies
Game Introductions

Media Introductions

Others
v • e
Playable characters
• • ( • ) • () • • • • • () •
Non-playable characters
• • • • • Sonam Kapoor Bird • Matt Damon Bird • • • VIXX • • • • • • • • •
Enemies (Accessorized Pigs)
( • • • ) • • • • • • • • • • • • • • • • • • • • • • • • • • • • • • • • • • • • • • • • • • • • •
Materials and Objects
• • • • • • • • • • • • • •
Power-Ups
• • • • • • • • • • • • • •
Episodes

Other
Tournaments • Events • Star Cup • Bird-O-Matic • Ports (Mobile Port • Windows 10 Port) • Achievements • • • Angry Birds Shop • Gallery • Glitches • Unused Content • Version History • Angry Birds: Hatching a Universe