Angry Birds Plush Toys are stuffed animals of the characters. They are available in 4 sizes (5", 8", 12", 16"), or as Backpack Clips (3"). There are currently 75 different plushies, some of which include sounds, while others don't. Angry Birds plush toys can be found at most stores that sell toys, such as Toys"R"Us, Wal-Mart and GAME.co.uk. Angry Birds plush toys are also available in online stores, such as the Angry Birds Online Shop, ToyWiz, eBay, and Amazon.com. They are also available at the Angry Birds Theme Park in Finland, Malaysia, and China. 
Commonwealth
The most iconic brand to make angry birds plushies. They have also made the most. Every plush you see on this page from "Angry Birds " to "Angry Birds GO!" was made by them. Also in North America, there were versions of the Commonwealth plushie's produced by Goodstuff which had the iconic "Not for retail sale" tag on their back end.
The "Piggy Bank Plush" mentioned below was an unreleased plush that used NFC technology to communicate with the game.[1] [2] [3]:
Birds
Pigs
Birdday Plush
Squeeze Plushes
Birds
For more information on all the Space Birds, please go to the Space Characters Page.
Angry Birds Star Wars
Birds
Pigs
Tesco Plushies
In 2015 Tesco released some angry birds star wars plushies, which were like the original set but not as high quality.
Birds (Never Released)
Pigs (Never Released)
Halloween
Christmas
Winter
Easter
Valentine's Day
St. Patrick's Day
Logonet Promotion
Logonet Promotion produced the Silver plush that was given away through competitions on Facebook in 2016 [4] and 2019 [5] Logonet-Promotion produced several toons plushies (Red, Stella, King Pig, Minion Pig, more?), which were sold at the Angry Birds Activity Park in Malaysia too.
Hartz Dog Toys
Hartz released many different Angry Birds plush toys, with holiday-themed sets for Christmas [6] and Halloween [7]:
Christmas
Halloween
Contest
a photo contest was held in 2012, and the grand prize was the Angry Birds Hartz Toys and other Hartz products.
Known Winners
1371Cupcake on YouTube (placing unknown, maybe around 2nd or 3rd place.)
Spin Master
Spin Master produced plushes for the characters in The Angry Birds Movie.
Birds
Pigs
Jazwares
Jazwares produced a series of character plush based on the movies.
Whitehouse Leisure
Whitehouse Leisure manufactured and distributed these Angry Birds Movie 2 plushes (mainly in Europe)
Cinemark
Cinemark did a promo where at their theaters you can buy 3 special edition Angry Birds Movie 2 plushes, which included Red in a ball, Green Hatchling and Pink Hatchling.
GSC
GSC (Golden Screen Cinemas) is simular to Cinemark, but they do more movie promotions and hosts French film festivals. They released a plethora of ABM2 hatchling keychain plushies that promoted the movie.
Burger King
In April 2021, Burger King and Rovio announced that they will be releasing 9 different plush balls of the characters from The Angry Birds Movie 2, including Red, Chuck, Bomb, Matilda, Silver, Stella, The Blues, Vincent, and Mighty Eagle. So far they are only available in the United States and Australia for a limited time until June 2021.
Box Sets
Flingers
MZB Imagination produced a range of 2" plush, sold as Fuzzy Feather Flingers.
Others
Trivia
The Blues, Chuck, Bomb, and Hal are the only plushes to go through noticeable design changes.

The old version of The Blues and had eyes staring into the void, whereas the new remake is cross-eyed.
Just like The Blues, Chuck got the same treatment.
The old version of Bomb had a white spot on its forehead, as it does in the games. The new version doesn't have a white spot, which was released in April 2011 with the updated tags.
The old version of Hal has an open beak, while larger sizes do not. The new version has the new design, without the open beak and ring.

The first release of 5" Hal, Matilda, most pigs (except Foreman Pig, Chef Pig, and Cowboy Pig) and inflated Bubbles are the only plushies from Commonwealth Toys with open mouths.
The Mighty Eagle, Marmoset, Hockey Bird and Nerdy Birdy are the only plushies to be released without any others along with it.
The Hockey Bird plush is not available on any websites or shops.
The Corporal Pig is the only pig plush that is beaten up. However, in parts of Asia there comes one where Corporal Pig is grinning yet has a crack on his helmet. It's very likely however that it was a factory error.
The Mighty Eagle is the most expensive plush, probably because it only comes in one size, or it is very big.
There has been a leaked photo of the R2-D2 plush and it is likely to come out.

There also have been leaked photos of new Toons plush toys. They have the same graphic type as the Stella plushes and new texture. But they were never released.

The first person to own a Silver plush was an administrator of this wiki, named The Boomerang.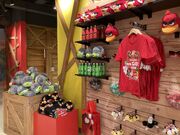 Worldwide
Changi Airport
There was a deal when using VISA at Changi airport in Singapore in Christmas 2011, which offered several exclusive Angry Birds plushes[8]:
There was an Angry Birds Space exhibition at Changi airport in Singapore in Christmas 2012, which offered several exclusive Angry Birds Space plushes[9]:
Furyu
Furyu produced a few Angry Bird and Pig plush, which were sold in Japan:
Lottery Plush Hangers
The designs used in Japan are completely different, compared to plush toys in other regions.
Several other Angry Birds plushes were available as lottery prizes in Japan, through various shops. promotions[10]:
Hockey Bird
NeH produced a Hockey Bird plush in Finland, which was released in several different sizes.
McDonald's
McDonald's released eight small plush in Brazil, using Angry Birds Toons designs through a promotion in November 2015.[11]
McDonald's released six small plush in boxes in China, through a promotion in October 2012.[12]
Sunwoo
Sunwoo released several bulkier plush in South Korea in three sizes[13]:

Sunwoo also released the Angry Birds Space plush, using more unique designs:
TCC Global
TCC Global produced several Angry Bird and Pig plush, which were available in Asia and Europe through various promotions. They are also sold in Angry Birds Adventure Golf gift shops. Red and Bubbles can also be found on Rovio's official amazon page.
TCC Global added two more Angry Birds plush in the second wave of promotions:
The Angry Birds designs are much angrier and Helmet pig is a completely different design.
Trivia
The TCC Global plushies are also used in Angry Birds On The Run.
Apart of Rovio's "Magic" line of NFC products, there was plans to make Angry Birds plushies that were NFC compatible. There would be NFC tags in the left eye of each plush, with the Mighty Eagle plush unlocking M.E. or other plushies adding money to the Bad Piggy Bank.
References