Template:Epic Infobox Level Porktuga is the only optional level of Pirate Coast in Angry Birds Epic. It is a Dungeon stage. When this level is finished, the player may spin for 150
in Normal or 250
in Elite. This is the first dungeon out of all the daily dungeons, making it a tutorial for the other dungeons.
It is also the first level where the player can only choose two of their own birds, with a friend required to be the third bird.
Battle Hint
Pirates (Immune to negative effects)
Pirates use Dirty Tricks and are immune to any negative effects.
Hints: Simple attacks are the most effective to overcome these mean fellas. They are vulnerable to support abilities like damage reflection.
Etymology
Porktuga is most likely a portmanteau of "pork", and Port Tortuga, a Haitian port used by the Europeans in the 1700s. It was mainly used for transport and trade of goods across the Caribbean Sea, which was also commonly used in various literature and media, mostly notably about the presence of pirates, exploration, and gold.
Pigs
Note: The stats below represent the pigs at level 6, the starting level for this dungeon. Future attempts of this dungeon will set the level to that of the player's.
Unless stated otherwise, there is only 1 of each type of enemy. Each enemy's stats are shown below per wave.
Wave 1
The player has to engage 1 Pirate Veteran, 2 Mateys, and 2 Stick Pigs.
Wave 2
The player has to engage 2 Mateys, 1 Big Pirate, and 2 Ship's Kobold..
Wave 3
The player has to engage 1 Rogue Leader, 3 Rogues, and 1 Ship's Kobold..
Wave 4
Wave 5
Summoned: Either 2 Mateys, 2 Pirates or 1 Matey and 1 Pirate every time Captain Red beard uses Call Aid. Each of their stats are as shown:
Strategy
Choose Matilda in Druid, Bomb in Pirate and Piggy Mc'Cool's Merchant Pig. Attack with Matilda when the birds' health is full and with Bomb and Merchant Pig, heal when the birds' health is not full, give the Rage Chili to Bomb or Merchant Pig if you want to heal 35% health for all birds(or if Merchant Pig stuns or one of the birds have at least one harmful effect, give it to Matilda) in all waves. But remember, if one of your birds die, just keep moving forward until you win or lose.
Alternatively, you can use Red in Samurai, Matilda in Druid, and Piggy Mc'Cool's Merchant Pig. This strategy will most likely not give you three stars, but you can use it to get a lot of Snoutlings. Primarily use Merchant Pig for attacking, Red for defense, and Matilda for healing. Remember, you can't redo the dungeon until Monday if you succeed, so if it's your first time, feel free to reach wave 5 and then deliberately lose.
In Summary
Lots of Pirates will appear on this level, so harmful effects are rendered useless. Piggy McCool can dish out HEAVY damage, so he can beat them very quickly. 
Trivia
The name of this level is a pun on Portuga or Tortuga.
Gallery
Walkthroughs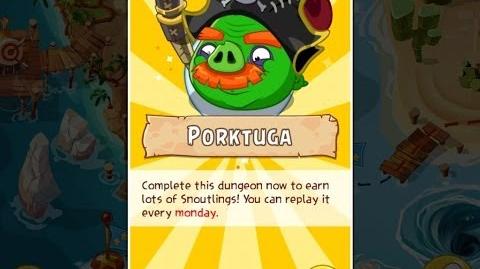 Community content is available under
CC-BY-SA
unless otherwise noted.