Rampig is a pig that appears in the Join The Evolution Tournament in Angry Birds Friends as a boss.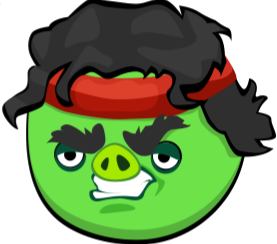 Appearance
He is a large pig with a smaller face that has a big snout, small eyes, bushy black eyebrows and a grumpy glare with perfect teeth. He also has a long black hair with a red band, he is based off Rambo.
Gameplay
He was a strong pig that was hard to defeat, not any bird could defeat him, only strong birds like Terence, while smaller ones will just injury him.
Trivia
v • e Pigs/Enemies
Game Introductions

Media Introductions

Others
v • e
Playable characters
• • ( • ) • () • • • • • () •
Non-playable characters
• • • • • Sonam Kapoor Bird • Matt Damon Bird • • • VIXX • • • • • • • • •
Enemies (Accessorized Pigs)
( • • • ) • • • • • • • • • • • • • • • • • • • • • • • • • • • • • • • • • • • • • • • • • • • • •
Materials and Objects
• • • • • • • • • • • • • •
Power-Ups
• • • • • • • • • • • • • •
Episodes

Other
Tournaments • Events • Star Cup • Bird-O-Matic • Ports (Mobile Port • Windows 10 Port) • Achievements • • • Angry Birds Shop • Gallery • Glitches • Unused Content • Version History • Angry Birds: Hatching a Universe