Super Red[1] is a transformation that appears in the Angry Birds series. It is an alternate state of Red, achieved by passing through a wormhole.
Appearance
As Super Red, Red is physically identical as his normal self. However, his crest and tail feathers were slightly altered to look more futuristic and with a pointy end. Perhaps his most notable change is his eyes, which now look like a black mask with two shiny eyes.
In Angry Birds POP Blast, Super Red was given an anthropomorphic body. He now has two wings and two bird feet, and his head is directly connected to his torso without a neck. However, the rest of is body remains unaltered.
Game appearances
Angry Birds Space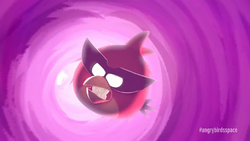 In Angry Birds Space, Super Red makes his debut as a transformation that replaces the normal Red. At the start of the events of the game, Red assumed this state by passing through a extraterrestrial wormhole he used to go to space.
In gameplay, Super Red is a playable character that first appears in the first level of Pig Bang. He would later appear in the next episodes, the Mirror World levels, and the tutorial levels for powerups. Like his normal state, Super Red is rather weak, though he can destroy wood pretty easily. Due to this, he is mostly used to weaken buildings as the game progresses. When tapping onto the screen when he is launched, Super Red will make a small scream that will produce small red waves that will push Space Pigs upwards. Despite being rather weak and having a small radius, these waves can damage and pop pigs.
Angry Birds Friends

In Angry Birds Friends, Super Red appears as an avatar in the Bird-O-Matic.
Angry Birds Chrome
In Angry Birds Chrome, Super Red appeared on a menu item which was an advert for Angry Birds Space which was later replaced with another menu item.
Angry Birds 2
In Angry Birds 2, Super Red appears as a profile picture unlocked in Oinklahoma.
Angry Birds POP Blast
In Angry Birds POP Blast, Super Red is a character that appears in the Space Race.
Powers and abilities
Super Red's eyes can work as a radar, allowing him to track pigs and eggsteroids.
Gallery
Main article: Red/Angryverse/Angry Birds Space/Gallery
Trivia
He is one of the only 2 members of the Space Flock to appear in more than 2 games.
References
v • e Birds and Allies
Game Introductions

Classic

Seasons

Rio

Friends

Space

Star Wars

Star Wars II

Go!

Epic

Stella

Transformers

POP!

AB2

Evolution

Red Birds

Yellow Birds

White Birds

Black Birds

Blue Birds

Bird Island

Custom Birds

•

Journey

Web Games

Media Introductions

Other

• • • • • Obama Bird
Main article | Gallery | Beta elements | Version history | Achievements | Credits | Glitches | Re-releases (Free, HD, Free HD)
Playable characters
Angry Birds (Space Flock), (Bomb (Space Bomb), Bubbles (Atomic Bird), Chuck (Lazer Bird), Ice Bird, Red (Super Red), Terence (The Incredible Terence, Wingman), The Blues (Lightning Birds)) | Space Egg
Non-playable characters
Darth Maul | King Pig | Mighty Eagle (Mighty Buzzard, Space Eagle) | Slash Bird | Skunkbird | Toucan Sam
Enemies
Space Pigs (Corporal Pig, Foreman Pig, Hektor Porko, Minion Pig) | Spacecraft Pig | S.P.A.R.K.
Episodes
Pig Bang | Cold Cuts | Fry Me to the Moon | Utopia | Red Planet | Pig Dipper | Cosmic Crystals | Beak Impact | Brass Hogs | Solar System | Eggsteroids | Danger Zone | Froot Loops Bloopers (limited time)
Bosses
Pig Bang boss |

Cold Cuts boss

| Fat Pig | Red Planet boss | Pig Dipper boss | Alien Pig |

Beak Impact boss 1

|

Beak Impact boss 2

|

Brass Hogs boss

Items
Egg | Eggsteroid |

King Pig's UFO

| Nest | Powerup (Flock of Birds, Pig Puffer, Space Egg, Wingman) | Slingshot |

Space Egg Cannon

Gimmicks and obstacles
Glass | Stone | TNT | Water | Wood
Music
Angry Birds Space (Original Game Soundtrack)
Other
Angry Birds Comics (2016) #9 | Angry Birds Space: A Furious Flight into the Final Frontier | Angry Birds: Birds in Space | Angry Birds Space: Planet Block | Angry Birds Space comic | Angry Birds Space VR | The Daily - Birds in Space | Angry Birds Space: Colors |

Angry Birds Space: Numbers

|

Angry Birds Space: Maze Mania

|

Learn to Draw: Angry Birds Space

|

Angry Birds Space Joke Book

|

Angry Birds Space: Search and Find

| The Angry Birds Friends Golden Egg Level |

Destruction gauge

| Earth (Piggy Island) | Star | Angry Birds Space Assault! | Angry Birds: Hatching a Universe | Winnable Objects | Rocket Science Show