Red Planet 5-25 (Angry Birds Space)
Episode
Level Number
125
Birds Sequence
No. of Pigs
: x2 : x4
: x4 : x1
3-star Score
: 128,000 points
Previous
Next
Red Planet 5-24
Red Planet 5-26
Red Planet 5-25 is the 25th level in Red Planet.
Difficulty
It's very hard for three stars. It's impossible to three stars if you didn't destroy crystals enough.
Strategy
Launch Lazer Bird below the first planet on the left, and redirect him towards the top end of the wooden plank holding the TNT box. The gravity should pull everything towards the center planet, destroying all the pigs there. Then launch Terence above the planets on a long curve. The gravity should pull the bird back towards the center, skimming the bottom right crystals and bounce of the square trampoline on the left. This will send him towards the last group of pigs, destroying them.
Walkthrough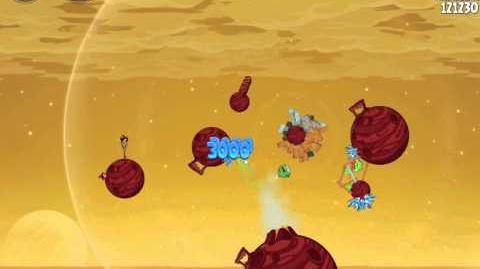 Angry Birds Space
Levels
Eggsteroids
Episode Key : Blue = Pig Bang; Cyan = Cold Cuts; Lightblue = Fry Me to the Moon; Pink = Utopia; Salmon = Red Planet; Lightgreen = Pig Dipper; Purple = Cosmic Crystals; RoyalBlue = Beak Impact
Community content is available under
CC-BY-SA
unless otherwise noted.