Rise and Swine 2-1
Episode
Rise and Swine
Level Number
37
Parts
pig, plunger wheels, wooden blocks, engine
Goal
1-star: get Ross to the cake

2-star: get the star box 3-star: 12 seconds or less

Previous

Next

N/A
N/A
Rise and Swine 2-1 is the first level of Rise and Swine.
Strategy
Put together a simple four by four vehicle with plunger wheels, the pig, the wooden blocks, and the engine. The vehicle will climb its way up the mountain, collecting the star box and hopefully before the timer runs out.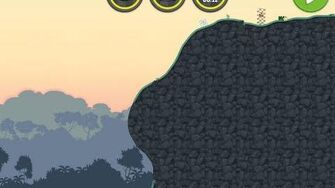 v • e
Protagonists
• •
Supporting Characters
• •
Antagonists
• • • • • •
Vehicle Parts
• • • • • • • • • • • • • • • • • • • • • • • • •
Collectables
• • •
Power-Ups
• • • •
Levels

3-1

•

3-2

•

3-3

•

3-4

•

3-5

•

3-6

•

3-7

•

3-8

•

3-9

•

3-10

•

3-11

•

3-12

3-13

•

3-14

•

3-15

•

3-16

•

3-17

•

3-18

•

3-19

•

3-20

•

3-21

•

3-22

•

3-23

•

3-24

3-25

•

3-26

•

3-27

•

3-28

•

3-29

•

3-30

•

3-31

•

3-32

•

3-33

•

3-34

•

3-35

•

3-36

Bonus Levels:

I

•

II

•

III

•

IV

•

V

•

VI

•

VII

•

VIII

•

IX

4-1

•

4-2

•

4-3

•

4-4

•

4-5

•

4-6

•

4-7

•

4-8

•

4-9

•

4-10

•

4-11

•

4-12

4-13

•

4-14

•

4-15

•

4-16

•

4-17

•

4-18

•

4-19

•

4-20

•

4-21

•

4-22

•

4-23

•

4-24

4-25

•

4-26

•

4-27

•

4-28

•

4-29

•

4-30

•

4-31

•

4-32

•

4-33

•

4-34

•

4-35

•

4-36

Bonus Levels:

I

•

II

•

III

•

IV

•

V

•

VI

•

VII

•

VIII

•

IX

5-1

•

5-2

•

5-3

•

5-4

•

5-5

•

5-6

•

5-7

•

5-8

•

5-9

•

5-10

•

5-11

•

5-12

5-13

•

5-14

•

5-15

•

5-16

•

5-17

•

5-18

•

5-19

•

5-20

•

5-21

•

5-22

•

5-23

•

5-24

Bonus Levels:

I

•

II

•

III

•

IV

•

V

•

VI

6-1

•

6-2

•

6-3

•

6-4

•

6-5

•

6-6

•

6-7

•

6-8

•

6-9

•

6-10

•

6-11

•

6-12

6-13

•

6-14

•

6-15

•

6-16

•

6-17

•

6-18

•

6-19

•

6-20

•

6-21

•

6-22

•

6-23

•

6-24

6-25

•

6-26

•

6-27

•

6-28

•

6-29

•

6-30

•

6-31

•

6-32

•

6-33

•

6-34

•

6-35

•

6-36

Bonus Levels:

I

•

II

•

III

•

IV

•

V

•

VI

•

VII

•

VIII

•

IX

R-1

•

R-2

•

R-3

•

R-4

•

R-5

•

R-6

•

R-7

•

R-8

S-1

•

S-2

•

S-3

•

S-4

•

S-5

•

S-6

•

S-7

•

S-8

•

S-9

•

S-10

Minigames
•
Cinematic Trailers
•
Miscellaneous
Cutscenes • • • •
Further Info
Achievements • Angry Birds Classic Episode • Comic • Bad Piggies' Egg Recipes (Gallery) • Gallery • Glitches •

Original Soundtrack

• The Sequel • Shuffle & Spawn • Unused Content • Version History