About
Santa Coal and Candy Claus Tournament is Angry Birds Friends Christmas Tournament that started on December 14th 2017. It's divided into 3 tournaments: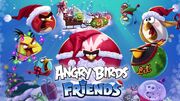 Santa Coal And Candy Claus Week 1 (December 14th to December 20th)
Santa Coal And Candy Claus Week 2 (December 21th to December 27th)
Santa Coal And Candy Claus Week 3 (December 28th to January 3th 2018)
It's a tournament filled with candies and presents. There's also the Frozen Santa Claus. It also includes the Season Greedings Music, which is a lot rare.
Descriptions
Official
Rescue Santa in a new holiday tournament! Play 5 new tournaments in three weeks of holiday hijinks complete with piles of presents and a whole slew of sweets!
Background
The background takes place in a snowy place, where there are a bunch of high mountains and things made with candies as seen in the background. There is a vast forest made of lolipops and pines. Near the forest, there is a bridge with a train with 2 wagons. In the snowy place, there is a village, which there are snowy roofed brown houses apparentely made of cake dough. The snow in the background seems to be made by strawberry ice cream or just cream.
In the foreground, there is a chocolate dough path with Christmas stars, trees, and wreath cookies and there's also ice cream snowmans stuck on the chocolate cream.
New Features
Frozen Santa Claus: If a bird hit this block, it will free Santa Claus and all Coal Blocks will turn into Candy Cane.
Gummy Bears: Just an object. They can be in various colors, as green, orange and red. It's also bouncy.
Jello: Another object that is easy ro destroy. It bounces!
Present Bag: If a bird hits the bag, it will drop a lot of presents.
Strawberry Cream: A pig's hat.
Elf Hats and Green Ears: A pig's accessory.
Candy Goggles: Another pig's accessory.
Coal Blocks: A hard to destroy block.
Candy Cane Blocks: Coal Blocks turned into candy!
Candy Canes: Just a sweet object.
Toy Balls: Another object.
New Presents: Presents with a new wrap!
Green Big Candy Blocks: A type of sweet place to the pigs sit!
Wooden Spoons: A pig's accessory.
Food Mixer: For the pigs cook.
Trailer
Trivia
The name is a play between Santa Claus and Candy Coal (Or Coal Candy). Which coal is said to be the bad present that Santa Claus gives to naughty living beings and candy is for Candy Cane.
Community content is available under
CC-BY-SA
unless otherwise noted.