Santamental Meis an Angry Birds Christmas 2014 theme song and on December 12, 2014. It has been posted by "Bad Piggy Records". When Terence is a Santa, he isn't all Stoney faced and indifferent grunts. He's got a soft side in there too. Somewhere, you can even pick up on an intense holiday spirit if you read his subtle facial gestures closely. You might even say he has a… Santa-mental side.
"This is the story of how Terence became Santa. Yes, big grumpy Terence is the new Santa! And he wants to wish you a Holly Jolly Christmas! At least that's what we think that low-pitched grunt meant... One day Terence found a bag washed up on the shore of Piggy Island. Inside the bag was a massive red costume with a beard. He decided to try it on, you know, just for a little bit."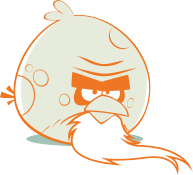 Lyrics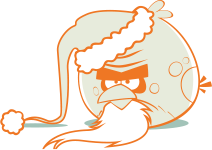 "Nights so bright and clearrr... with friendly atmosphereee.. Joy and fun for everyoneee, that's my secret with this yeeear. Ooo yeah yeah. If you say that I.. must be an angry type of guy, then this is what my reply will beee. ooh yeah (Pig choir: ohh, this is what he said to me). Beneath the ploob you see, lyes a softer personality waiting you will see the sentimental side of meee. (Pig choir: You'd be surprised to see the sentimental side of me) Now don't let my grumpy lips fool ya, because this season I know just what I want to dooo. (Pig choir: I know what I wanna do) Tonight my face will bee out and about to join the jubilee waiting you will see the sentimental side of me. I knooow that in this jolly overhead I can shooow just how much I have to give and share. If yoooou believe me too, when the night is through I found the way to make my winter true. (Pig choir: Da da dat da da) It's time to set my sleigh to slide. (Pig choir: It's time to set my sleigh to slide) Side by side we're in the sky and let it ruuuuuuuun. (Pig choir: Can we see that Santamental, can we cross the fundamental) It's just the Santamental. Wada woah woah wuda woah woah yeah. Meeeeeeee"
Trivia
The song's plot is based on the plot in Angry Birds Comics: Holiday Special Issue 1 and the story in the official Angry Birds holiday website.
The art style of the music video is of paper mache, which can be interpreted as the video being one huge holiday card.
v • e
Protagonists
• • • • • • • • • • • • • • • • • • • •
Antagonists (Accessorized Pigs)
( • • • ) • • • • • • • •
Materials and Objects
• • • • • • • • • • • • • • • • • • • • • • • • • • • •
Power-Ups
• • • • * • •
Episodes

Cinematic Trailers
• • • • • • •
Comics
Moon Festival Comic • Ham'o'ween Comic • Christmas Comic • Year of the Dragon Comic
Songs
"Peace Song 2011" • "Fly Me Home Tonight" • "Ode to Snow" • "Santamental Me"
Other
Achievements • • • Cutscenes • Free version • Gallery • Glitches • List of Levels • • Soundtrack • • Unused Content • Version History
Key
* - Exclusive to the Chinese version