Senna Bird (or Ayrton Senna) is a playable bird exclusive to Angry Birds Go! based on the late Brazilian three-times Formula One champion Ayrton Senna.
Overview
Senna Bird was added to Angry Birds Go! in 2015 but he was removed in v2.0. In gameplay, Senna Bird's ability is the same as Chuck's but sightly faster. It may not seem as if Senna Bird is progressing that quickly when the player activates his ability but actually slows down the time, which is why it seems as if he is not progressing in speed. Senna can wear his iconic yellow-and-green helmet if the player wins 41 races while playing as him.
Gallery
Video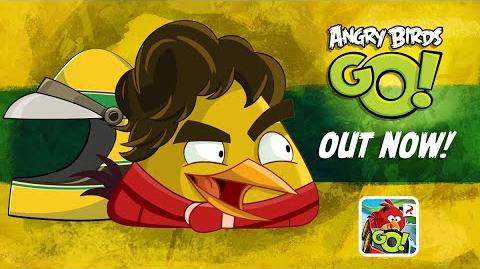 Trivia
It's unknown why he was removed in the v2.0 update.
Chronicler Pig was an old sprite model of Senna Bird in v1.4.0. See more here.
Ayrton Senna is the sixth bird to be based on a real person, the first three being the Developer Birds (based on Peter Vesterbacka, Jaako Iisalo and Serdar Soganci), Freddie Mercury being the fourth and Slash being the fifth.

Senna is the second bird to have his character modeled on Chuck, the first being Freddie Mercury. They are also the only birds made in tribute to deceased people (Freddie died in 1991 and Senna died in 1994).

The reason why the player has to win 41 races as Senna to get his helmet is because this is the same number of victories the real Ayrton Senna had during his Formula One career.
If the player has a helmet version of it then the NPC will be a clone but without a helmet. This also happens if the player has another racer.
v • e Birds and Allies
Game Introductions

Classic

Seasons

Rio

Friends

Space

Star Wars

Star Wars II

Go!

Epic

Stella

Transformers

POP!

AB2

Evolution

Red Birds

Yellow Birds

White Birds

Black Birds

Blue Birds

Bird Island

Custom Birds

•

Journey

Web Games

Media Introductions

Other

• • • • • Obama Bird