| | |
| --- | --- |
| | This article is outdated, which means it is lacking important recent information. It's outdated because: This page isn't cohesive like the other character pages in the wiki like Red |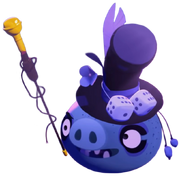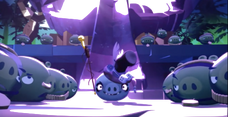 The Shaman Pig is a character of Angry Birds Stella Toons.
He has a stick that can turn birds or pigs into zombie pigs.
He is a Exclusive Pig in Angry Birds Stella Toons.
Media appearances
When the light changed into pink, Shaman Pig was spinning out of the statue and cackles. The minion pigs step aside then the Shaman Pig passes through then pointing a golden microphone wand at Dahlia. Dahlia gets her magnifying glass and examines the wand until the Shaman Pig pats the wand on her head. The Shaman Pig then commands every pig including Dahlia, to capture the flock then the flock flees with every pig following them with Dahlia bumping into a tree. He stops and turns to Gale with Gale questioning the Shaman Pig's appearance. The Shaman Pig cackles and proceeds to turning Gale's minion pigs into his minion pigs while Handsome Pig was watching. Gale orders her minions to capture Shaman Pig then Gale notices the Minion Pigs at his side and also notices no on carrying her throne causing her and Handsome Pig to fall. Shaman Pig waves his wand at Gale and Handsome Pig, then Gale runs away followed by Handsome Pig. Gale screams in terror followed by Handsome Pig doing the same then followed by Shaman Pig's cackle. Dahlia uses her magnifying glass at Handsome Pig who's slowly moving away from her then bumping into Shaman Pig as he casts he spell on him turning into a pig with a cool style. Shaman Pig casts his spell on her. The hat covers her face then was later cast aside by Willow in a pig form. Stella calls the attention of Shaman Pig and then he notices Stella on the statue, wondering what is she doing. Stella hops down then Shaman Pig starts to wave his wand at her then was stopped by hearing the call of Poppy from the top of the speaker. Poppy laughs in an evil way then Shaman Pig was shocked to see her on top of the speaker until she destroyed the speaker with her attack, causing a soundwave, putting the pigs to sleep. Stella was happy that the pigs were done then Poppy rises and spots the Shaman Pig's wand and attempts to take it until Shaman Pig woke up and cast a spell on Poppy as well. After turning Stella's Flock into pigs, all the pigs party the entire night.
After waking up, Stella stares into the statue and hears the Shaman Pig's laughter, then the statue's eyes glowing with fire, thus ending the episode.
Appearances
Relationships
Allies
Enemies
Trivia
v • e Pigs/Enemies
Game Introductions

Media Introductions

Others