Not to be confused with Shaman Pig (Epic).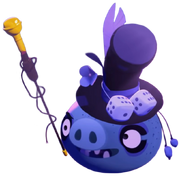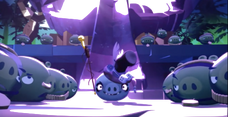 The Shaman Pig is a character of Angry Birds Stella Toons.
He has a stick that can turn birds or pigs into zombie pigs.
He is a Exclusive Pig in Angry Birds Stella Toons.
Appearances
Stella Toons
Trivia
There is a character in Angry Birds Epic also named Shaman Pig. However, both have different abilities.

The  pig also doesn't look like the Shaman Pig in Epic. He instead looks more of a minion pig.

This pig does not appear in Angry Birds Stella.
This pig could be related to the Necromancer Pig.
v • e Pigs/Enemies
Main Pigs

( • • • Accessorized Pigs • Special Pigs) • • • •

Angry Birds

 ·

 ·

 ·

 ·

 ·

 ·

 ·

Angry Birds Seasons

 ·

 ·

 ·

Angry Birds Rio

 ·

 ·

Angry Birds Friends

• • • • • • • • • • • • • • • • • • • • • • • • • • • • • • • • • • • • • • •

Angry Birds Space

 ·

 ·

 ·

Bad Piggies

 ·

 ·

 ·

 ·

Angry Birds Star Wars & II

???

Angry Birds Epic

???

Angry Birds Transformers

???

Angry Birds Stella

 ·

 ·

 ·

 ·

 ·

 ·

 ·

 ·

 ·

 ·

 ·

 ·

 ·

 ·

Angry Birds Fight!

 ·

Reaper Pig

 ·

 ·

Magician Pig

 ·

Paladin Pig

Others

 ·

 ·

 ·

 ·

 ·

 ·

 ·

Tiny Minion Pig

 ·

Piglets

 ·
v • e
Protagonists
• • • • • •
Antagonists
• • • • • • • • • • • • • •
Materials and Objects
• • • • • • • • • • • •
Levels
Miscellaneous
• • New Pigs on the Block • Lost and Found Items • Cutscenes • • •
Further Info
Achievements • Comic-Con Trailer • Gallery (Textures & Sprites) •

Glitches

• Original Soundtrack • Unused Content • Version History
Other Media
Comic Series • Angry Birds Stella Diaries • Stella: Nana and the Magic English Words • Stella Super Interactive Annual 2015 •