(34 intermediate revisions by one other user not shown)
Line 1:
Line 1:
 

[[File:AB2_Silver_Looping_Legend.png|698x698px|center]]

 

[[File:AB2_Silver_Looping_Legend.png|698x698px|center]]

 
 
 
+

''To see images of Silver, please go to [[Silver/Gallery|her gallery]].''

−

{{Characterstabs}}

 
 
 
 
+

''"Looping Legend"''

⚫
 
 
+
⚫
 
 
+

'''Silver''' is a character in the ''[[Angry Birds]]'' series of games created by [[Rovio Entertainment]]. She was introduced in 2015 as a new character for the first official sequel to ''Angry Birds'', ''[[Angry Birds 2]]''. After her first appearance in ''Angry Birds 2'', she has since then only appeared in one other ''Angry Birds'' installment, ''[[Angry Birds Transformers]]'' and few other.

⚫
 
 
⚫
⚫
 
 
+
 
⚫
 
+
 
⚫
 
+
 
+

<p style="font-weight:normal;">'''Silver's Description From the Angry Birds Magazine:'''</p>

 
+
 
⚫
 
+
 
+

<p style="font-weight:normal;">Silver was initially a stolen egg by the pigs, who were just about to cook the egg until it had cracked open. Thus, Silver was born, and the pigs took her in as their own. Because of this, Silver notably has multiple physical and mental traits of the pigs, having a very goofy sense of humor and even having the same exact teeth as the pigs.</p>

 
+
 
+

<p style="font-weight:normal;">Not much else is known about Silver, personality-wise.</p>

 
+

==Silver's Involvement in Angry Birds==

 
⚫
 
⚫
 
+

|Box title = Silver

 

|image = [[File:SilverBird2.png|250px]]

 

|image = [[File:SilverBird2.png|250px]]

 

|powers = Loops downwards

 

|powers = Loops downwards

 
+

|firstlevel = Level 23 - New Pork City

 

|gender = Female

 

|gender = Female

 
⚫
 
+

|locations = All chapters after New Pork City

 

|strength = Slightly Weak

 

|strength = Slightly Weak

−

|size = Small|firstlevel = Level 23 - New Pork City

+

|size = Small

 
⚫
⚫
 
 
⚫
−

'''Silver''' is a grey bird that makes her debut in [[Angry Birds 2]] as a new bird to the series. She was created by [[Rovio Entertainment]] (like all the other birds) and is the fifth bird to be unlocked. Her first level is in Level 24 which is located in New Pork City, with The first room is a quick demonstration of how she works. Silver's species is a peregrine falcon, which explains why she is able to move so quickly.

 
 
⚫
⚫
 
 
+

}}Silver is first introduced in ''Angry Birds 2'', in level 24 of New Pork City. After her debut, Silver will appear in all the themes afterward as a playable character. In the new version, she can be unlocked at any time with a key.

−

Silver has two long strands of gray hair sticking out from her head. She has eyelashes, thin eyebrows (which is not a feature on the male birds), and white breast feathers (with small breasts seen from her side view). She has 2 black stripes going from to the top to bottom of her body, and a streak of red on the tip of her beak (like [[Boomerang Bird|Hal]]). She has hidden, goofy, large teeth and appear when she laughs.

 
−

==Character==

+

====

 
+

Silver is an extremely difficult character to work with. Her ability is very versatile, but it comes at a cost.  Not only will multiple obstacles prevent her from striking down (if the player so chooses to do so), Silver usually never will hit the structure the player wishes. It is often for her to miss, hitting another block or entirely not being able to knock the structure down. Additionally, unless the player has a tall structure to knock over, Silver will not do much damage to the level.

−

*'''Name: '''Silver

 
−

*'''Known Aliases: '''Grey Bird, Silver Bird

 
−

*'''Group Affliation: '''The Flock

 
−

*'''Best Friends: ''' [[Pigs]] (formerly), [[Blue Bird|The Blues]]

 
−

*'''Family: '''[[Pigs]] (adoptive parents)

 
−

*'''Voiced By: '''Unknown

 
⚫
 
 
 
 
+

Silver is also extremely weak. The game states multiple times as "tips" that Silver is extremely good at demolishing stone, but this fact falls extremely far from the truth. Silver is capable of destroying 1, perhaps 2 stone blocks with ease, but afterward will just immediately stop in her tracks. This effect is the same for wood and glass.

−

When tapped, Silver loops in a circle and dives straight down. She is most effective against [[stone]], but is not very strong altogether. (it also makes nearby objects jump upwards if she hits the ground) Another way to use her ability is to reach things above her, or she can "upper-cut" structures when she activates her ability next to them). Since she loops rather than going just straight down, her ability is useful to get specific spots. 

 
⚫
 
⚫

Not much is known about Silver, as she only appears [[Angry Birds 2]] and [[Angry Birds Transformers]] (as Windblade). Although, in an

"

Angry Bird Magazine

"

It provides a brief description of her, and it states

"Weirdly, Silver was raised by pigs and doesn't even care about the eggs! But even though she's still got some pig-like ways, she's happier with the flock and is a great flyer who is very funny!

"

 
 
 
 
+

It is also not preferred to use her to take out the last pig or get extra points by demolishing a structure. She is extremely unreliable in these situations. If there is a bit far from a pig or a pig that needs to be hit at a certain angle, [[Matilda]] is much easier and more reliable to use.

⚫
 
 
 
 
+

However, Silver is extremely good at bringing harm to bosses. If you hit a boss (Chef, Foreman, or King Pig) with her using her ability, she will take out a rather large chunk of the pig's health.

⚫
 
 
 
 
⚫
⚫
 
 
+

{{Infobox character 2|Box title = Windblade|image = [[Image: ABTransformers Windblade.png|235px]]|powers = Shoots balls of energy|firstlevel = Unlockable during "Enter the Silverbird", "Second Wind Tournament", "The Blues Brothers" and "2 Year Celebration"|gender = Female|species = Falcon/Jet/Robot|locations = Everywhere|strength = Moderate|size = Medium}}Silver appears in ''Angry Birds Transformers and'' is given her first counterpart character along with her first appearance outside her debut. (''Angry Birds 2'') This is currently Silver's only outside appearance and character counterpart. (along with her first 3D model)

⚫
 
 
 
 
+

Unlike all the other characters, even Bomb and The Blues, who hadn't appeared in the game originally, Silver does not make any appearances in the official comics or animations. This becomes very complicated, as the comics started out with the birds and pigs turning into the robots, and resolved the issue, making all the characters revert to themselves. Silver was nowhere to be seen, as she hadn't even been part of Red's flock, so it is unknown if it can actually be considered canon.

−

Silver does not appear in the original titles because she was raised by [[Pigs]] after they find her as a lone egg in the forest, hatching moments before her cooking. She joined Red's flock to fight against them for an unknown reason, possibly because she found out she was a bird just as they were.

 
 
 
 
+

As described in the game,''<nowiki/>''

⚫
 
⚫
 
−

===Games===

 
⚫
 
⚫
 
 
 
 
+

''Windblade and Silver have a lot in common - Windblade was raised on Caminus rather than Cybertron and Silver was raised by the Pigs! Talk about being born in a barn! It sure beats being turned into a cyber-omelet though!''

⚫
 
−

* The ''Angry Birds 2'' website suggests she has a goofy sense of humor.

 
−

* As seen in the Angry Birds Blog, Silver was raised by pigs. That could be the reason why she has pig-like teeth.

 
−

* She is the only bird in Red's flock that doesn't appear in [[Angry Birds]], [[Angry Birds Seasons]], [[Angry Birds Rio]], and [[Angry Birds GO!]].

 
−

* It is revealed in the Angry Birds Facebook page that the reason Silver was raised by pigs was because the pigs found her as an egg. Before they cooked it, Silver hatched in front of them and they took in Silver as their own.

 
⚫
 
⚫
 
⚫
 
−

* In the Angry Birds 2 Periscope sessions hosted by Rovio, one of the fans asked Silver whether she was close to Terence or not. They replied yes, Silver is indeed close with Terence.

 
−

* Silver is one of a few characters who didn't appear in [[The Angry Birds Movie]]. The other was [[King Pig]]. The third is Ice Bird.

 
−

* Silver is the first bird who didn't appear in regular Angry Birds games. The second is [[Ice Bird]].

 
⚫
 
−

* You only get Silver plush from the ''Angry Birds 2'' competition, a plush hasn't release in the public stores at the moment.

 
 
 
 
+

''Even though she may be an outsider, she knows which side to fight for and doesn't hesitate to get stuck into the battle for Piggy Island! I certainly wouldn't want to be on the receiving end of those expert sword skills!''

⚫
 
−

===In-Game===

 
−

<gallery type="slideshow" position="center">

 
−

ABUnderPigstructionSilver.png

 
−

UnderPigstructionSilver.png

 
⚫
 
 
 
 
+

''They say every cloud has a silver lining, and on Piggy Island, this is quite literary true! You'll often see Windblade flying through the clouds at supersonic speeds, doing loop-the-loops and barrel rolls. When she sees some blue sky, she sometimes skywriters rude messages to the Eggbots!''

−

===Character===

 
 
+
−

<gallery type="slideshow" position="center">

 
 
+

''Windblade's weapon unleashes a trio of superfast, unstable balls of energy. The projectile's unstable nature causes them to repulse upwards! Windblade has expert depth perception and knows just how to sling these projectiles, so don't worry about hitting what you're aiming at.''

−

SilverBird3.png

 
 
+

====Gameplay====

−

SilverBird4.png

 
 
+

Silver is part of the "Valkyries" squad.

⚫
 
 
+
−

SilverBird2.png

 
 
+

When shooting towers, make sure to aim higher up than usual. If you aim too low the projectiles might hit the floor before they get to the target.

−

Ab2-silver.png

 
 
+

[[File:32908673_1097893307017887_3407726060232507392_n.png|thumb]]

−

Silver_Netural.png

 
 
+

===''[[Angry Birds Blast!]]''===

−

Silverfalcon.png

 
 
+

She makes a small appearance with [[Bubbles ]] in the Royal Marriage Sale Artwork, she wears a bridal veil and has black hair that covers her head, she is seen marrying the orange bird.

−

Silver The Falcon.png

 
 
+
−

ABFacebookSticker21.png

 
 
+

{{Clear}}

−

SilverBird.png

 
 
+
−

ABFacebookSticker20.png

 
 
+

===''[[Angry Birds POP!]]''===

−

Abba CharacterPaints Silver 3.png

 
 
+

{{Template:Infobox character 2

−

Silver_AngryFront.png

 
 
+

|Box title = Silver

−

silver sideways.png

 
 
+

|image = [[File:ABPOP Silver character.png|250px]]

−

Silver info.jpg

 
 
+

|powers = Star Pop

−

2016-01-25.jpg

 
 
+

|firstlevel = Player Choice

−

Silver-Sleeping.png

 
 
+

|gender = Female

−

Silver-Suspicious.png

 
 
+

|species = Peale's Falcon (''Falco Peregrinus Pealei'')

−

Silver-Suspicious2.png

 
 
+

|locations = Any Level As She Is A Guest Star

−

Silver-Happy.png

 
 
+

|strength = Moderate

−

Silver-Goofy.png

 
 
+

|size = Small

−

Silver front.png

 
 
+

|background = #DADADA

−

Silver_Angry.png

 
 
+

|bgcolor = #B8B8B8

−

Silver-Suspicious3.png

 
 
+

|txtcolor = #FFFFFF

−

Silver_Confused.png

 
 
+

}}Silver is first introduced in ''Angry Birds POP'', as a guest character, unlike other games, her ability is not to loop.

−

Silver_Flying.png

 
 
+

====Gameplay====

−

Silver_Angry Scream.png

 
 
+

Silver appears in the game as a Guest Star in events that start in random dates, her ability in the game is to launch a Star Pop, which makes a Star shaped explosion.

−

Silver-Happy 2.png

 
 
+

====Gallery====

−

bf547cc0-443f-4fd4-9e03-e48972f43c76.jpg

 
 
⚫
−

Angry birds transformers silver as windblade by tdmaniacxc626-d9vlgj5.jpg

 
 
+

65000944 1292625457568177 3552866594440871936 n.jpg

−

ABTransformers Windblade Vehicle.png

 
 
+

Star Pop.jpg

−

ABTransformers Windblade.png

 
 
⚫
−

ABTransformers Windblade head.png

 
 

</gallery>

 

</gallery>

 
 
 
+

==='''[[The Angry Birds Movie 2]]'''===

−

===Merchandise===

 
 
+

[[File:Star-7.png|thumb]]

−

<gallery type="slideshow" position="center">

 
 
+

''"''Wait, who's that? And why she has all those achievement awards?''"''

−

Silverplush.jpg

 
 
+
−

Angry Birds Silver Plush.png

 
 
+

–'''Silver''', [[The Angry Birds Movie 2]]

−

New Angry Birsd Silver plsuh.jpeg

 
 
+
 
+

'''Silver''' appears in [[The Angry Birds Movie 2]], where she is [[Chuck]]'s sister.

 
+
 
+
 
⚫
 
+

Silver's appearance has almost no resemblance to [[Silver|the original Silver]], as she sports a lighter plumage and hot pink eyebrows. Unusual for any Bird, her crest is designed in such a way that it can be tied into two long braids. She is also very tall, with thin, yellow, scaly legs whose length is only rivaled by that of [[Stella]].

 
+

She has a small beak.

 
+
 
+

====Personality====

 
+

Silver is really smart and has won many awards, she is also not so serious on the adventure and loves her brother [[Chuck]].

 
+
 
+

Silver is initially disappointed that no one recognizes her achievements, but finally gets an opportunity to change that when [[Red]] chooses to allow her to lead the mission to destroy Zeta's superweapon partway through and successfully completes it. Red goes on to insist on the others that she be honored for that victory.

 
+
 
+

Unlike the ''[[Angry Birds 2]]'' game, Silver has never held a personal grudge against [[Pigs]] and had not taken part in the [[Great Egg War]] despite the Pigs' initial hunger for stealing [[Egg]]s and hostility against the Birds. She thus has no problem welcoming [[Leonard]], the first Pig she had ever met in her life.

 
+
 
+

====Skills and abilities====

 
+

Silver is very intelligent and has crafted a variety of inventions, with one of them being superstring, which she readily has on hand to use as a grapple. She also has some acrobatic skills, and can also use one of her crest-braids as a grapple itself. She can also perform a huge number of calculations on the fly to anticipate what is happening in very tense, action-packed situations then uses them to immediately come up with and take the best action possible.

 
+
 
+

====Behind the scenes====

 
+

Silver is voiced by ''Crazy Ex-Girlfriend'' actress [[Wikipedia:Rachel Bloom|Rachel Bloom]]. The film artists were given the original look of Silver and decided to make drastic, significant changes to her design so that she would look almost completely different because they were aiming for a "cuter" look. She was originally going to be a vulnerable character with a more limited role, but was changed into a very important one in the final cut.<ref>''[[The Angry Birds Movie 2]]'' DVD feature - "Meet the New Birds and Pigs"</ref>

 
+

After the design for Silver was finalized, character artist Francesca Natale once thought up of the idea of having her being able to fly by spinning her crest and tail like helicopter blades, which was ultimately scrapped.<ref>[https://www.francescanataledesign.com/new-gallery-4/lsvvoacdswcpnvm1fkd32kei8ygdbe Concept art for Silver], Francesca Natale's official website</ref>

 
+
 
⚫
 
+

*Her appearance is similar to Monday, a bird from ''[[Angry Birds Evolution]]''.

 
+

*In Sambil, (A shopping of Caracas, Venezuela), Silver has a poster in "Cines Unidos".

 
+

*A sculpture of Silver's face can be seen in the background of some levels of ''[[Angry Birds POP 2]]'', as part of the monument of the Bird-Pig alliance formed from the remains of [[Mighty Eagle's cave]]. This and the Birds' continued partnership with the Pigs in the game's plot confirms that it is set after the events of ''The Angry Birds Movie 2''.

 
+

*Silver has nothing related to her original counterpart, only the colour, she doesn't even use her ability in the movie, only does a back flip, which has nothing to do with a 360 degree looping.

 
+

**Maybe it's a different bird, as this Silver never met a pig.

 
+
 
⚫
 
+

<gallery bordercolor="#8e8e8e">

 
+

D3KOsOdWsAAUWQ1.jpg

 
+

star-7.png

 
+

72cc3bc79133396a1089b166bffcf36f61ddb1c2.jpeg.jpg

 
+

caaf792cd41bbce2f9cb0b23cbf64b0c.jpg

 
+

wp4527390.jpg

 
+

hero_silver.png

 

</gallery>

 

</gallery>

 
 
 
⚫
⚫
 
 
⚫
 
⚫
 
⚫
 
+

*[[Angry Birds Transformers]]

 
+

*[[Angry Birds POP!]]

 
+

*[[Angry Birds Blast!]] (Small Appearance)

 
+

*[[The Angry Birds Movie 2]]

 
+
 
⚫
 
⚫
 
⚫
 
⚫
 
+

* Silver is the only character in Red's flock to not have appeared in the original ''[[Angry Birds (game)|Angry Birds]]'' game.

 
+

** She is also the only character to be used freely at any time by player choice.

 
⚫
 
+

* There is indeed an official Silver plush, but it has only been offered in Angry Birds 2 Birdday competitions and is not for sale in any official Angry Birds Merchandise sources. Thus, few actually own the plush. It's good to stay tuned for them so you can win one.

 
+

* '''Silver '''along with [[Matilda]], [[Stella]], and [[Hal]] are the only four birds without a [[Angry Birds Space|Space counterpart]] and she along with [[Bubbles]] and [[Hal]] are the three birds without a [[Angry Birds Star Wars|Stars Wars counterpart]]

 
+

** It also was offered in magazines as a giveaway.

 
+

==References==

 
+

{{reflist}}

 
⚫
 

[[Category:Female Birds]]

 

[[Category:Female Birds]]

⚫
 
−

[[Category:Angry Birds Under Pigstruction Birds]]

 
 

[[Category:Birds]]

 

[[Category:Birds]]

 
⚫
---
Revision as of 15:17, 16 May 2020
To see images of Silver, please go to her gallery.
"Looping Legend"
Silver is a character in the Angry Birds series of games created by Rovio Entertainment. She was introduced in 2015 as a new character for the first official sequel to Angry Birds, Angry Birds 2. After her first appearance in Angry Birds 2, she has since then only appeared in one other Angry Birds installment, Angry Birds Transformers and few other.
Personality
Silver's Description From the Angry Birds 2 Website: 
"A dazzling young bird with a goofy sense of humor and incredible flying skills".
Silver's Description From the Angry Birds Magazine:
"Weirdly, Silver was raised by pigs and doesn't even care about the eggs! But even though she's still got some pig-like ways, she's happier with the flock and is a great flyer who is very funny!
Silver was initially a stolen egg by the pigs, who were just about to cook the egg until it had cracked open. Thus, Silver was born, and the pigs took her in as their own. Because of this, Silver notably has multiple physical and mental traits of the pigs, having a very goofy sense of humor and even having the same exact teeth as the pigs.
Not much else is known about Silver, personality-wise.
Silver's Involvement in Angry Birds
Angry Birds 2
Template:Infobox character 2Silver is first introduced in Angry Birds 2, in level 24 of New Pork City. After her debut, Silver will appear in all the themes afterward as a playable character. In the new version, she can be unlocked at any time with a key.
Gameplay
Silver is an extremely difficult character to work with. Her ability is very versatile, but it comes at a cost.  Not only will multiple obstacles prevent her from striking down (if the player so chooses to do so), Silver usually never will hit the structure the player wishes. It is often for her to miss, hitting another block or entirely not being able to knock the structure down. Additionally, unless the player has a tall structure to knock over, Silver will not do much damage to the level.
Silver is also extremely weak. The game states multiple times as "tips" that Silver is extremely good at demolishing stone, but this fact falls extremely far from the truth. Silver is capable of destroying 1, perhaps 2 stone blocks with ease, but afterward will just immediately stop in her tracks. This effect is the same for wood and glass.
It is also not preferred to use her to take out the last pig or get extra points by demolishing a structure. She is extremely unreliable in these situations. If there is a bit far from a pig or a pig that needs to be hit at a certain angle, Matilda is much easier and more reliable to use.
However, Silver is extremely good at bringing harm to bosses. If you hit a boss (Chef, Foreman, or King Pig) with her using her ability, she will take out a rather large chunk of the pig's health.
Angry Birds Transformers
Template:Infobox character 2Silver appears in Angry Birds Transformers and is given her first counterpart character along with her first appearance outside her debut. (Angry Birds 2) This is currently Silver's only outside appearance and character counterpart. (along with her first 3D model)
Unlike all the other characters, even Bomb and The Blues, who hadn't appeared in the game originally, Silver does not make any appearances in the official comics or animations. This becomes very complicated, as the comics started out with the birds and pigs turning into the robots, and resolved the issue, making all the characters revert to themselves. Silver was nowhere to be seen, as she hadn't even been part of Red's flock, so it is unknown if it can actually be considered canon.
As described in the game,
Windblade and Silver have a lot in common - Windblade was raised on Caminus rather than Cybertron and Silver was raised by the Pigs! Talk about being born in a barn! It sure beats being turned into a cyber-omelet though!
Even though she may be an outsider, she knows which side to fight for and doesn't hesitate to get stuck into the battle for Piggy Island! I certainly wouldn't want to be on the receiving end of those expert sword skills!
They say every cloud has a silver lining, and on Piggy Island, this is quite literary true! You'll often see Windblade flying through the clouds at supersonic speeds, doing loop-the-loops and barrel rolls. When she sees some blue sky, she sometimes skywriters rude messages to the Eggbots!
Windblade's weapon unleashes a trio of superfast, unstable balls of energy. The projectile's unstable nature causes them to repulse upwards! Windblade has expert depth perception and knows just how to sling these projectiles, so don't worry about hitting what you're aiming at.
Gameplay
Silver is part of the "Valkyries" squad.
When shooting towers, make sure to aim higher up than usual. If you aim too low the projectiles might hit the floor before they get to the target.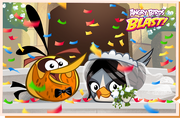 She makes a small appearance with Bubbles in the Royal Marriage Sale Artwork, she wears a bridal veil and has black hair that covers her head, she is seen marrying the orange bird.
Template:Infobox character 2Silver is first introduced in Angry Birds POP, as a guest character, unlike other games, her ability is not to loop.
Gameplay
Silver appears in the game as a Guest Star in events that start in random dates, her ability in the game is to launch a Star Pop, which makes a Star shaped explosion.
Gallery
"Wait, who's that? And why she has all those achievement awards?"
–Silver, The Angry Birds Movie 2
Silver appears in The Angry Birds Movie 2, where she is Chuck's sister.
Appearance 
Silver's appearance has almost no resemblance to the original Silver, as she sports a lighter plumage and hot pink eyebrows. Unusual for any Bird, her crest is designed in such a way that it can be tied into two long braids. She is also very tall, with thin, yellow, scaly legs whose length is only rivaled by that of Stella. She has a small beak.
Personality
Silver is really smart and has won many awards, she is also not so serious on the adventure and loves her brother Chuck.
Silver is initially disappointed that no one recognizes her achievements, but finally gets an opportunity to change that when Red chooses to allow her to lead the mission to destroy Zeta's superweapon partway through and successfully completes it. Red goes on to insist on the others that she be honored for that victory.
Unlike the Angry Birds 2 game, Silver has never held a personal grudge against Pigs and had not taken part in the Great Egg War despite the Pigs' initial hunger for stealing Eggs and hostility against the Birds. She thus has no problem welcoming Leonard, the first Pig she had ever met in her life.
Skills and abilities
Silver is very intelligent and has crafted a variety of inventions, with one of them being superstring, which she readily has on hand to use as a grapple. She also has some acrobatic skills, and can also use one of her crest-braids as a grapple itself. She can also perform a huge number of calculations on the fly to anticipate what is happening in very tense, action-packed situations then uses them to immediately come up with and take the best action possible.
Behind the scenes
Silver is voiced by Crazy Ex-Girlfriend actress Rachel Bloom. The film artists were given the original look of Silver and decided to make drastic, significant changes to her design so that she would look almost completely different because they were aiming for a "cuter" look. She was originally going to be a vulnerable character with a more limited role, but was changed into a very important one in the final cut.[1] After the design for Silver was finalized, character artist Francesca Natale once thought up of the idea of having her being able to fly by spinning her crest and tail like helicopter blades, which was ultimately scrapped.[2]
Trivia
Her appearance is similar to Monday, a bird from Angry Birds Evolution.
In Sambil, (A shopping of Caracas, Venezuela), Silver has a poster in "Cines Unidos".
A sculpture of Silver's face can be seen in the background of some levels of Angry Birds POP 2, as part of the monument of the Bird-Pig alliance formed from the remains of Mighty Eagle's cave. This and the Birds' continued partnership with the Pigs in the game's plot confirms that it is set after the events of The Angry Birds Movie 2.
Silver has nothing related to her original counterpart, only the colour, she doesn't even use her ability in the movie, only does a back flip, which has nothing to do with a 360 degree looping.

Maybe it's a different bird, as this Silver never met a pig.
Gallery
Appearances
Silver has appeared in the following media:
Mobile
Trivia
Despite being an Autobird, Windblade Bird uses Deceptihog Materials to upgrade.

Windblade Bird also reuses a few Minion-Pig-as-jet-characters animations, notably her "eager anticipation" idle when waiting inside Astrotrain for the score tallies.
This and the fact that she uses Deceptihog Materials to upgrade may be about the fact that she was raised by the pigs in the normal Angry Birds story.

Silver is the only character in Red's flock to not have appeared in the original Angry Birds game.

She is also the only character to be used freely at any time by player choice.

Silver has a similar ability to Poppy and Tony. However, Silver does a 360-degree loop before plummeting down, which allows players more freedom to hit certain structures.
There is indeed an official Silver plush, but it has only been offered in Angry Birds 2 Birdday competitions and is not for sale in any official Angry Birds Merchandise sources. Thus, few actually own the plush. It's good to stay tuned for them so you can win one.
Silver along with Matilda, Stella, and Hal are the only four birds without a Space counterpart and she along with Bubbles and Hal are the three birds without a Stars Wars counterpart

It also was offered in magazines as a giveaway.
References
Community content is available under
CC-BY-SA
unless otherwise noted.