A
skull
is a collectible item in
Bad Piggies
. They appear as the skulls of the
Minion Pigs
, 
Corporal Pig
, and the
Foreman Pig
. So far, there are 45 skulls in the 
Tusk 'til Dawn
 update. Skulls are the remains of
deceased
pigs
, and sparkle when seen.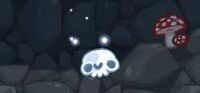 Usage
The skull acts like a Star Box and a dessert. They are collectible but are rare and hard to find and get.
After obtaining 10 skulls you can unlock the Find the Skulls Sandbox.
Currently, their use is to unlock the "Find the Skulls" Sandbox level and for iOS/Android users only.
Skulls are also found as a custom part for the Egg, which has 1 star and can be obtained by the same way as the other, in the Crates and Scrap Machine.
Skull Locations

Under Pigstruction!
This article or section is in the process of an expansion or major restructuring.
You are welcome to assist in its construction by editing it as well. If this article or section has not been edited in several days, please remove this template.

This walkthrough will help you find the skulls by showing which levels they are in.
Trivia
Skulls also appear in Piggy Tales. They appear in Dr. Pork, M.D and Hiccups.
Oddly, the Foreman Pig's skull still has his mustache on it.
It is revealed that skulls can carry hiccups in the Piggy Tales episode Hiccups.
In Bad Piggies, The skulls have no ears and tails. In Piggy Tales, however, they have ears and tails.
Skulls also appear in Angry Birds Epic and many other instances.
Community content is available under
CC-BY-SA
unless otherwise noted.