Template:Epic Infobox Level Slingshot Woods - 3 is the third level of Slingshot Woods. Introducing to you, Brawler - a brute that can stun and Shaman - the original, natural shaman.
Pigs
Unless stated otherwise, there is only 1 of each type of enemy. Each enemy's stats are shown below.
Wave 1
You have to engage 2 Tiny Pigmies and 1 Pigmy Shooter.
---
Wave 2
---
---
Wave 3
---
---
---
Gallery
Strategy
Warning #1: Be careful! The Brawler will stun you for 1 turn after he attack you with the heavy damage. Don't worry about this because he just stun you for 1 turn only.
Warning #2: Be careful! Shaman can reduce your birds' received healing by 50% after attacking! Give the Rage Chili to Matilda immediately so she can dispel this harmful effect!
Warning #3: Remember that Shaman can heal just like the previous Corporal and Lolly Popper but weaker and the worse is, he can also remove all harmful effects! Be beware!
Warning #4: Watch out for Pigmy Shooters because they can block your rage ability for 2 turns. If they block Matilda so you have to wait until it has been expired, otherwise, use the Rage Chili to her so she can dispel.
Warning #5: Don't use the Rage Chili on wave 1. Use it for Bomb at wave 2 (once only) and for Matilda on wave 3(twice only).
Choose The Blues in Rogues, Matilda in Druid and Bomb in Pirate. In every waves, attack every turn with The Blues and Bomb, then, heal with Matilda if the birds' health is not full, otherwise, attack with her. Repeat this over and over until you win or lose.
In Summary
Brawler has a 100% chance to stun you for 1 turn, and don't even get started on the Pigmies. Shaman can heal and remove status effects, as well as reduce recieved healing by 50%.
Walkthroughs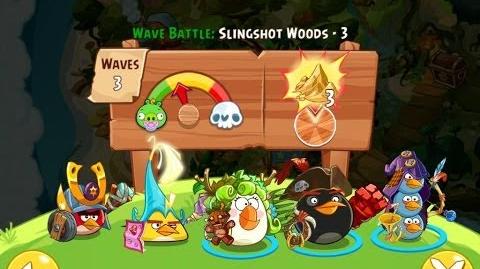 Community content is available under
CC-BY-SA
unless otherwise noted.