Smugglers' Den
300px
Episode number
Unknown
Levels
30
New features
Unknown
Released
Unknown
Game(s)
Unknown
Previous
Next
N/A
N/A

Smuggler's Den is the first episode in Angry Birds Rio, consisting of 30 levels (1-1 to 1-15 and 2-1 to 2-15). All levels take place in the lair of the bird smugglers from the movie (Marcel, the leader, Tipa, the heavy smuggler and Armando, the tall smuggler).
Gameplay
During the level, the Angry Birds must free the caged birds that the Smugglers have captured. In level 2-15, Rio movie characters Blu and Jewel are in a large cage and can be freed for 5000 points.
To complete levels, a player must free all the birds trapped in cages, similar to hitting pigs in Angry Birds and Angry Birds Seasons. Once a bird hits the cage, the trapped birds fly away.
Opening Scene
Level 1-1 starts with the opening scene of the game, presented as comic-style panels. It starts with a single panel of the Red Bird, Blue Bird, and Yellow Bird watching over the eggs. The original panel replaces the photo with a cage falling down on the birds, and a helicopter takes it to a warehouse in Rio. The Birds see other rare species trapped in cages and become angry. The last panel shows the Birds smashing out the cage.
Birds introduced
The end cutscene shows Blu and Jewel chained, and then it shows the Birds planning to escape to the jungle, which they do so. Back at the den, Nigel hears this and angrily commands the marmosets to attack the Birds.
Fruit Trophies
Fifteen hidden Golden Pineapples can be found throughout the episode. Collecting all 15 will earn a player a pineapple trophy as well as the Pineapple Purist achievement, worth 15 points on Apple's Game Center.
Pineapples can be found in the following levels:
Levels 1-2, 1-6, 1-7, 1-8, 1-12, 1-13, 2-1, 2-2, 2-4, 2-6, 2-7, 2-8, 2-10, 2-12, 2-15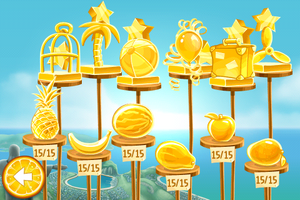 Bonus Levels
On December 18, 2012, Angry Birds Rio has been updated for bonus levels.
Bonus Star 1: Get 30 stars
Bonus Star 2: Get 50 stars
Bonus Star 3: Get 70 stars
Mighty Bonus: Get 10 feathers
Gallery
Community content is available under
CC-BY-SA
unless otherwise noted.