Template:Epic Infobox Level Sonic Dash is the second level of One-Time Event in Angry Birds Epic. It is a Campaign stage. When this level is finished, the player may spin for 1 Item for Chuck's Illusionist Class. (250, 500, or 750 Event Medals depending on the difficulty selected when item of stage was maxed out if replaying) A lot of new entities were made for this event.
One, Sonic was unlocked and made the player's third bird. His two skills were a preview for Chuck Illusionist.
The badniks:
Roto Bug: Worker Pig of the map
Golden Roto Bug: Wealthy Rouge of the map
Chopper: Brute of the map
Blue Chopper: Cave Brute of the map
Bomb Crate: Its explosion could stun each enemy 50% of the time for 1 turn.
Egg Pawn: Pig Guard of the map
Giant Egg Pawn: Has Bard's skills.
Big Bad Buzz Bomber: Midway boss of the map
Tiny Crabmeat: Rogue of the map
Crabmeat: Can heal itself when it attacks
Spike: Can inflict damage over time and can cast a shock shield for an ally.
Big Spike: Can cause enemies to take more damage or do big damage to target and splash damage to other enemies.
Shield Spinner: Can reduce incoming damage to all allies.
Shock Spinner: Can boost all allies' attack
Dr. Eggman: Can command all allies to attack a target right away.
Battle Hint
Common Pigs (Appears in large numbers.)
Common pigs appear in large numbers and don't have special rules usually.
Hint: Deal with the tallest pigs first. They pose the most threat.
Difficulty
There were total of 20 levels in this event. Each level setted up with a different difficulty.
Collect: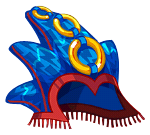 If you want to get Chuck's Illusionist Class for free, you have to collect 5
, 10

, 20

, 25

and 30
. These items are in the Wheel of Fortune of the levels.
Defeat:
Sonic Dash - 1
Sonic Dash - 2
Sonic Dash - 3
Sonic Dash - 4
Sonic Dash - 5
Sonic Dash - 6
Sonic Dash - 7
Sonic Dash - 8
Sonic Dash - 9
Sonic Dash - 10
Sonic Dash - 11
Sonic Dash - 12
Sonic Dash - 13
Sonic Dash - 14
Sonic Dash - 15
Sonic Dash - 16
Sonic Dash - 17
Sonic Dash - 18
Sonic Dash - 19
Sonic Dash - 20
Golden Pig Castle
Enemies
This is a list of enemies you can encounter. Unlike other levels, it is unknown which enemy will be in the battle because the enemy will be set randomly.
Strategy
Choose the birds correctly and defeat the pigs.
Gallery
Walkthroughs
Coming Soon
Trivia
It was the second event that was collaborating with another company, the first being Puzzle & Dragons.
It's the second event featuring a Golden Pig Castle. The first being Into the Jungle.
Community content is available under
CC-BY-SA
unless otherwise noted.