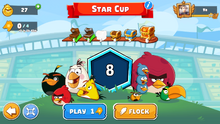 Star Cup is a feature in Angry Birds Friends.
Gameplay
Unlike the tournament mode, where you can play against several people, you challenge only one online player. If you have a ticket, you can play three rounds. Before each round, a slot machine will appear on your screen, randomly generating a power-up you can use for free in the round, including the exclusive TNT Drop, a slingshot that you will use in the round, and an effect that will occur in the round. These effects include...
Zombie Pigs - If you pop any pig, a zombie pig will appear and replace it. (This effect is no longer featured as of 2021.)
Exploding Pigs - Random pigs will turn into bomb pigs, that explode when destroyed.
Invading Pigs - When a pig is popped, some corporal pigs with parachutes fall from the sky.
Bird Switcher - All the birds in the level turn into the bird shown on the bird switcher icon.
When the round starts, you have to get as much score as possible, you don't have to pop all pigs, but it's necessary for scoring points than your adversary. When the round ends, your points are added to your total score. At the end of round 3, the person with the highest score wins the match. And win a reward from the winning streak that resets every six wins in a row. You get a free new ticket every 6 hours, but you will never get more than 4 free tickets every 24 hours.
Ranking
You earn a star for each round you win. The more stars you have, the higher up you will be ranked in the league. The league lasts for 14 days. All players start the league with 500 stars. You win a match if the sum of your scores in all 3 rounds exceeds that of your opponent (that is: you can win a match but earn only one star from one round won).
Star Cup: Brawl!
On April 25, 2022, a new mode called Star Cup: Brawl! that replaces the original Star Cup has been added into Angry Birds Friends. It's more like Angry Birds 2's arena now, with it being seasonal and games only lasting one match.[1]
The game mode was later brought back for a second season on May 13th with fan feedback taken into account due to previous experiences with subpar player ability balancing.[2]
Gallery
Star Cup
Star Cup: Brawl!
Beta
Final
Social Media Posts
Videos
Trivia
If King Pig is popped when the effect is "Zombie Pigs", he will revive as a large zombie pig and a small zombie pig.
 Stella wasn't in Star Cup, most likley because she was added into the game after Star Cup. However, she was added into Star Cup: Brawl.
The "Invading Pigs" effect is broken in a way, as the Corporal Pigs have a chance of landing where the birds are, landing in places where they are impossible to defeat, or falling to their deaths, racking high amounts of points.
If you previously used a very high-level bird, and you popped many pigs when the effect is "Invading Pigs" or "Zombie Pigs", you will have a chance of racking LOTS of points. However, this trick is easier with "Invading Pigs".

For example, using a strong bird like Bomb, Terence or Bubbles against a level with up to twenty pigs and managing to defeat all the pigs in the level will summon a huge number of Corporal Pigs, who all have a chance of landing in places where they can easily fall off of and pop, accidentally toppling over structures or popping themselves, causing even more Corporal Pigs to appear. This can give you absurdly high numbers of points.
References
v • e
Playable characters
• • ( • ) • () • • • • • () •
Non-playable characters
• • • • • Sonam Kapoor Bird • Matt Damon Bird • • • VIXX • • • • • • • • •
Enemies (Accessorized Pigs)
( • • • ) • • • • • • • • • • • • • • • • • • • • • • • • • • • • • • • • • • • • • • • • • • • • •
Materials and Objects
• • • • • • • • • • • • • •
Power-Ups
• • • • • • • • • • • • • •
Episodes

Other
Tournaments • Events • Star Cup • Bird-O-Matic • Ports (Mobile Port • Windows 10 Port) • Achievements • • • Angry Birds Shop • Gallery • Glitches • Unused Content • Version History • Angry Birds: Hatching a Universe