Template:Epic Infobox Level Star Reef - 2 is the second level of Star Reef in Angry Birds Epic. It is a wave stage. When this level is finished, the player may spin for 3 Flotsam. The following enemies are introduced here.
Ghost: He deals damage. That is all. Though unless all enemies are knocked out, he will revive two turns after being knocked out.
Poltergeist: A stronger ghost that can reduce the target's attack power as well by 15% for two turns.
Zombie Knight: A stronger Zombie who can also reduce the target's attack power by 15% for 3 turns.
Frankenpig: A stronger Brute who can deal splash damage to other enemies and will revive three turns after knock out unless all other allies are also defeated.
Battle Hint
Undead (Revive 2-3 turns after being knocked out.)
These spooky pigs are Undead. They revive after being knocked out as long as there is a pig standing!
Hint: Try to knock out as many undead pigs as possible at the same time.
Enemies
Unless stated otherwise, there is only 1 of each type of enemy. Each enemy's stats are shown below per wave.
Wave 1
The player has to engage 2 Ghosts, 1 Poltergeist and 1 Stinky Zombie.
Wave 2
The player has to engage 2 Zombies and 1 Zombie Knight.
Wave 3
Strategy
Warning #1: Be careful! Poltergeist and Zombie Knight can lower your attack power and Stinky Zombie can provide poison to you! If the Rage Chili is full, give it to Matilda so she can cleanse these harmful effects!
Warning #2: Don't use the Rage Chili on wave 1. Use it for Matilda at wave 2 (once only) and for The Blues on wave 3 at the first time it is full. At the later times, use the Rage Chili for Matilda if the birds' healths are under 70% and if otherwise, use it continue for The Blues on wave 3 (unlimited).
Choose Matilda in Druid, Bomb in Cannoneer and The Blues in Rogues. In every waves, attack every turn with Bomb, then, heal with Matilda if the birds' health is not full, otherwise, attack with her. If Poltergeist, Stinky Zombie(except wave 3) or Frankenpig is about to attack, protect with The Blues on the bird that have the highest current health. Repeat this over and over until you win or lose.
In Summary
Zombie Knight and Poltergeist can reduce attack power by 15%, Frankenpig can deal big damage, and Stinky Zombie can poison you.
Gallery
Walkthroughs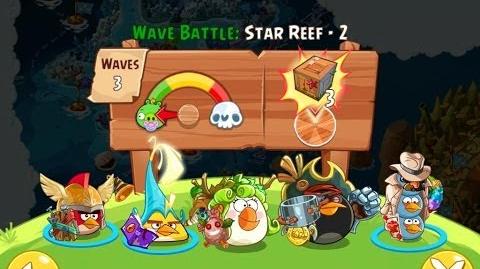 Community content is available under
CC-BY-SA
unless otherwise noted.