Star Reef - 7 is the seventh level of the Star Reef. Nothing special here.
Cutscenes
It's time to save the 3rd egg again! But Wiz Pig made a Blue Pig Gate (This gate that can only be open with the Blue Pig Key and that key has been protected by him) in front of the birds' way again to stop them to go to the Star Reef Castle. But then Red notices that this Blue Pig Gate was simply teleported from the other side so the birds go that way to go to the castle. Wiz Pig is very surprised while Red laughs.
Pigs
---
---
Strategy
Choose Matilda in Druid, Bomb in Cannoneer and The Blues in Rogues. Heal with Matilda if the birds' healths are not full and if they're full, attack with her. Then attack with the others. Use the Rage Chili on The Blues when it is full. Repeat this over until you win or either lose.
In Summary
Do we have to explain everything? Just beat them as if they were in the other levels.
Walkthroughs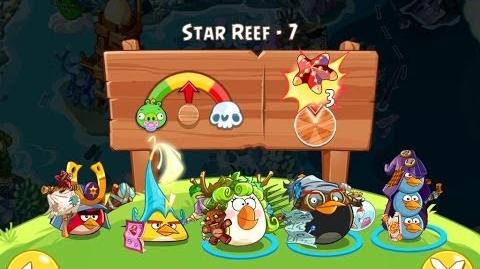 Community content is available under
CC-BY-SA
unless otherwise noted.