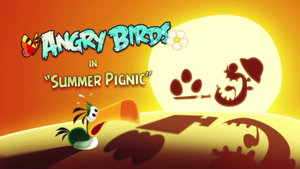 Summer Pignic Short Movie is a trailer released on July 20, 2011.
Plot
The film starts at level 30 of the Summer Pignic theme Angry Birds Seasons. Hal could not complete the level, so the other birds are trying to complete the level, but for some reason, none of them can break the structure (which is made ​​of stone and wood). The King Pig (in a ranger costume) has the eggs in a saucepan and reading "Bad Piggies Egg Recipes" while wearing sandals.
Hal wants to try the level again but accidentally bumps the Slingshot while Matilda is on, knocking her off the cliff. Seeing this, the birds do not leave Hal to try the level again, but they still can not break the structure, and then the King Pig laughs and birds give up on completing the level. With all the birds injured and unable to do anything about it, Hal gets on the sling and flies right over the structure. The King Pig keeps enjoying the eggs until Hal comes when King Pig's mouth opens to eat the eggs. But at the last second, Hal uses his ability and shoots boomerang back to the structure, breaks it, steals the eggs back, and makes it explode, causing the Pig King to break all his teeth, and the structure falls on top of him. Hal returns to the nest eggs of the birds, and Blue Jay gives him 3 Stars. Hal does a victory dance, and falls, once again demonstrating his clumsiness.
Hal in the film
In the film, Hal has a darker shade of yellow at the tip of its beak. In the game, which is a solid color. Also left in the air when he opened his beak, facing the game, were his way never stops, but falls as he turns around and flies up to where he started his career. Hal in the game also has something of a shorter bill with a curved top and has a round body. The film can also be seen in both eyes, but in the game, you can only see one.
Cast (By order of appearance)
Trivia
Strangely, when Matilda reaches the ground, instead of releasing the explosive egg as it does in any other game which she appears in, she explodes right in the place thus leaving a small but noticeable crater.
This is one of the few animations that are not included in the list of specialties in the Angry Birds Toons menu.
Strangely enough, the pump could not even break the stone, nor so did Bomb.    
When Pigs attack with Hal holders, he says "By Bye".
This is the only Angry Birds short to date where Hal appears. Ironically, he never appears in Angry Birds Toons as Rovio originally had third-party animation studios animate their cartoons.
Video
Gallery
Community content is available under
CC-BY-SA
unless otherwise noted.