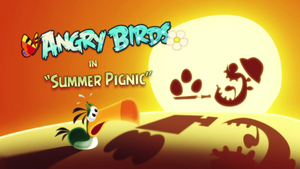 Summer Pignic Short Movie is a trailer released on July 20, 2011.
Plot
The film starts at level 30 of the Summer Pignic theme of Angry Birds Seasons. The birds are trying to save the eggs by launching themselves into the structure to defeat King Pig with The Eggs in the other side. However, they can't destroy it as they can't destroy the stone. The King Pig laughs while having the eggs in a saucepan, reading the "Bad Piggies' Egg Recipes" book and wearing sandals.
Hal wants to try the slinghot but accidentally bumps into it while Matilda is on, launching her away. Red gets angry at him and the birds resume their job, but still cannot break the structure, the King Pig laughs and birds still try. With all the birds injured and unable to do anything about it, Hal gets on the sling and flies right over the structure. The King Pig keeps enjoying the eggs until Hal comes when King Pig's mouth opens to eat the eggs. Hal uses his ability and shoots boomerang back to the structure, breaks it, gets the eggs back, and makes it explode, causing the Pig King to break all his teeth, and the structure to fall on top of him. Hal returns to the nest the eggs of the birds, and Jay gives him 3 Stars. Hal does a victory dance, and falls, once again demonstrating his clumsiness.
Hal in the film
In the film, Hal has a darker shade of yellow at the tip of its beak. In the game, which is a solid color. Also left in the air when he opened his beak, facing the game, were his way never stops, but falls as he turns around and flies up to where he started his career. Hal in the game also has something of a shorter bill with a curved top and has a round body. The film can also be seen in both eyes, but in the game, you can only see one.
Cast (By order of appearance)
Trivia
Strangely, when Matilda reaches the ground, instead of releasing the explosive egg as it does in any other game which she appears in, she explodes right in the place thus leaving a small but noticeable crater.
This is one of the few animations that are not included in the list of specialties in the Angry Birds Toons menu.
Strangely enough, the pump could not even break the stone, nor so did Bomb.    
When Pigs attack with forks, he says "By Bye".
This is the only Angry Birds short to date where Hal appears. Ironically, he never appears in Angry Birds Toons as Rovio originally had third-party animation studios animate their cartoons.
Video
Gallery
Main article | Gallery | Beta elements | Version history | Achievements | Credits | Re-releases (Free, HD, Free HD,

China

)
Playable characters
Angry Birds (Bomb (Shockwave*), Bubbles, Chuck, Hal, Matilda, Red (Homing Bird, Telebird*), Stella, Terence (Wingman), The Blues) | Minion Pigs | Tony*
Non-playable characters
Mighty Basketball | Mighty Dragon | Mighty Eagle | Ruby* | Unnamed female white bird*
Enemies
Chef Pig* | Corporal Pig | Foreman Pig | King Pig | Minion Pigs
Episodes
Ragnahog* | Hammier Things* | Piggywood Studios* | Summer Camp* | Marie Hamtoinette* | Fairy Hogmother* | Pig Days | Ski or Squeal* | Invasion of the Egg Snatchers* | Tropigal Paradise* | On Finn Ice* | Ham Dunk | South Hamerica | Arctic Eggspedition | Abra-Ca-Bacon | Winter Wonderham | Haunted Hogs | Back to School | Piglantis* | Cherry Blossom | Year of the Dragon | Wreck the Halls | Ham'o'ween | Moon Festival | Summer Pignic | Easter Eggs | Go Green, Get Lucky | Hogs and Kisses* | Season's Greedings | Trick or Treat
Items
Bird Coins* | Egg | Powerup (

Allaka-BAM

, Homing Bird, Power Potion,

Score Doubler

,^ Shockwave*, Sling Scope, Telebird*) | Sardine | Slingshot
Gimmicks and obstacles
Glass | Greek pillar | Stone | TNT | Water | Wood
Music
Albums
Angry Birds Seasons (Original Game Soundtrack)
Songs
"Peace Song 2011" | "Peace Song 2012: Fly Me Home Tonight" | "Peace Song 2013: Ode to Snow" | "Peace Song 2014: Santamental Me"
Other
Angry Birds: A Halloween Special | Angry Birds: Christmas Special | Angry Birds: Moon Festival | Angry Birds: Wreck the Halls | Angry Birds: Year of the Dragon | Box2D |

Destruction gauge

| Earth (

Antartica

, Europe (Finland* (Helsinki*)), South America) | Level Failed | Moon | Piggy Island | Piggy kingdom
*Appears in the international mobile version only
^Appears in the Chinese

version

only