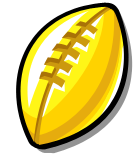 The Super Bowl Golden Egg is a special egg. It is Golden Eggs Level 22.
There are 4 black birds and a Rio logo formed out of blocks and 12 pigs hiding inside it.
How to get this egg
Go to level 13-12.
Throw the first Yellow Bird anywhere.
Now zoom out. You'll see a step-like thing. Throw the White Bird back and at timing, lay an egg and you'll get the egg if you aim it right.
Trivia
The level references Rio.
The Golden Egg was also mentioned in the promotional trailer for Rio.
v • e Golden Eggs
Golden Egg Levels • Golden Egg Level 1 • Golden Egg Level 2 • Golden Egg Level 3 • Golden Egg Level 4 • Golden Egg Level 5 (v1.5) • Golden Egg Level 6 (v1.5) • Golden Egg Level 7 • Golden Egg Level 8 • Golden Egg Level 9 • Golden Egg Level 10 • Golden Egg Level 11 • Golden Egg Level 12 • Golden Egg Level 13 • Golden Egg Level 14 • Golden Egg Level 15 • Golden Egg Level 16 • Golden Egg Level 17 • Golden Egg Level 18 • Golden Egg Level 19 • Golden Egg Level 20 • Golden Egg Level 21 • Super Bowl Golden Egg • Golden Egg Level 23 • Golden Egg Level 24 • Golden Egg Level 25 •Golden Egg Level 26 • Golden Egg Level 27 • Golden Egg Level 28 • Golden Egg Level 29 • Golden Egg Level 30 • Golden Egg Level 31 • Golden Egg Level 32 • Special (RED) Golden Egg •

Golden Egg Level 34

•

Golden Egg Level 35

•

Golden Egg Level 36

Golden Mooncakes • Angry Birds Seasons Golden Eggs
Golden Fruits • Golden Beachball
Golden Chrome Symbols
Angry Birds Friends Golden Eggs • Angry Birds Friends Golden Egg 10
Main article | Gallery | Beta elements | Version history | Achievements |

Credits

Playable characters
Angry Birds (Bomb, Bubbles, Chuck (Rocket Bird), Hal, Matilda, Red (Samba Burst), Stella (Shakira Bird**), Terence, The Blues) | Blu | Jewel
Non-playable characters
Felipe | Foreman Pig | Luiz | Mauro | Nigel | Mighty Eagle | Minion Pigs | Rafael
Merchandise and marketing only characters
Charlie | Gabi | Nico & Pedro (Nico, Pedro)
Enemies
Caged Birds | Caged Dolphins | Marmosets
Episodes
Rio
Smugglers' Den | Jungle Escape | Beach Volley | Carnival Upheaval | Airfield Chase | Smugglers' Plane | Market Mayhem | Golden Beachball
Rio 2
Rocket Rumble | High Dive | Blossom River | Timber Tumble | Hidden Harbor | Treasure Hunt
Others
Playground | Bonus Levels*** | Awards Room
Bosses
Nigel (Jungle Escape) | Mauro (Carnival Upheaval) | Nigel (Smugglers' Plane) | Mauro (Market Mayhem) | Blossom River boss
Items
Coins | Egg |

Golden Anchor

| Golden Fruit |

Golden Gear

|

Golden Rocket

|

Golden Treasure Chest

| Power-up (Call the Flock, Power Potion, Samba Burst, Sling Scope, TNT Drop, Score Doubler*) | Sardine | Slingshot
Gimmicks and obstacles
Balloon | Beach ball | Glass | Sand | Stone | TNT | Water | Wood
Songs
"Angry Birds Rio Samba" | "Angry Birds Rio 2 Theme"
Other
Super Bowl Golden Egg | Earth (Piggy Island, South America (Brazil (Rio de Janeiro))) | Level Failed! | Moon | Star | Free version | HD | HD Free | Angry Birds Trilogy | Angry Birds: Hatching a Universe
Key
* - Exclusive to the Chinese version, ** - Unused, *** - Exclusive to Angry Birds Trilogy