For those of you who have ruined this page, Let me make this clear: You were immature enough to cause this much trouble for me to protect this page. It will stay protected. There will be no objections. Qazqaz555 20:10, October 8, 2012 (UTC)
Boomerang bird's role in Star Wars
Is Boomerang bird going to be Yoda or Jar Jar Binks? Or is he going to be another character? TheAngryAlly (talk) 10:44, October 10, 2012 (UTC)
As of now, we do not know. We, however, cannot speculate, assume, or guess anything. Qazqaz555 21:58, October 10, 2012 (UTC)
Looks like we will have to wait until the official release date to find out! Thanks! TheAngryAlly (talk) 09:22, October 14, 2012 (UTC)
Why is the Blue Bird not on the poster but in an Angry Birds Star Wars set. Everything goes BOOM and BABAMStudios (talk) 11:06, October 14, 2012 (UTC)TheBABAMStudios
Really? What is the character are the Blue birds portraying? TheAngryAlly (talk) 15:08, October 22, 2012 (UTC)
Update* I saw another related discussion stating that they are Jawas. I think that Rovio may release a final poster, as Boomerang bird and Orange bird have yet to be assigned any roles yet. TheAngryAlly (talk) 15:10, October 22, 2012 (UTC)
I know, that you posted this a month ago, but one: Blue Birds are Rebel Pilots and Two: Yoda is not Boomerang, he is a brand new bird and I doubt Jar Jar would be in the game as it's based on the Original Trilogy. King Pig was here, Outro of DARKNESS, then REDNESS, then WHITENESS! 03:10, November 10, 2012 (UTC)
Blue Birds' role
Yeah, I wonder what role the Blue Birds would have in Angry Birds Star Wars. How surprising that the Pink Bird is Princess Leia, when the Pink Bird is new. But I still like it, as I like the Pink Bird and it's good that she would appear in Angry Birds Star Wars. I like female Angry Birds. It is also surprising that we learn the White Bird is a female, but her role in Angry Birds Star Wars is C-3PO, who is a male. --Lightening McQueen (talk) 13:29, October 20, 2012 (UTC)
They are Jawas! Gabrieltnz (talk) 13:39, October 20, 2012 (UTC)
No, they're Rebel Pilots. King Pig was here, Outro of DARKNESS, then REDNESS, then WHITENESS! 03:08, November 10, 2012 (UTC)
"Star Wars Characters" page
After the release (11-8-12), can I please make a new page about the characters?02:37, October 27, 2012 (UTC)~Tyrex56
they arent jawas, they're the pilot people
Pbjms (talk) 23:57, November 9, 2012 (UTC)pbjms
WHEN IS THE HOTH UPDATE?????????
I was playing the new Angry Birds, and I have good news and bad news.
GOOD NEWS - FIRST FREE UPDATE!!!!! Hoth is coming out!
BETTER NEWS - This MIGHT be the first use of Princess Stella Organa!!!!!!!!!!!!!! I SAW IT ON THE GAMEPLAY TRAILER!
BAD NEWS - You have to go to stupid FACEBOOK to find out WHEN. THEY DON'T F***ING TELL ME WHEN!!!!!!!!!!!!!!!!!!!!!!!!!!!!!!!!!!!!
WORSE NEWS - I can't even find the stupid "Path of the Jedi"!!!!!!!!!!!!!! Is this another update????
In the game it says you have to buy Path of the Jedi and if you join facebook to find out when the hoth update comes out. theblackbomberbird 00:44, November 14, 2012 (UTC)
I'm a Nook Color user and I DON'T SEE IT!!! Just Tatooine, Death Star, Hoth (FREE UPDATE SOON), and Bonus.
You lag about the episodes in the game!
220.255.2.47 10:50, November 19, 2012 (UTC)
Angry Birds Star Wars for Android
Can somebody add that Angry Birds Star Wars is on Android OS. I got it on my Android phone and i don't see it listed under platforms on the page. Gdthdr (talk) 12:54, November 22, 2012 (UTC)
ABSpace and AB:
If you combine them together,they will remain the same! It's ABSpace+Star Wars!
P.S Lulwutzangrybirdsandbadpiggies (talk) 04:14, November 26, 2012 (UTC)
The Game is for Kindle fire
I couldn't get Angry Birds Star Wars on my Android Samsung Galaxy Y (Young). I think it is possibly that the screen of the Samsung Galaxy Y is too small for the stuff used in the game like the touch screen for the birds' abilities that have touching the screen. It's also the same for Bad Piggies. But luckily, I am still able to play both games on my PC. So you might not be able to get Angry Birds Star Wars on a Samsung Galaxy Y. --Lightening McQueen (talk) 20:42, December 13, 2012 (UTC)
The Trick of Rovio
When Rovio has Published Angry Birds Star Wars, most of the Admirers of Angry Birds Delete Angry Birds Space and Download Angry Birds Star Wars . I think that Rovio Annouced that they have Plans to "Copy" the episodes of Star wars to AB Space is because all the Fans of AB series leave the space so fast that they do that to recover them to Space.
those who knows and likes the really star wars and those who see in wikipedia and wikia of star wars,probably know a two things : Palpatine (piglatine in AB) and Darth Vader (lard vader in AB) and yoda die in the episode VI
and the second thing is that after lucasart (the company of star wars) Have completed their movies, they start to wrote (and they still continue) novels. in the novels Luke Skywalker and Chewbacca died and han solo and leia has been a jedi knight,now. i no like the third game off rovio, AB Rio because he goes to loose and in my view, a Just boring and bad movie.before i know the trick of rovio i like (because i not remember that palpatine and vader and yoda died) AB star wars very much. know im not play this game never.
Does anyone know what the third icon is beneath each world? The first is total score, second is perfect score stars accumulated. The third looks like a medal and is 0/40 (except Hoth which is 0/20 until extra levels are released).70.119.141.151 20:34, December 13, 2012 (UTC)
Physics
Somebody should put up the fact that Angry Birds Star Wars is the second game to have some levels in space, with the first being Angry Birds Space.
Also, somebody should put up the fact that Angry Birds Stars Wars is the first game to have the level physics (gravity) of the first three Angry Birds Games and Angry Birds Space combined!
I still have all the Angry Birds Games. Including Angry Birds Space. SO STOP SAYING THAT ALL ADMIRERS OF ANGRY BIRDS DELETE ANGRY BIRDS SPACE AND REPLACE IT WITH ANGRY BIRDS STAR WARS!
And i am an Admirer of Angry Birds   :)
112.200.11.146 03:24, May 15, 2013 (UTC)
ABSW Activation Key
Can someone give an activation key for my Angry Birds Star Wars?
Bespin
What about Bespin?
I saw it on the Hoth Page.
Orange Bird is supposed to be comming in the episode, TheAngryAlly
Bespin/Cloud City
That has been changed to Cloud City!
Video gallery
There's an error with the video gallery. Thats because Wikia has removed support for <gallery> old tags, and videos are seen as simple text when visiting the page. This mistake can be fixed by replacing the <gallery> tags with <gallery> tags, it will have the same purpose as the old ones. Vic201401 (talk) 04:51, February 15, 2013 (UTC)
Boba Fett
Picture of Boba Fett: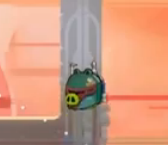 Add it.
File:Happy Emoticon 20px.png
User:Greeny356
teh epic one
File:Happy Emoticon 20px.png
22:51, March 26, 2013 (UTC)
Cloud City!!!
I cannot edit this because I am not a member, but someone add a sentence or 2 on the Cloud City levels in the "Levels" section.
Grammatical/spelling errors
Grammatical/spelling errors that require correcting:
Black Bird: Obi-Wan Kenobi: [...] Bomb is not given the power of the "Force" [...]
should be [...] Bomb is now given the power of the "Force" [...]
White Bird: C-3PO: [...] it's primary ability [...]
should be [...] its primary ability [...]
Brichards85 (talk) 07:55, April 8, 2013 (UTC)
You are wrong. It's correct at all.
White Bird: C-3PO [...] its primary ability [...]
should be [...] it's primary ability [...]
112.200.122.161 05:14, May 17, 2013 (UTC)
Piglatine's Hologram
Emperor Piglatine did appear as an enemy in the Facebook Version of Angry Birds Star Wars. He'll appear as a blue, hologram projected by a projector on the ground, AKA base projector. You can currently find him in levels 1 & 3 of the Star Wars weekly facebook Tournaments from April 8th through April 14th. To learn about how to defeat it, go to the King Pig Page.
Angry Birds Star Wars is appears in Blackberry 10 OS http://appworld.blackberry.com/webstore/content/20385188/ a_tumiwa (talk) 02:05, April 27, 2013 (UTC)
New Names
In the sticker book I saw some new names:
Obi-Wan Kaboomi
C-3PYOLK
R2-EGG2
Peter the Lazer Bird (talk) 11:30, May 1, 2013 (UTC)
Tusken Raider Pig
One Tusken Raider appeared in Boba Fett Mission-3.
218.250.188.33 04:12, May 5, 2013 (UTC)
Unplayable character becomes an playable character!
Lando Calrissan now appears in ABSW Playable. His power is to shoot 3 lasers at the same time but the other 2 lasers are angled a bit from the middle laser. Please update to see this changes. I made this info on my iPad.
112.200.104.11 12:00, June 16, 2013 (UTC)
yoda boomerang bird/green bird
In the new angry birds star wars II trailers, he is shown to be green bird minus the boomeranging, due to the space levels. We should mention on here that he is green bird, but is unlikely to be playable in angry birds star wars I.Darkapple (talk) 19:45, July 22, 2013 (UTC)
Community content is available under
CC-BY-SA
unless otherwise noted.